Stein Jarving has left us. The man who wrote the counterculture equivalent to Morgan Kane, the classic cult novel trilogy about idealist- and anarchist collective "Pleiades", died 10/11/05. Stein managed to reach the age of 60 in July. Then came the cancer.
Typically of War Children (WWII, some still remember the midst of all villainy …) Jarving was a carrier of countercultural impulses of the 60-70s. Unlike many others, he never gave up his hippie ideals, but was one of those who carried the original impulse of the hippie ideals deeply into his practical life. And he shared the lessons with us. To the very end he was continuing to do so.
As a writer Jarving published from a wide-ranging production:
Green Life, Gyldendal Norwegian Publishing 1974
Equilibrium Community, Rainbow Push 1975
Organic Gardening, Green Thread 1976 (2 edition)
Comfrey Giant-valurt, Apple Publishing House in 1976 (2 edition)
Pleiades, Futurum Publishing 1980
The Life Egg, Rainbow Publishing House 1981
Castle in the air, Rainbow Publishing House 1982
Volve Witches and Valkyries, Eutopia Publishing 1998 (3 edition)
Magic & Witchcraft (Red.), Eutopia publishing in 1999 (3 edition)
The Green Life, Eutopia Publishing 2002
Herbs, myth and magic (Ed.), Eutopia Publishing 2003
(Most works were available from Eutopia Forlag)
Stein was an inspirational pioneer, with many careers. "Stein Jarving was an engineer, textbook writer, novelist, philosopher, pagan and gardener and a witch who in recent years lived outside Tvedestrand in southern Norway. During his life he has tried many professions, sailor, radiology technician, electrician, a Corps worker, farmer, journalist and author. He has behind him a big production of articles in the Norwegian press as well as in foreign journals." This is how he was presented by Eutopia, the publishing-company he started in 1982. Together with Jan Bojer Vindheim, Kaj Skagen and Petter Normann Waage he started in 1979 the culture magazine 'Ark', but was squeezed out because of the "religious differences" (anthroposophy vs. the rest) there.
Stein may have been Norways last real hippie. Close to two meters tall, long hair and beard, and with gentle gestures. Counterculture was important. He established a genuine hippie commune in Holmen farm: "Holmen Gård was from 1973 to 1980 the most prolific and active of the Norwegian agricultural communes, and here he ran many projects like self-publishing, a bookstore, lecturing, training in organic agriculture and plant science." Stein was a utopian visionary and yet always directed at specific solutions. He lived his ideals, always in an ever-flowing spiritual wave.
His funeral in the crematorium 'Lille Kapell' was the first official Pagan funeral in Norway since the Middle Ages. Typical of Jarving – he was the one who introduced the pagan religion Wicca in Norway. A large wreath with a star, the pentagram, and a picture of Jarving was leaning against the coffin where flowers and the urn stood atop. Circle of candles. Participants were gathered in a circle around. The four cardinal points invoked. Then lovely tributes which highlighted the many sides to the pagan Priest Dalua – Stein Jarving, a nice man, skilled organizer and a great pioneer. Ritual songs and invocations enveloped us. An ox horn with mead was passed around by the Priest/Gode of the Asatru-society Egil Haraldsson Stenseth. Steins message was that we should celebrate his departure.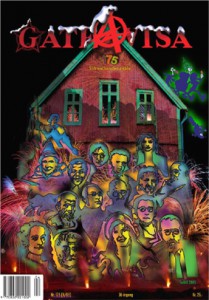 Jarving is one of our spiritual grandfathers. Stein was associated with the environment that started working in the collective Hjelmsgate 3 and 'Gateavisa' in 1970. But he was branched further into the counter-cultural practice, and lived in "collective-circle" around the South Coast. Nevertheless, he kept in touch with 'Gateavisa' and contributed large, heavy items over the decades. His first novel, 'Pleiades' (must read!) was a Futurum Publishing, Gateavisa's publisher, his first published book (after 10 years as publishers …) after the book was rejected by Gyldendal. The Seven Stars-trilogy is the only Norwegian countercultural utopia, with a society of equilibrium presented detailed and more or less credible in a thriller-frame. Pleiades describes the society as the secret, anarchist Vargøy collective loathes, The Life Egg describes the anarchists' ideal society, and Castle in the air how the two communities affecting each other in a time where mankind fights for existence (the beat of the Great Drum). "A book about violence, eroticism, fantasy and ecstasy you should carefully consider putting down while you still can …". How Stein himself presented it.
We are many who have gained greater responsibilities to follow up after Stein Jarvings demise. Farewell. As Stein himself would say: Warm peace.
Ole Ullern