Soms word je overspoeld door alles wat er in het dagelijks leven gebeurt. Deadlines die gehaald moeten worden, huisgenoten die ziek zijn, of gewoon al het huishoudelijk werk dat je gisteren en vorige week al gedaan had, maar dat weer moet gebeuren. Wat fijn om dan even een stap terug te kunnen doen en je aandacht op iets anders te richten. Lekker buiten wandelen of sporten. Ongestoord een boek lezen, of dit nummer van Wiccan Rede Online. Of al die beslommeringen van een afstandje bekijken: is het allemaal werkelijk zo belangrijk? Wat gaat er mis als ik het niet doe, en is dat erg?
Je zult die vragen zelf moeten beantwoorden, maar neem in elk geval de gelegenheid om ze te stellen. Wicca biedt je acht maal per jaar de kans om even buiten de tijd te stappen, aan het begin en tijdens het hoogtepunt van ieder seizoen. En verder gedurende maanfeesten en op momenten die je zelf bepaalt. Tijdens de rituelen heb je de kans om alles van een heel andere kant te bekijken. Om je te verbinden met het verleden en met de toekomst. Om je te verbinden met iedereen op de wereld die ook hetzelfde feest viert. En om in contact te komen met je hoger zelf. Wat zijn de levensdoelen die je jezelf gesteld hebt voor je geboorte? Je hoger zelf weet het. Laat het dagelijks geruis even achter je en stem je af op die innerlijke gids, je innerlijk kompas.
Als je goed afgestemd bent, zul je ook in je dagelijks leven bevestiging vinden als je op de goede weg bent. Wees wel eerlijk tegenover jezelf: wat je wenst is niet altijd wat je nodig hebt, en hoeft niet in overeenstemming te zijn met je Wil. Als een ander benadeeld wordt door wat jij wilt, doe dan alsnog een stap terug om je af te stemmen op je hoger zelf, en nu echt.
Daar ga ik weer: moraliseren. En dat is niet eens voor u bestemd, lezer van Wiccan Rede. Het is eerder gericht op al die mensen die ik hun eigen belang voorop zie stellen, ten koste van anderen. Of misschien is het ook wel, ten dele, een oproep aan mezelf om vooral nu en dan stil te staan en boven mijn ego uit te stijgen. Want ik neig er nogal toe om in de tredmolen rond te blijven draaien en te blijven hangen in de dingen die 'moeten'. Die lijken vaak veel dringender dan de dingen die echt belangrijk zijn, zoals aandacht besteden aan je partner, aan familie en vrienden. "Life is what happens to you, while you're busy making other plans", haalde John Lennon al aan. Maar het leven rolt ook door als je helemaal geen plannen maakt. En als je dan ineens aan je laatste beetje toe bent, om er ook wat Toon Hermans bij te gebruiken, heb je spijt dat je niet wat meer de regie hebt genomen. Dit voorjaar maar eens grote schoonmaak houden in mijn routines. Alles weggooien dat over de datum is… De mooie dingen tevoorschijn halen en afstoffen. Ramen en deuren openen en zo. Nou ja, dat neem ik me voor. Doe er uw voordeel mee. Of niet.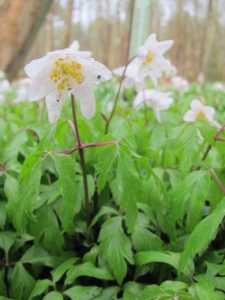 In dit Imbolcnummer zag ik verbanden tussen allerlei artikelen. Ik ga ze niet aanwijzen, ik vermoed dat jij er hele andere connecties in kunt vinden. In elk geval: veel leesplezier!
Blessed be!
Jana.