Net als meestal kwamen dit jaar de eerste sneeuwklokjes tevoorschijn in begin januari, en waren op dat moment een paar vroege narcissen te zien. Bij hazelaars in de zon bloeiden al vroeg de katjes, maar voor de rest liet het plantenrijk zich niet gek maken, ondanks een periode met wat warmer weer. Maar de vogels kregen al vroeg de kolder in de kop. Mezen zongen de longen uit hun lijf, en ik zag nijlganzen en futen baltsen. Daarna sloeg het weer om, en kregen we nog serieuze vorst. Het voorjaar kwam tot stilstand. De bladeren van het longkruid en de bloemen van de vroege crocussen vielen helemaal slap, en hielden zich voor dood. Zodra het warmer wordt, leven deze planten weer op. Voor de vogels is het te hopen dat ze nog geen jongen hadden. Anders moeten ze helemaal opnieuw beginnen.
Opnieuw beginnen, dat past bij het thema van dit nummer. Het mooie voor ons is dat we altijd opnieuw kunnen beginnen. Loop je vast met wicca, of in een andere religie of stroming? Je pad kan meerdere richtingen op. Je kunt omschakelen naar een levensbeschouwing die beter bij je past. Of je begint opnieuw op het bekende pad. Doe alsof je nieuw bent en gaat kennismaken. Welke vragen zou je stellen? Aan wie? Welke hulpmiddelen inschakelen? Welk onderwerp zou je als eerste (opnieuw) willen verkennen?
Wil je (opnieuw) beginnen met wicca? Of wil je eerst uitzoeken wat de richting is die je op zou willen? Begin dan eens met om je heen kijken en luisteren. Denk niet aan de patronen waarin je vastloopt. Schakel je gedachten even helemaal uit.
Zoek eerst een plek waar je je even kunt terugtrekken uit het dagelijks leven. Bij voorkeur een plek in de natuur, waar dingen spontaan kunnen groeien, en het allerliefst bij stromend water.
Kijk dan goed naar een groot object, zoals een grote boom of een stuk bos, of ga op je rug liggen en kijk naar boven, naar de wolken en de omlijsting daarvan door alles dat boven je uit groeit. Kijk door je oogharen heen naar de structuren die je ziet. Kijk zonder te oordelen, zonder te benoemen op de manier die je gewend bent. Het gaat er niet om hoe dingen heten, het gaat niet om wat je ervan weet. Stel je hooguit vragen als: wat beweegt er? Verandert er iets? Zoom in op kleuren die gelijk zijn, of kleuren die anders zijn. Op vormen. Bezie het landschap in negatief (het tegengestelde van wat op de foto staat): kijk naar de tussenvormen alsof die de vormen zijn. Laat dit op je inwerken.
Kijk dan juist naar iets kleins. Een stuk gras of grond ter grootte van twee handen. Een deel van een struik op datzelfde formaat. Of neem een loep en kijk daardoor naar de meeldraden van een bloem, en naar de bladluizen op een blad, of wat je verder ook maar waarneemt. Zie wat er allemaal gebeurt op deze kleine schaal. Hoeveel verschillende plantjes er groeien op dat kleine stukje aarde, of hoeveel van dezelfde soort. Zie de beweging, en concentreer je ook hier op kleuren en structuren. Kijk naar korrels en ribbels en glimmende oppervlakten, zonder te duiden wat je precies ziet. Laat het op je inwerken.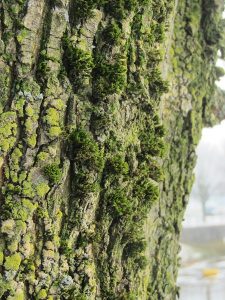 Schakel dan over op geluid. Luister naar alle geluiden alsof het een concert is, zonder te luisteren naar een bepaald instrument. Neemt het geluid toe in volume of neemt het af? Hoor je vooral hoge tonen of vooral lage tonen? Golft het geluid of piekt het? Kabbelt het, is het lieflijk? Verandert het terwijl je ernaar luistert?
Kies dan een bepaald geluid uit om te volgen. Neemt het toe of af in volume? Herhaalt het zich? Blijft het op dezelfde plek of verplaatst het zich? Valt het samen met het achtergrondgeluid of wijkt het ervan af? Als het geluid stilvalt, wacht dan even of het nog terug komt. Klinkt het 'concert' nu anders?
Misschien kun je schilderen wat je waarneemt of – achteraf – wat je hebt waargenomen. Kun je niet alleen schilderen wat je hebt gezien maar ook wat je hebt gehoord? Niet over nadenken – zet gewoon je indrukken op papier.
Hoe dan ook, je hebt je brein gereset. Je kijkt op een andere manier tegen dingen aan. Doe er je voordeel mee als je je bezint op je pad.
Een goed voorjaar toegewenst!
Jana.
Een overzicht van artikelen in dit nummer staat in de inhoudsopgave.
Thema voor het Beltanenummer van 2018 is: Bodies (het lichaam/lichamen).