Het thema van dit nummer is 'continuïteit' en dat betekent iets dat lang, aaneengesloten, voortgaat. Maar ik moet nu toch vooral denken aan het begrip zoals dat bij de film gebruikt wordt. Iemand moet daar de continuïteit bewaken, dat wil zeggen dat die persoon ervoor zorgt dat er geen rare overgangen in de film te zien zijn. Niet dat een acteur halverwege een scène een andere trui draagt, of een ander kapsel heeft. Opnames worden namelijk niet altijd gemaakt in de volgorde waarin de film uiteindelijk vertoond wordt. Maar in elke film of televisieserie zijn wel foutjes aan te wijzen als je erop gaat letten.
Ook in het dagelijks leven kom je vreemde dingen tegen, die niet lijken te passen in het normale patroon. Juist hier zit misschien de magie in. Je bent bekend met een patroon en hebt verwachtingen over wat er gaat gebeuren of hoe iemand gaat reageren. En dan gebeurt er iets anders, of iemand reageert anders. Dat kan een aanwijzing zijn van een verandering in de toestand van iets of iemand. Die persoon is misschien ziek of ergens door afgeleid. Vroeger – oma vertelt – kwamen op kantoor de kantinebaas en de koffiejuffrouw langs met de koffie en thee, ieder op een paar verdiepingen. Als ze weer samen in de kantine waren, konden ze elkaar vertellen wie er nu weer zwanger was. Want die vrouw dronk 's morgens ineens geen koffie meer, maar thee. Verschuivingen van het patroon kunnen ook door machines worden 'waargenomen', maar de interpretatie hoeft niet altijd te kloppen. De vakbonden gaven het voorbeeld van iemand die in de pauze vijf biertjes en een melk had afgerekend, en zich daarna ziek had gemeld. De conclusie dat hij teveel gedronken had lag voor de hand, maar in dit geval had hij zelf melk gedronken en de collega's op bier getrakteerd vanwege zijn verjaardag.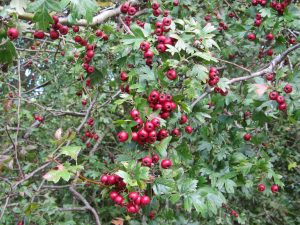 Ik denk dat de heksen van vroeger, en sommige mensen nu, heel goed in staat waren en zijn om de veranderingen in het normale patroon waar te nemen. Dat kan anderen een ongemakkelijk gevoel geven, zich uitend in de vraag 'of je soms gedachten kan lezen'. Maar in feite kan vrijwel iedereen zijn of haar intuïtie gebruiken om subtiele veranderingen waar te nemen. Voorwaarde is natuurlijk wel dat je goed om je heen kijkt, en niet voortdurend op een schermpje aan het staren bent. En dat je weet wat het 'normale patroon' is, of het nu op de werkvloer is of in de natuur om je heen. Een dagboek bijhouden van je waarnemingen kan helpen om patronen te leren zien. Of maak gebruik van waarnemingen van anderen, zoals de Natuurkalender, die bijhoudt hoe vroeg diverse planten in het jaar bloeien, en hoe vroeg diverse vogels hun eieren leggen.
In de aanloop naar Samhain dit jaar ervaren we de eerste serieuze kou van het seizoen. Heldere, koude nachten, met rijp, en in het oosten een paar graden vorst. Vroeg, maar niet geheel onverwacht. Het jaar is ten einde, de (meeste) gewassen van het land. We hebben geoogst, en het nieuwe leven ligt klaar in zaden, in de grond, en in de moederbuik. Laat het nieuwe jaar maar beginnen…
Happy Samhain!
Jana.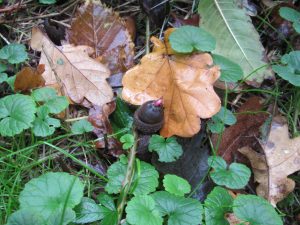 Zie de inhoudsopgave voor alle artikelen in dit nummer.