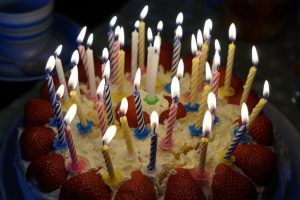 Wiccan Rede (Online) en Silver Circle vieren feest! We bestaan dit jaar 40 jaar en gaan dat vieren met de heruitgave van het boek van Merlin Sythove: 'Moderne hekserij. Wicca – portret van een natuurreligie'. In dit nummer vind je een uitnodiging om daarbij te zijn.
Maar nu is ook het moment om verder te kijken. Waar gaan wij de komende veertig jaar naar toe? Komt er een nieuwe golf van belangstelling voor wicca nu het Aquariustijdperk echt voet aan de grond krijgt? We gaan het meemaken. Of niet. Gebeurtenissen uit het verleden bieden geen garantie meer voor de toekomst. Dit jaar begon met een IJsmaan, maar in tegenstelling tot andere jaren, was het niet bepaald koud. Januari 2020 was een van de warmste januarimaanden sinds de temperatuur wordt gemeten. Misschien is het maar goed dat er geen garanties gegeven (kunnen) worden op basis van het verleden. Ingo Piepers verwacht een nieuwe wereldoorlog die dit jaar zal uitbreken. Hij promoveerde in 2006 al op een wetenschappelijke analyse van alle oorlogen in de afgelopen vijfhonderd jaar, waaraan een of meer grootmachten deelnamen. Dat leidt tot zijn prognose van een nieuwe 'systeemoorlog' van 2020 tot 2036 of 2037. Geen fijn vooruitzicht, dus laten we hopen dat we nu eindelijk wijzer zijn geworden met ons allen. We – de hele mensheid – hebben al genoeg te stellen met het klimaat – laten we ons daar op focussen. En op de dingen in ons leven waar we zelf direct invloed op kunnen uitoefenen. Onze eigen levens en die van de mensen om ons heen. Ons betaalde of onbetaalde werk. De wijk waar we wonen. De kleine dingen kunnen niet blijven liggen als de grote dingen onvoorspelbaar worden.
Er komen nog steeds nieuwe mensen in contact met wicca en hekserij. Ook als het geen hype wordt, willen we aandacht schenken aan die mensen. Zij verkennen het pad, en wij zijn er – al veertig jaar – om wegwijzers te zetten die mensen kunnen volgen als ze willen. Tegenwoordig zijn er groepen die zelf adverteren, maar ook nog altijd covens die stilletjes op de achtergrond hun eigen dingen doen. Wiccan Rede Online is een etalage voor wicca in het algemeen, met wat meer aandacht voor Gardnerian wicca omdat het tijdschrift daar is ontstaan. We blijven ons best doen om jullie, de lezers, interessante artikelen voor te schotelen. Dit jaar gaan we Verkennen, Verbreden, Verdiepen en Verwerken in de respectievelijke edities van Imbolc, Beltane, Lughnasadh en Samhain.
Veel leesplezier, en laat ons horen wat je ervan vindt!
Happy Imbolc!
Jana.