Het thema van dit Beltane-nummer zou 'Verbreding' zijn. In deze maanden gaan we doorgaans immers naar buiten, en de energie buiten staat in de groei-modus. Groter, breder, gericht op voortplanting (vermeerdering), met alle uitbundigheid van dien. Maar in de afgelopen maanden is onze wereld ingekrompen tot ons eigen huis, omdat we, voor onze eigen veiligheid en die van anderen, zoveel mogelijk thuisblijven. Thuis werken, thuis leren, geen bijeenkomsten meer. In fysieke zin is dit het omgekeerde van verbreding. Is het in andere zin wel verbreding? Dat hangt waarschijnlijk heel erg af van je omstandigheden. Bijvoorbeeld van je leeftijd, je gezondheid en die van de mensen om je heen, het soort werk dat je doet en of je kleine en/of schoolgaande kinderen hebt. Sommige mensen moeten veel harder werken, bijvoorbeeld in de zorg. Anderen raken ineens alle werk kwijt, als zelfstandige of met een baan in – weer een voorbeeld – de horeca. Mensen die meer structuur nodig hebben, meer zorg nodig hebben of gewend zijn zorg te geven, of die thuis niet veilig zijn, hebben het extra moeilijk. En ook in onze gemeenschap heeft 'corona', Covid19, al slachtoffers gemaakt.
Wat jouw omstandigheden ook zijn, het is voorlopig nog onduidelijk wat er de komende tijd gaat gebeuren. Ben je dan al toe aan een brede blik, of ben je voorlopig alleen maar bezig met concrete zaken en wennen aan de omstandigheden?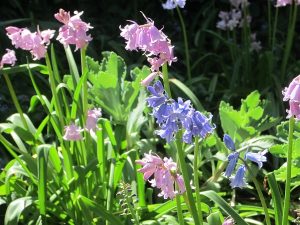 Aan de natuur kun je niet zien dat mensen een crisis doormaken. Het staat er zeker zo uitbundig bij als alle andere jaren, en misschien zijn er wel meer mensen die dat bewust zien, omdat ze weinig andere uitjes meer hebben dan wat wandelen of fietsen in hun naaste omgeving. Dat laatste lijkt me winst, zolang als iedereen z'n rommel weer mee naar huis neemt. Het is ook het enige dat ik van ganser harte kan aanraden aan iedereen: ga naar buiten als je kunt, op een veilige manier, of haal de natuur naar binnen door uit het raam te kijken en te luisteren naar de vogels en insecten.
Of je ook met (elektronische) hulpmiddelen met elkaar in contact moet blijven, daar heb ik geen advies over. Online contact is niet voor iedereen een optie. Er zijn nadelen aan het gebruik van Facebook en een aantal digitale vergaderprogramma's. Wil je via zulke programma's vertrouwelijke informatie delen? Ik niet, maar ik plaats ook geen foto's van mijn altaar online. Bepaal vooral zelf wat voor jou werkt, waar je behoefte aan hebt, en hoe je elkaar daarmee kunt helpen. Zo breed of zo smal als bij jou past.
Helaas kon ook de viering van 40 jaar Silver Circle, op 21 maart, niet doorgaan. Ook de presentatie van de heruitgave van het boek van Merlin, 'Horens van de Maan – Portret van een natuurreligie', kon niet doorgaan, maar het boekje is wel verschenen. Wie het besteld had, heeft het al ontvangen, en heb je het nog niet, dan kun je het bestellen in onze webwinkel.
Voor de komende nummers hadden we de thema's Verdieping (Lughnasadh) en Verwerking (Samhain). Misschien zijn we op dit moment meer bezig met verdieping en over drie maanden weer met verbreding (meer buitenshuis, meer aan het werk, weer bijeenkomsten op kleine schaal?) en verwerking zullen we ook nodig hebben. Maar laten we die thema's maar even loslaten voor Wiccan Rede Online.
Ik wens iedereen een zo goed mogelijke gezondheid, leven in harmonie, en voldoende inkomen.
Voor allen: Blessed be!
Jana.