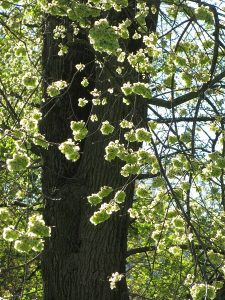 Sommige godsdiensten, religies en levensbeschouwingen streven naar onthechting, of op zijn minst naar een scheiding tussen lichaam en geest, het wereldse en het geestelijke. In wicca is het wereldse – en Moeder Aarde – een onlosmakelijk onderdeel van het wereldbeeld. Het is met de zintuigen dat we de wereld ervaren. We zien, horen, ruiken, proeven en voelen.
In onze rituelen proberen we om iets van het Mysterie te ervaren, maar als dat lukt, is het moeilijk om daar later beelden van terug te halen – of geluiden, smaken, enz. We hebben er geen woorden voor en de ervaring ontglipt ons. Net als wanneer we ons een droom proberen te herinneren, of een boodschap die daarin werd gegeven. Net als wanneer we herinneringen willen bovenhalen uit onze vroegste jeugd, van voordat we taal tot onze beschikking hadden.
De taal die een brug kan vormen tussen het mysterie en onze bewuste beleving, is die van de symbolen. Dat zijn geen voorwerpen, hoewel een voorwerp kan staan voor het ongrijpbare idee dat het vertegenwoordigt. Het symbool maakt het abstracte begrip erachter 'tastbaar'. Het geeft handvatten aan het onderbewuste. Symbolen zijn universeel – anderen begrijpen ze ook – maar ieder heeft er een eigen interpretatie van, en eigen associaties ermee. Een boom is een boom, maar een boom op een verder kale vlakte is anders dan een boom in het bos. Als je een boom alleen van plaatjes kent, heb je er een andere beleving bij dan wanneer je specifieke bomen van nabij kent, weet hoe hun stammen aanvoelen, hoe ze ruiken en hoe ze door het jaar heen veranderen. Een andere beleving heb je ook als je ooit je hoofd hebt gestoten aan een boom – of als er een appel uit de boom op je hoofd is gevallen 🙂
Symbolen hebben te maken met ons emotionele leven, onze dromen en onze behoefte om ons uit te drukken. Ze vertegenwoordigen archetypische beelden en drukken een essentieel onderdeel uit van het bestaan van ieder van ons. Ze kunnen ons daarom ook in contact brengen met het collectieve onbewuste, de diepere laag van het bewustzijn van alle mensen die het 'pakhuis' is van oneindige wijsheid die elk individu kan gebruiken.
Kennis van symboliek, van de symbolentaal, is tweerichtingsverkeer. Wie met symbolen kan werken, kan die gebruiken in rituelen en in magie. En wie symbolen kent, kan ze gebruiken om boodschappen uit het onbewuste te vertalen naar 'beelden' die je kunt onthouden. Zo kun je je dromen onthouden en interpreteren wat een divinatiesysteem je vertelt. En daarmee 'handen en voeten' geven aan wat geen lichaam heeft, en met je zintuigen waarnemen wat niet zichtbaar, hoorbaar en tastbaar is.
We wensen je een fijne zomer toe!
Jana.
P.S. als je een bijdrage wilt leveren aan onze volgende nummers: de editie Lughnasadh heeft als thema 'voedsel', en de deadline is 1 juli. De editie Samhain heeft als thema 'ontmoetingen', en de deadline daarvoor is 1 oktober.
Zie ook de inhoudsopgave van dit Beltanenummer.