Zou het niet mooi zijn om als een trekvogel te leven? In de zomer te leven op een plek waar genoeg voedsel is, en in de winter op een plek met aangename temperaturen. Om thuis te zijn op meerdere plekken op aarde en niet zo'n beperkte blik te hebben op wie waar hoort, of welk stuk land van wie is. Het zou vast allerlei praktische bezwaren hebben, zoals dat niet iedereen tegelijk kan leven op de plekken waar het in een seizoen het fijnste toeven is. Maar kijk hoe die trekvogels dat doen. Als in de winter 'onze' vogels naar het zuiden gaan, komen vogels uit Scandinavië of Rusland bij ons.
Er zitten nog wel nadelen aan het systeem, voor de vogels. De reis is lang, zie de ooievaars die over een steeds groeiende Sahara (plus Sahel) moeten vliegen. Ze worden soms opgewacht door jagers, ook op doorreis. En als je terugvliegt naar het noorden, weet je niet of daar nog sneeuw ligt als je aankomt, of dat het juist al wekenlang warm is en de rupsen – die je als zangvogeltje aan je jongen had willen voeren – al tot vlinder zijn getransformeerd.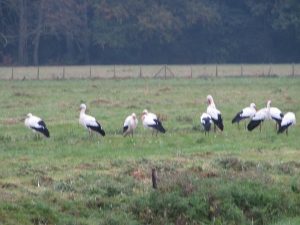 Voor mensen zou het belangrijk zijn dat er wel iemand moet achterblijven om het land te ploegen en in te zaaien, wil er genoeg geoogst kunnen worden. En wie wil er ploegen en zaaien voor een ander, om dan zelf naar een andere plek op aarde te reizen waar misschien niemand die moeite heeft gedaan? Bij mensen combineert het nomade-zijn vooral met veeteelt en met jagen en verzamelen, en minder met akkerbouw. Maar toch. Reizen en verblijven op meerdere plekken kan je horizon verbreden, kan je een andere visie geven op de wereld en de samenleving(en) van mensen.
Begin januari bezocht ik, in de laatste week, de expositie 'De wereld in kleur. Kleurenfotografie voor 1918' in het Allard Pierson Museum in Amsterdam. De Franse bankier Albert Kahn liet vanaf 1908 wereldwijd volkeren fotograferen om de wereldvrede te bevorderen. Het resultaat was een enorme verzameling van meer dan 72.000 autochromes, die de wereld voor het eerst in kleur tonen. De expositie bevatte een aantal kopieën van deze foto's, en kleurenfoto's van de Russische fotograaf Sergej Prokoedin-Gorski en van Nederlandse fotografen als Bernard Eilers en Jacob Olie jr. Helaas brak in 1914 de Grote Oorlog uit, de Eerste Wereldoorlog, nogal een inbreuk op de wereldvrede.
Als kind heb ik in Clervaux, Luxemburg, de fototentoonstelling 'The Family of Man' gezien, die ook grote indruk op me maakte. In 37 thema's laat samensteller Edward Steichen aspecten van het menselijk leven zien, zoals het zich tussen de uitersten van de geboorte en de dood op aarde afspeelt.
Beide fotocollecties tonen de mensheid aan de individuele mens. En wat opvalt is dat hoe 'exotisch' de omgeving ook is, hoe 'anders' de kleding, de huizen, enzovoorts, dat toch iedere mens zichzelf kan herkennen in de geportretteerde. Hoe ver ook verwijderd in tijd, in geografische afstand en in cultuur: feest is feest, werk is werk, en een ouder die een kind troost, is een ouder die een kind troost.
Het is mijn persoonlijke overtuiging dat er vooral veel is dat we delen met andere mensen, meer dan dat ons verdeelt. We ademen dezelfde lucht, we leven op dezelfde aarde, en als je ons raakt, doet dat pijn. Maar gelukkig kunnen we ook allemaal lachen, ook met elkaar, zelfs als we elkaar niet verstaan.
Dat is een van de dingen die mij inspireren. Dat is wat ik mooi vindt aan het Parlement van Wereldreligies waar Morgana in dit nummer verslag van doet. En het is de reden om een reeks van interviews te doen met mensen die wicca, magie en dergelijke op hun eigen manier beleven, in deze editie is dat Raven Michaelis.
Ik wens jullie allen veel inspiratie in het komende seizoen.
Happy Imbolc!
Jana.
De inhoudsopgave toont alle artikelen in dit nummer.
Voor Beltane is het thema: expressie, het naar buiten brengen van de inspiratie. Met in het bijzonder aandacht voor de vraag hoe de innerlijke beleving zich verhoudt, of zou moeten verhouden, tot de wereld buiten de coven en/of persoonlijke rituele praktijk.
Wil je een bijdrage leveren, neem dan contact met ons op.