The Play Goes On, the Rituals of the Rainbow Bridge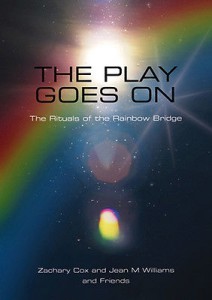 by Zachary Cox, Jean M. Williams and Friends http://www.starfirepublishing.co.uk/
The standard edition, ISBN 978-1-906073-24-4, is soft bound in a substantial illustrated cover. It is priced at £20.00. Postage and packing is an additional £4.00. Also available via "Silver Circle" – for more details email Morgana: morgana_scircle@msn.com
Wow, what a magnificent edition – weighing in at almost 1 kilo with beautiful glossy illustrations – this production does Jean and Zach proud. Now in their mid-80's this is a wonderful tribute to them too.
Known to many for their numerous years of tireless support of the Pagan Federation Jean and Zach were also the founders of "The Companionship of the Rainbow Bridge". Founded in 1977 as an experimental ritual drama group it continued until 1994.
During those years over 40 rituals were written. 23 of those rituals are now presented in this book. The roots and inspiration of the Rainbow Bridge lie in "our experience of performing Aleister Crowley's Gnostic Mass." The Foundation rituals are the 'Temple Opening and Closing Rituals' and the 'Rite of Acceptance' to become a companion.
The body of the book is formed by the 'The Rainbow Colour Rituals'. The 7 rituals of each of the colours of the rainbow evolved over time and were written by a different Companion, including Lord Phoenix. He was a prolific writer and a later section of the book is devoted to his works.
Each of the Rainbow rituals is prefaced by a wonderful photographic collage by the talented Ruth Bayer.
In true Thelemic style the rituals are created with a sense of great detail. The words, the symbols, the robes, the attributes all carefully chosen.  Using pathworkings and inner journeys each colour has a different quality ranging from the Red Ritual of Sekhmet (Lady Moonsnake) to the more Earthy Green Ritual (Lord Phoenix).
As mentioned earlier there is a whole section dedicated to the rituals of Lord Phoenix, or Lord Kleombrotos as he was known when he wrote some of the rituals. A particularly moving one is the 'The West Kennet Ritual' written when he was already ill. The West Kennet Long Barrow consists of 5 chambers.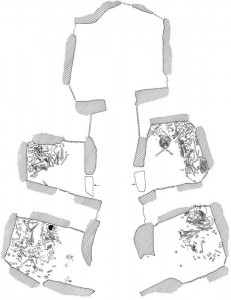 During this ritual 5 Goddesses enter the chambers, Aphrodite, Hera, Artemis, Athene, Demeter. And then are 2 more chambers. One for everyday life and the Goddess Hestia and the last dedicated to Persephone, the Goddess of Death and of Returning Light.  Although, it is pointed out, the barrow dates from Neolithic times he chose Classical Greek goddesses as they are more accessible to us as several aspects of the Great Goddess.
The book closes with the Rituals of Lord Ravensong and some miscellaneous rituals from the other Companions.
Drawing from Classical Mythology, Thelema and paganism this is a wonderful collection of rituals in the style of 'The Rites of Eleusis'. Anyone up for doing the whole series of 'Rainbow Colour rituals'?
Highly recommended for all ritualists, young and old. 🙂
***
For photos of the book launch at Treadwells Book store in August 2015, see: https://www.facebook.com/ruth.bayer.9?fref=photo