Wicked Enchantments – the Pendle Witches and their Magic
Joyce Froome
Palatine Books. ISBN978-1-874181-62-0, see: http://carnegiepublishing.co.uk/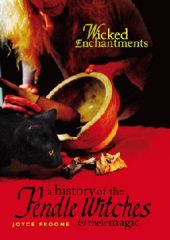 A seemingly innocent altercation between a peddler, John Law, and a teenage girl, Alizon Device, over pins triggered in fact what was to become one of the most famous of all English Witchcraft cases.  Eleven people died as a result of this incident.
In fact it caused such a controversy that a pamphlet was written called The Wonderfull Discoverie of Witches in the Countie of Lancaster, (1612). Joyce saw this pamphlet while she was working at the Museum of Witchcraft in Boscastle. Intrigued by the pamphlet she started researching the events leading up to the witch trials in Lancaster. What started off as an information sheet for the museum, became this book.
It is a fascinating recollection, not only of the events, but of the world of cunning folk, folklore and magic, of spells and charms. Using material from the museum Joyce has recreated the world of 17th century Lancashire.  There are also photos of a researchers Tim & Mary Neale recreating seventeenth-century spells and rituals. Interestingly Joyce points out that "By the early seventeenth century witch-hunting was an important part of the work of the cunning folk." And later on… "Cunning folk wanted people to regard countermagic as a better option than reporting suspects to the authorities."
And so we read of "Love magic and pin magic" … yes those pins which caused Alizon to become so angry. Of "Elves & Angels", "Charms & Amulets" to denunciations of brothers and sisters.
A compelling tome in which mass hysteria, miscarriages of justice and as Joyce describes a "shameless piece of propaganda.." are meticulously brought to life.
The publication of this book also coincides with the fast approaching 400th anniversary of the Lancashire Witch Trials 1612/2012. No doubt Joyce's book will contribute to a better understanding of the social climate in which people lived in, in 17th century Lancashire.
For the  interview with Joyce Froome, see separate article.