Kleurenpracht met kruidenkracht
Marijke Eering – Marjanne Huising
A3Boeken
ISBN: 978 94 91557 47 7. € 29,50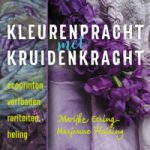 Plantaardig verven en kruidengeneeskunde zijn ouder dan de weg naar Rome. Toch valt er nog steeds veel te ontdekken op beide fronten en het wordt helemaal interessant als je beide combineert. Dat is precies wat textielambachtsvrouw Marijke Eering en kruidenvakvrouw Marjanne Huising hebben gedaan. Met dit boek nemen ze je mee op een magische en inspirerende reis in het land der kruiden (vaste en wilde planten, bomen en tuinkruiden). Natuurlijk gaan ze in op het kleurenpalet van de verschillende kruiden, hoe je bijvoorbeeld wol en lappen kunt verven en hoe je kunt toveren met ecoprinten. Maar er is en kan zoveel meer!
Voor dit boek hebben Marijke en Marjanne kruiden geselecteerd die zowel een prachtige kleur geven of een intrigerende ecoprint als een helende werking hebben op lichaam en geest. Bij elk kruid gaan ze in op hoe het eruit ziet, wanneer je kunt oogsten of verzamelen, welke delen je gebruikt, hoe je het kunt verwerken, welke kleur(en) het geeft, wat voor invloed die kleur op je heeft en wat je er nog meer mee kunt. De vele recepten zijn voor verfbaden, geneeskracht of gewoon voor de lekker. Duurzaamheid, verwondering, kennis, heling, rariteiten, experimenteren en plezier zijn slechts enkele ingrediënten van kleurenpracht met kruidenkracht.
Recensie: Serotia Vors
Voor de creatieve heksen onder ons!
Wat een gezellig boek om doorheen te bladeren, al die kruiden en planten, en al die mooie foto's en kleuren. Je krijgt gelijk zin om ermee aan de slag te gaan.
De dames geven een goede uitleg in het boek, hoe te beginnen, en wat je nodig hebt voor alles en de hoeveelheden. Nou dat is praktisch. Met hun uitleg wordt het al een stuk makkelijker om stoffen en garens te kleuren met de grondstoffen van Moeder Natuur. Er is een duidelijke indeling van het jaar, steeds in twee maanden, waarin alles bloeit en groeit en je dus kan zien welke planten je in die periode kan gebruiken.
Het is te jammer dat ikzelf niet brei, dus garens verven zal ik niet doen, maar om mooie natuurlijke stoffen te verven waarvan je dan prachtige kleding kan maken, dat is wel erg uniek. Denk eens aan gewaden of middeleeuwse kleding voor Fantasy Fairs, of gewone kleding natuurlijk. Inspiratie volop dus in dit boek.
Verder naast alle creatieve dingen met verven en ecoprinten, bevat het boek veel informatie over de gebruikte kruiden, bomen en planten, en staan er nog meer tips in om speciale kleding te maken voor mooie doelen, zoals het maken van een jasje in verschillende heermoeskleuren, die je dan in je kracht kunnen zetten.
Het boek staat ook vol met recepten van al deze kruiden, voor gebruik in eten, theeën en het maken van oliën.
Een leuk boek dus om mee aan de slag te gaan, zeker nu de natuur ontwaakt en de tuin zich weer vult met allerlei planten en kruiden. Heerlijk om zo met Moeder Natuur aan de slag te gaan, erg aardend ook. Je moet alleen niet bang zijn om je handen vuil te maken.