All things, to endure, must evolve. If there is an example of this in the musical world, it is The Dolmen. Defying categorization, over the years the band have introduced and combined many types of traditional and modern styles to produce their singular music, the most recent description of which could be: "Celtic – Folk – Gypsy – Rock all incorporated on occasion into historically based works". Run all these terms together, so that they combine to form something resembling "supercalifragilisticexpialidocious" and perhaps you invent a word that just may come near to describing The Dolmen.
But in its many incarnations since the band's inception in the early 1990s, The Dolmen have always remained true to one purposeful magick 'trick':  the conjuration of an authentic Celtic ceilidh.  Any Dolmen venue, large or small, will eventually break out in a sing-along and foot stomping dance, compelled by the band and the music itself, but mostly the result of carefully crafted aural and visual spells put forth by sorcerous front man, Taloch Jameson.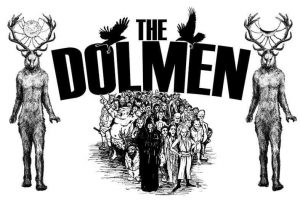 The more recent album, 'Wytches and Cunningfolk', points up the maturing of the band's style, with it's impressive, finely honed, cohesive musicianship coupled with masterful lyrics and melodies, written by Taloch Jameson but also – and not surprisingly to those who know the band well – aided by his young son, Connach Jameson.
The unique guitar skill of Josh Elliott blends perfectly into the fiery gypsy style as well as the heavier mood climaxing towards the end of the album.
Enhanced by the musical talents of bassist and vocalist Kayleigh Marchant, combined with Chris Jones' Highland tribal beats, Anja's soaring flute and the re-introduction of a properly haunting gypsy violin styled by accomplished classical/ folk musician Sebastiaan Hiding, The Dolmen, with this album, have reached a personal perfection.
For all these reasons, the band's recent stunning accomplishments in winning top categories both in their native UK for "Best UK Band" by UK Pagan Events 2018, along with "Best International Live Band of 2018" and "Best Album of 2018" at the Bastaard Fantasy Awards ("Wytches and Cunningfolk"), is particularly satisfying after their long journey in the musical world. (No strangers to international recognition, Taloch's original composition, 'Seven Wonders', chosen in 2007 as the official anthem of the New Seven Wonders of the World contest, was attended by band members during ceremonies that year in Lisbon, Portugal.)
For The Dolmen, music, sound, and movement are essential elements of ritual. Audience participation is a magickal Key. Collective energy is harnessed, directed, and released outward upon the night air, or the afternoon breeze, or upward to the overcast and stormy sky – wherever the band may perform, under whatever conditions – all aspects of the venue are components, all are ingredients, recruited as mystic tools to further joy, pleasure, dance, and song: but most of all, to weave right then and there, and for times to come, an atmospheric spell nourishing universal kinship, a totality of unity – and the binding Force that is love. Bringing us together – as if by Magick.
Folklorist Charles Leyland, in one of his many collections of 19th century sayings, quotes a Scottish Romany proverb: "Witches…and Gypsies soon ken ae the ither":— at any Dolmen event, how very true this is.
Go and be a part of the Magick. See for yourself.
Katherine Brown-Gurley
2019