CD 'Wytches & Cunningfolk' The Dolmen (Dorset, 2018)
Uitgever: The Dolmen, 1 CD, 11 nummers, speeltijd 59:04 min.
Thedolmen.com: £14,50
Het vijftiende (als ik goed geteld heb) album van The Dolmen lijkt een nieuw geluid voort te brengen.
De Engelse folk rock band The Dolmen heeft zich al van verscheidene kanten laten zien: 'Spirits of the Sea' klonk als piratenrock, 'The Crabchurch Conspiracy' is een historisch werk en op de meeste albums klinken ze zoals we kennen: pagan folk rock. Dit album klinkt toch net weer een beetje anders.
De CD komt in een jewel case met een boekje van acht pagina's. Geen songteksten helaas, uiteraard wel erg fraaie foto's van de bandleden en een inleidende tekst van Taloch. Dit album bouwt voort op het vorige album 'Nuada' en lijkt het idee te verkennen dat we afstammen van andere wezens en dat dit nu gemengd is in ons DNA. Een type van die wezens zou dan 'Wytches & Cunningfolk' geweest zijn. Tenslotte wat krantenknipsels van heksen en heksenevenementen.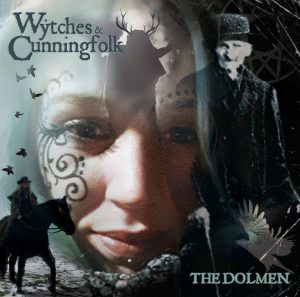 De eerste twee nummers van dit album klinken zoals we wel een beetje gewend zijn van The Dolmen: gezellig, pagan, up-tempo, folk rock. Bij het derde nummer horen we toch echt een nieuw geluid: hier zijn duidelijk zigeunerinvloeden te horen! Wat later op de CD zullen we deze invloeden nog vaker tegenkomen, bijvoorbeeld in 'Going Solo' en 'Landerlay'.
Het album luistert lekker weg en brengt de stemming er goed in met een stevige dosis up-tempo nummers. Voor een beetje balans is er ook een mooie ballad opgenomen: 'Black is the Colour'. Direct daarachter aan horen we 'Chambers of My Mind' wat juist weer een steviger rocknummer is.
Conclusie
The Dolmen verveelt niet snel, zo blijkt maar weer met dit nieuwe album, waarop we niet alleen pagan folk rock horen, maar ook duidelijke zigeunerinvloeden.
Evenement
The Dolmen organiseert ook verschillende pagan-evenementen en in mei is er een kampeerevenement in Nederland, met optredens van The Dolmen en de Crow Dancers, tarotlezers, gypsy dance, een lezing van Taloch over hekserij, enzovoort. Voor meer informatie zie http://www.dolmengrove.co.uk/wytches&cunningfolk.html.
Track list
01 Wytches & Cunningfolk – gefluister, nieuw geluid,
02 Blood of Ancients
03 Tinker Boy
04 Going Solo
05 No More Love
06 Landerlay
07 Wolf von Bones
08 Black is the Colour
09 Chambers of My Mind
10 Sinless Puritan
11 Only You