… continued… part 2
The second panel I was involved in was the Environmental Network CC, "Building a Global Environmental Network".
For several months the EN cc has been active in a pilot scheme connecting CC's in an 'Exchange program'. Initiated by Katherine Hreib the scheme started in August 2018. One of the spin-offs has been organising the panel in such a way that the participants of the exchange program could share their projects. However bureaucracy got in the way and a couple of the planned speakers were unable to get the required visa to visit Canada and attend the Parliament. ☹
See the live recording – links under references.
Not to be discouraged we were able to link up with Abhirup Khan, URI East India, via Skype. Also a couple of people stepped in at the last minute so that we could present a full programme. Hosted by Lauren van Ham, the panel session was opened by Rebecca Tobias. Acknowledging the Spirits of the Land she reminded us all of how all land is sacred and the importance of fresh and clean water and air.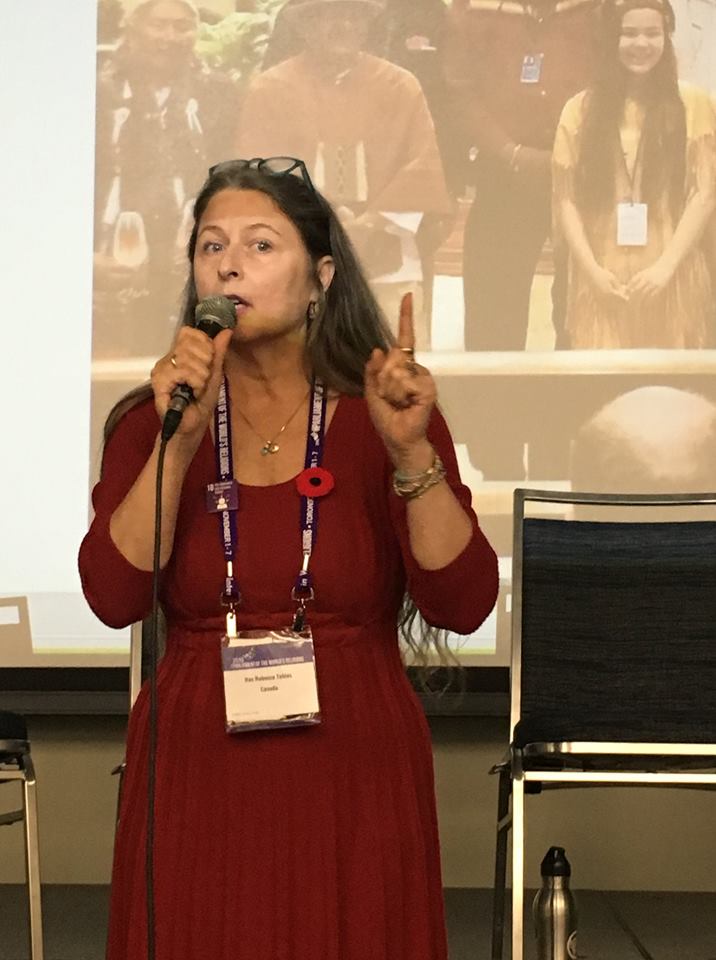 (Rebecca Tobias) 
Bishop Bill Swing, who foresaw the importance of environmental issues and envisaged a larger network of (URI) people engaged in problems associated with climate change, sanitation and so on, welcomed us.
He mentioned that 1/5 of all the URI cc's (about 200) were connected in some way with the environment. This perhaps underlines the sense of urgency we are all faced with – no matter where we live. Abhirup described the projects he was involved in and how important sanitation is to the survival of the people he was working with.  It is not a luxury; it is a primary necessity, to ensure that the ground water is not polluted. The days of being polite are over; what Lauren had described to us as 'fierce courage' is that which is needed to make sure that people – of all ages – are engaged and committed.
Panellists also included: Paula Looking Horse / Dakota,  Swamini Adityananda Saraswati/ Global Interfaith WASH Alliance and Ed Bastian/ The Interspiritual Sustainability Council. Here are some photos: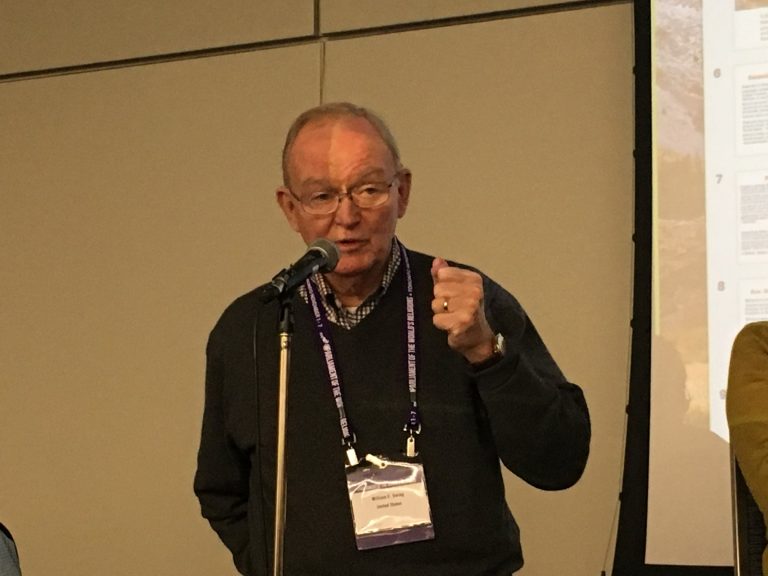 (Bishop Bill Swing – founder of URI)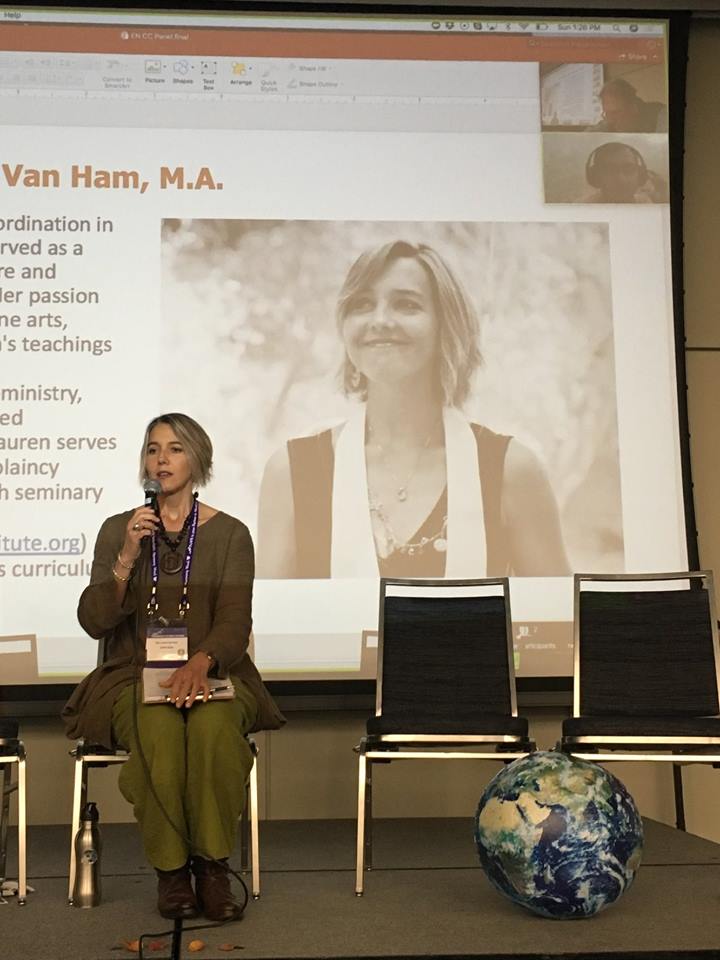 (Lauren van Ham)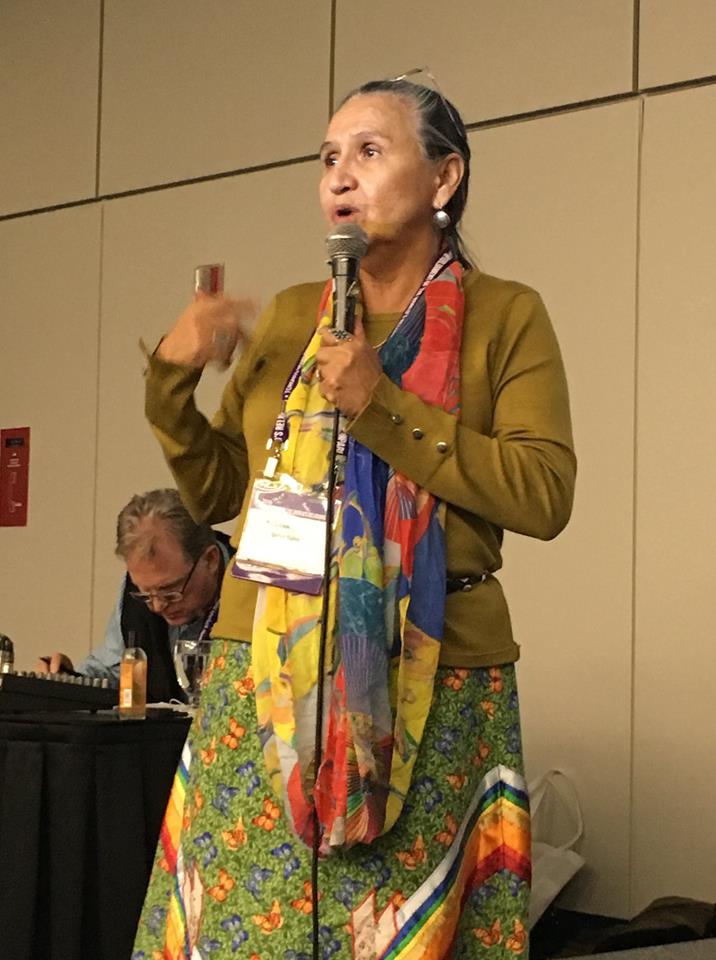 (Paula Looking Horse; an accomplished traditional Dakota singer and artist.)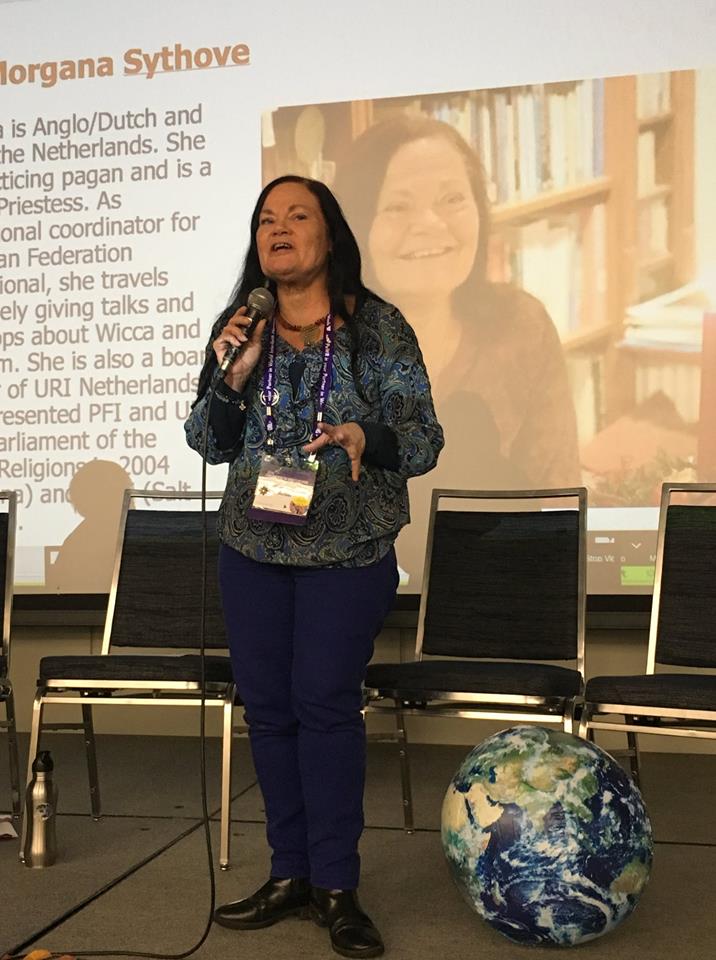 (Morgana, URI Netherlands and PFI )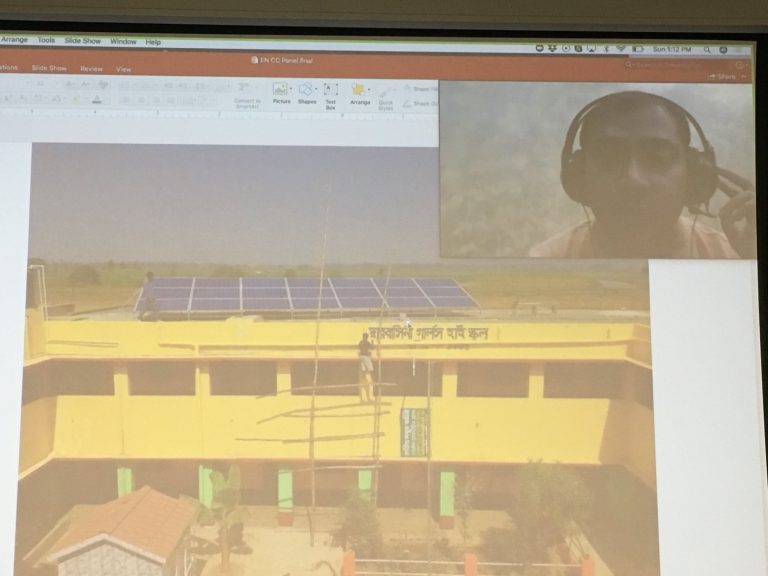 (Abhirup Khan from URI East India – via Skype)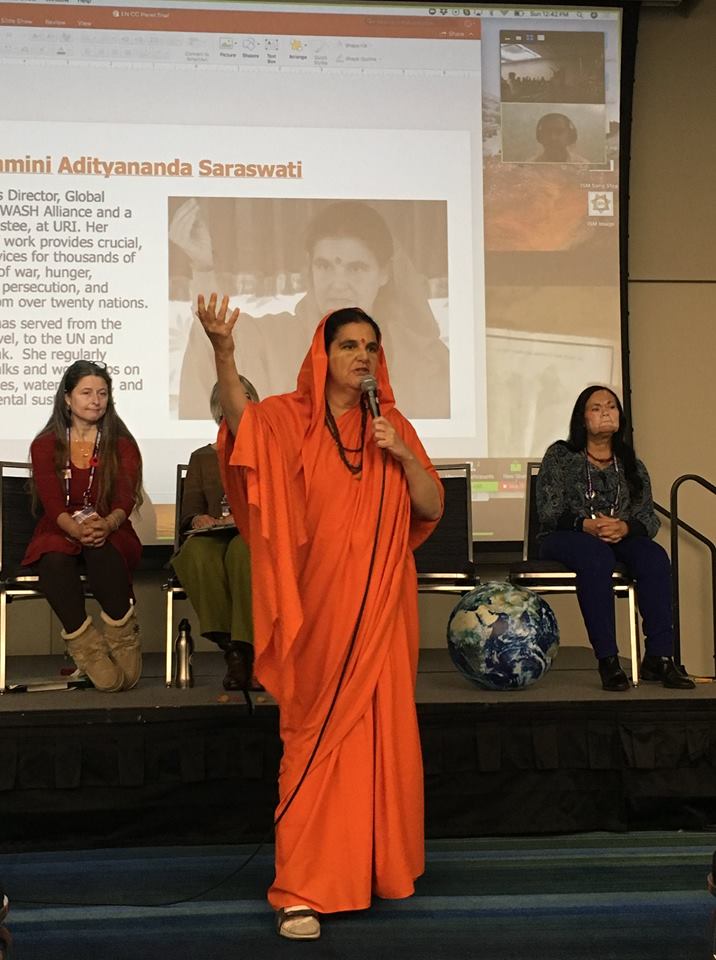 (Swamini Adityananda Saraswati) 
After the panel we reassembled at the hospitality area to continue our discussion. Later Louise Mangan (Convener, InterSpiritual Sustainability Council of BC) wrote on her feelings about the ENCC and the Parliament.
Quote: "The most powerful aspect of the Parliament in Toronto for me was the experience of deep convergence around the spiritual/physical plight of the world. I felt a shared awareness that the physical plight of Earth is revealing the abyss of spiritual dis-ease that our institutional and economic cultures have exacerbated globally. Decades ago, just when we began to understand how growth economies were degrading the natural world (including human beings) we allowed our governments to double down and intensify human inequities and environmental destruction on a worldwide scale. Perhaps too many of us were too privileged and too comfortable to want to see clearly. Now seeing is very, very painful.
I believe the regenerative grassroots paradigm that is trying to emerge — the convergence of movements that was palpable at the Parliament — may well make the difference between survival or extinction for human beings and many other complex species. There is no time to waste, and I expect that social resilience and environmental resilience combined, the work of climate justice, will be right at the heart of healing Earth and all beings for generations. (If not, survivability is in serious jeopardy.)
I was trying to explain when we were speaking in person at the Parliament that I value very dearly the simultaneous global, multiregional and regional relationships I am developing through URI. The social and environmental resilience work in which I'm now involved is simultaneously both local and place-based and globally a movement of movements. I sense we may quickly need to replicate for the ENCC the same pattern of simultaneous coordinators and connectivity for global, multiregional and regional work that we now have for URI as a whole.
The grief and hope I feel for Earth and all beings in this time is indistinguishable from my grief over climate-related injustice and suffering, and my hope for grassroots engagement in regenerating healthier cultures and healthier spiritualities.
I am moved to add that I fear the urgency and acceleration of the environmental crisis will almost certainly be manifest as economic collapse also, here in North America as elsewhere. What looks like failing states and geopolitics in other places is actually the story of failing aquifers and food supplies, followed by a market for weapons.  A result of exploitive growth economies and the devastated ecosystems they leave behind. I'm sure I am preaching to the choir as I say all this." End of quote
It is our intention to continue and expand the connections we have made with the CC-exchange program – from Alaska to Australia. The extent of the URI family was visibly evident when we gathered  for the URI Reception. As I mentioned earlier not everyone who wanted to come to the Parliament made it. This was for a number of reasons – some people had problems getting visa's, others a lack of funding – whilst others couldn't attend because of health issues.
It was good to hear from Victor Kazanjian, Kiran Bali, who also gave key-note speeches during the plenaries,  and Sari and Frederica. To round off the reception  Pato Banton sang a song dedicated to URI. He and his band had given a concert earlier. He truly embodies the spirit of URI when he gave us all a copy of the double album called "All in this together". 30 musicians from the numerous CC's worldwide worked together on this project. It was fun dancing together!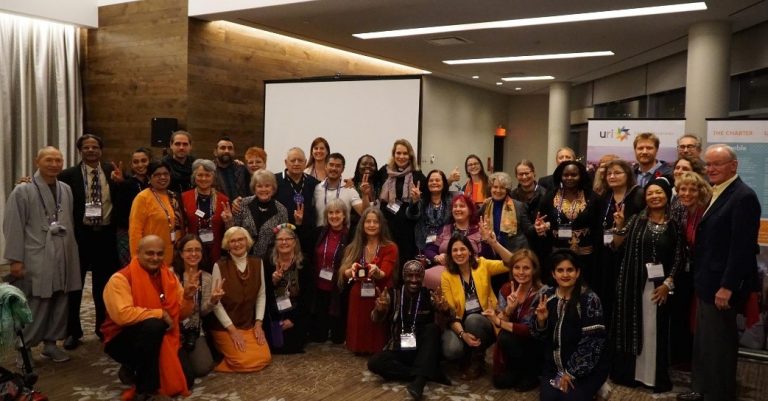 (Multiregion STRONG! 38 people here, representing 19 CCs, At the URI Reception ) 
There are so many things which I joined in – and many more things which I missed. Spread over 2 main buildings – North & South – if was really hard to make a choice. Here is a general overview. Each day was designated a particular subject and during the General Assemblies we heard key-note speakers.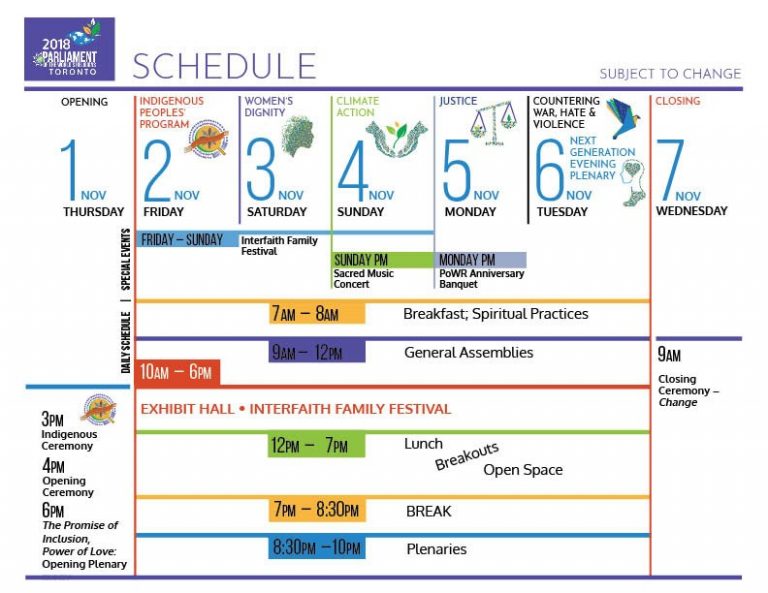 Some other highlights:
Attending Langar of course. Provided by the Sikh Community, Toronto, Langar, which means 'kitchen', is the free meal offered at Sikh temples every day worldwide. It's always an amazing experience – eating a simple but nourishing vegetarian meal with literally thousands of people at once. Served by Sikhs everything is done on a voluntary basis, although I understand that every Sikh donates 10% of their income to the temple (Dasvandh).
Meeting pagans and heathens is always interesting. At the Pagan Meet & Greet there was a steady stream of new and old friends. Karen Dales, as guest columnist, wrote a report at The Wild Hunt: "Column: The View from Pagan Meet and Greet at PWR".
This is a group photograph at the Pagan Meet & Greet: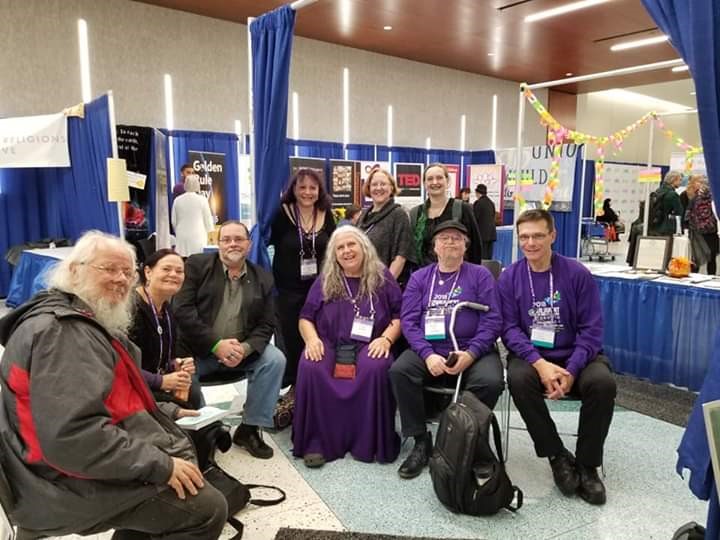 (Pagans in the Meet and Greet Richard James retired HP of the WCC, Morgana Sythove of Pagan Federation International, Devyn, Karen Dales of the Toronto Pagan Pub Moot, Rev. Selena Fox of Circle Sanctuary, Scarlet Jory of the Crescent Moon School of Magic and Paganism, Trey Capnerhurst of Silver Song Collective, George Thompson a HP of the WCC, and Brandon Fox)
Flame of Frith: Frigga Asraaf from the Netherlands created the Flame of Peace a couple of years ago. At the PFI Summer Symposium in June, and later at the URI Netherlands 15th Jubilee in September, she presented the Flame of Frith. I continued this wish for peace and met up with the Heathen community. We performed the short ritual and hopefully the flame will continue to spread in Canada. Karen Dales also accepted the Frith Cord for the Wiccan community.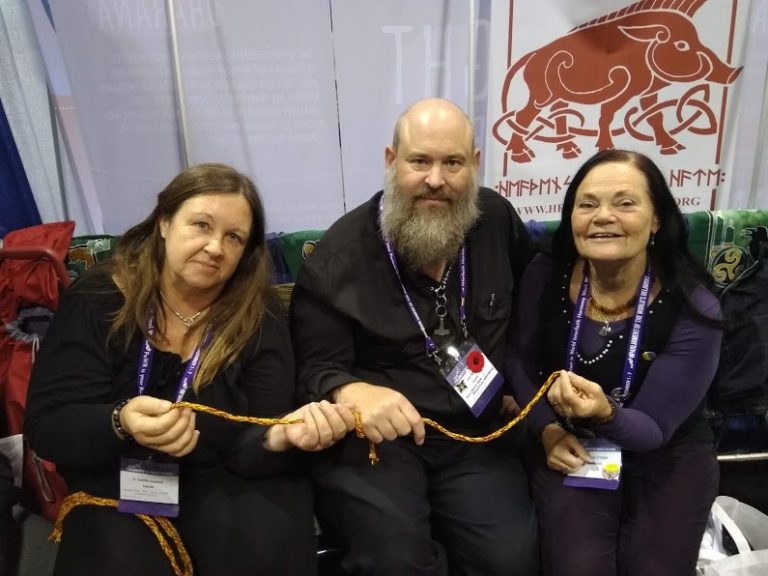 (The Flame of Frith with  Camille  and John – Heathens against Hate) 
One of the most striking impromptu events was the Spiral Dance, organised by Catherine Starr. Gathering at the Pagan Meet & Greet the group set off chanting the well-known "Isis, Astarte, Diana, Hekate, Demeter, Kali… Inanna". Traversing the rainbow bridge they crossed from the South to the North Building. Not only indigenous people but others of different faiths (and none) joined in. The dance ended with a big group hug.
(Catherine Starr and Karen Dales leading the spiral dance)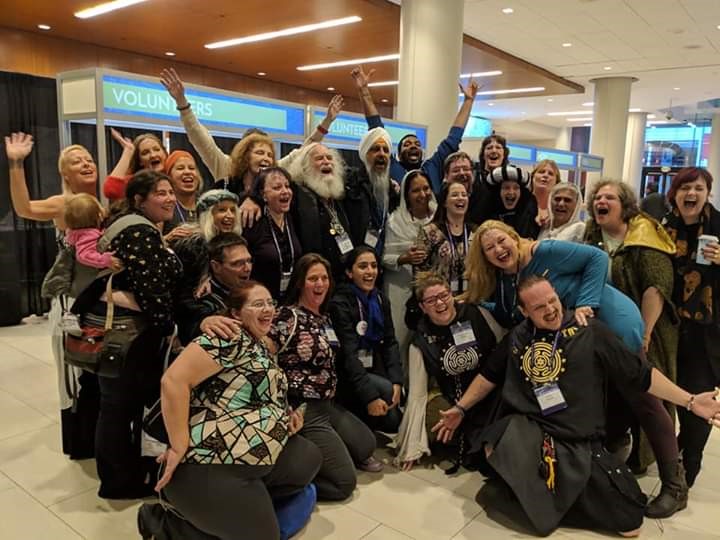 (After the Spiral Dance [Courtesy: K. Dales])
There were so many poignant moments but on Wednesday November 7, it was time to say goodbye. After the closing plenary, see: https://www.facebook.com/parliamentofreligions/videos/2297555433651027/ we gathered our things together and said our good-byes. In the best Wiccan tradition Catherine & Karen summed it up:
Merry meet and merry part, and merry meet again… Blessed Be!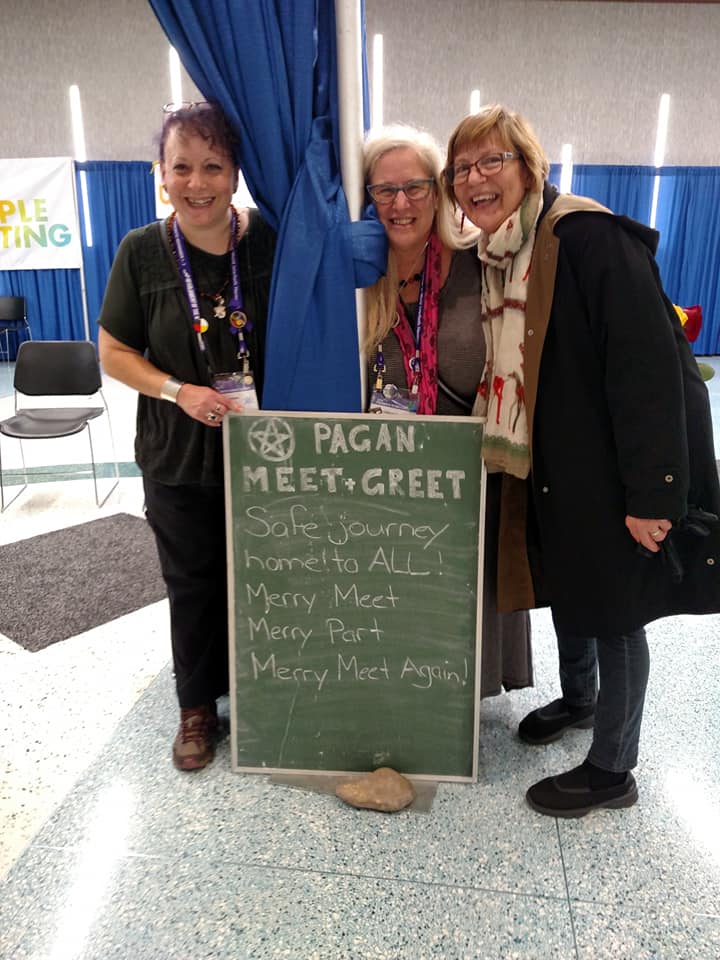 (Karen Dales, Catherine Starr, and Sandy Foo [Courtesy: K. Dales])
REFERENCES:
Witchfest North:
https://www.facebook.com/witchfestnorth/photos/p.1046629428830720/1046629428830720/?type=1&theater
URI Multiregion:
https://www.facebook.com/photo.php?fbid=562544894208722&set=gm.1954408138000769&type=1&theater
Personal video of the opening PWR 2018:
https://photos.google.com/photo/AF1QipME7Cjfg9bCPXjWq8xkkKq63qMu0zm6PhEJ3eiO
Parliament of the World's Religions – you tube channel, with many of the keynote speakers, panels of this year's Parliament https://www.youtube.com/channel/UCsAFu6LwroZZVJWJWHJRXIg
and Facebook: https://www.facebook.com/parliamentofreligions/
Closing plenary: https://www.facebook.com/parliamentofreligions/videos/2297555433651027/
Samhain image: https://i.pinimg.com/originals/37/59/83/3759830079a543a31ccc339cedef15f7.jpg
LIVESTREAMING with the URI Communications Team Sari, Erin, Patrick & Morgana
Live streaming links:
Good Morning! We are live this morning from the URI Hospitality Space at the Parliament of the World's Religions in Toronto, Canada. Today we feature interviews with Sarah Oliver from the Cape Town Interfaith Initiative, Aline LaFlamme from the Interspiritual Sustainability Society, and Emerson Finkle from the Interfaith Chapel at the University of Rochester. #URI2018PoWR #2018Powr
Sari, Erin & Patrick FRIDAY 02-nov-18
https://www.facebook.com/unitedreligionsinitiative/videos/350057829099650/
Patrick, Aline LaFlamme& Emerson
https://www.facebook.com/unitedreligionsinitiative/videos/721438101563351/
Good morning! URI Live at the Parliament of World's Religions. This morning we will feature interviews with Valeria Vergani from the Inspiritual Sustainability Council, Girish Shah from the Silicon Valley Interreligious Council, and Greg Davis from Safe Alliance of Interfaith Leaders. #URI2018PoWR #2018PoWR
Patrick, Morgana, Valerie, Girish Shah & Greg Davis SATURDAY 03-nov-18
https://www.facebook.com/unitedreligionsinitiative/videos/285933762262013/
Live from the Parliament of the World's Religions, this morning we feature interviews with today's presenters: Rebecca Prows from Interfaith Cafe on Storytelling in Interfaith Engagement and Rev Lauren Van Hamm from the Chaplaincy Institute on Building a Global Environmental Network. #URI2018PoWR
Patrick, Morgana, Rebecca Prows & Lauren van Ham SUNDAY 04-nov-18
https://www.facebook.com/unitedreligionsinitiative/videos/741455586218061/
Morgana, Susan Solvay & Patrick… also about Pato's double CD  MONDAY 05-nov-18 VIA URI Environmental cc
https://www.facebook.com/morganasythove/videos/10156873788708179/
Good morning from the final full day of the Parliament! We have Besha Blondin from Pull Together Now and Rev. Fletcher Harper from Green Faith – both will be talking about our responsibility for taking care of Mother Earth and the role of Indigenous people in the leadership of that movement.
Patrick, Morgana, Besha Blondin, Rev Fletcher, … and presentation of the World Peace Flower to the URI Family. TUESDAY 06-nov-18
https://www.facebook.com/unitedreligionsinitiative/videos/279019422745959/
Involvement of URI – more than 30 panels, workshops etc
Recordings still available via FB
See FB Multiregion:
https://www.facebook.com/groups/URImultiregion/
And FB United Religions Initiative, videos:
https://www.facebook.com/pg/unitedreligionsinitiative/videos/?ref=page_internal
ENCC panel "Building a Global Environmental Network"- 3 links:
ENCC panel video with Rebecca, Swamini Sadhvi Adityananda Saraswati and Paula Looking Horse
https://drive.google.com/file/d/1mwHHPCdqY0cQhhBSh1OxSq-kqKBf4hvV/view
With Bill Swing, Abhirup Khan and Lauren van Ham
https://drive.google.com/open?id=1fFbBnu554x6expYp8cGjVN4r0mHMqGqm
Morgana, and Rebecca closing words
https://drive.google.com/open?id=1Q2-7G2r-vfYqzJe1eudkcVSSdolaJZ7i
Pato Banton and the URI Global Family "All in this together":
https://soundcloud.com/unitedreligionsinitiative/sets
Karen Dales: "Column: The View from Pagan Meet and Greet at PWR":
https://wildhunt.org/2018/11/column-the-view-from-pagan-meet-and-greet-at-pwr.html?fbclid=IwAR0j-SYy7Pnp0oLkuLJcdhvlMGSDDkFO7PCJy9jxin5JFcwm5JhtZex7GgQ
Spiral dance at PWR:
Lisa Wasilkowsky Malik: https://www.facebook.com/lmewm/videos/10156409209150546/
Rowan Fairgrove: https://www.facebook.com/rowanfair/videos/10156097995678681/
Twila York: https://www.facebook.com/twila.york/videos/10106790620528942/
Websites:
PWR: https://www.parliamentofreligions.org/
URI: http://uri.org/
Pato Banton: http://patobanton.com/