Rune Magic and Shamanism. Original Nordic Knowledge from Mother Earth
Jörgen I Eriksson
Norrshaman (Zweden), 2012, 132 p. ISBN 978-91-978832-2-
€25,-, Amazon $25,-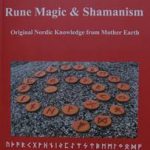 Gewoon het volgende boek over de runen en Germaans sjamanisme? Zeker niet. 'Rune Magic and Shamanism' staat vol doorleefde kennis over de wereld van de runen en de technieken die daar samen mee gebruikt kunnen worden.
Jörgen I Eriksson is een Noorse sjamaan. Hij geeft cursussen en lezingen over de Noorse, Sami en Indiase spiritualiteit. Hij wil als inspiratie dienen voor individuen die willen trainen in de verschillende aspecten van het sjamanisme en dan met name de Noorse traditie, met nadruk op de runenmagie. Zo kan men een eigen manier van werken vinden voor harmonie en balans van Moeder Aarde. Eriksson heeft een dozijn boeken over het onderwerp geschreven. De meeste zijn in het Zweeds, maar er zijn er een aantal vertaald in het Engels en Duits.
'Rune Magic and Shamanism' gaat over de runen en Noorse spiritualiteit, maar niet over Asatru. De schrijver kijkt liever verder terug in de tijd, voor de patriarchale religie, toen er meer balans was tussen het mannelijke en het vrouwelijke. Tegelijkertijd is hij ook aanwezig in het hier en nu en de nabije toekomst. Hij stelt de runen voor als een organisch geheel dat verandert met de tijd.
Na een inleiding over de sjamaan en zijn visie op de wereld wordt er eerst achtergrondkennis opgebouwd over de Yggdrasil en de negen werelden, heilige en mythische wezens en Urd's web. Daarna wordt ingegaan op de energie en de betekenis van de runen. Telkens benadrukt de schrijver dat de lezer zijn/haar eigen weg moet vinden en dus niet de betekenissen klakkeloos moet overnemen, maar hier zelf over na moet denken.
En dan ben je er niet met de betekenis van iedere afzonderlijke rune. Eriksson reikt je technieken aan om met de numerologische waarden aan de gang te gaan, te mediteren op de runen en je eigen runensysteem te maken. Het boek sluit af met hoe je de runen magisch kunt inzetten, hoe je je ceremonies vorm kunt geven en hoe je kunt divineren met behulp van de runen.
Conclusie
Rune Magic and Shamanism is een boek dat je niet snel uitleest. De informatiedichtheid is hoog en sommige stukken moeten even bezinken. En als je het uit hebt, zul je het er nog vaak bij willen pakken als naslagwerk. Een boek om zelf mee aan de slag te gaan. Een aanrader.