Magia. De weg van de magiër
Ronald H.C. ter Haar
Boekscout, 2014. 460 p. ISBN 978-94-022-1041-5. € 24,25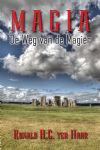 De schrijver heeft zowel opleidingen gevolgd en ervaring opgedaan in rituele magie, als bij wicca en druïden. Hij noemt Dolores Ashcroft-Nowicki van de Servants of the Light, Ina Cüsters-van Bergen van de Temple of Starlight, de Ordo Aurum Solis, de Gardnerians Merlin en Morgana en de OBOD (Orde van Barden, Ovaten en Druïden). Het magische pad dat hij volgt en beschrijft, is de weg van een priester(es)-magiër. Niet helemaal hetzelfde dus als het pad van andere magiërs. De meeste boeken op dit gebied stammen uit dezelfde bron, de Golden Dawn. Ter Haar zet zich niet af tegen andere richtingen, maar geeft zijn eigen variant die zeker een aantal mensen zal aanspreken.
De lezer moet waarschijnlijk even wennen aan de schrijfstijl, die verraadt dat de auteur al vele jaren levenservaring heeft. Ook moet de lezer voorbij zien aan een aantal taalfouten, die een redacteur eruit had kunnen filteren. Maar al na een klein aantal bladzijden kun je meegaan in het taalgebruik en je concentreren op de inhoud. Dat het boek begint met een aantal definities ervaar ik zelf niet als een nadeel. Het benoemen van wat magie en vormen van magie – in dit boek – betekenen, geeft duidelijk de kaders aan. Het schept duidelijkheid over wat je kunt verwachten en waar het hier precies over gaat.
Het boek is opgedeeld in zes delen. 'Theoria 1' is een theoretisch deel voor beginners, en voor nieuwelingen in deze variant. Aan bod komen: de werelden; de elementen; magische wapens en voorwerpen; de tempel en de cirkel; consecraties; rituelen; gezondheid, genezing en sterven; astrale reizen; divinatie; de magische persoonlijkheid; paganisme/wicca/hekserij; natuurmagie en magische theologie. 'Practica 1' geeft een basistraining op weg naar het priester(es)schap, met praktijkgerichte oefeningen, en als culminatie een initiatieritueel. Pagina 348 is het einde van het basisdeel. Voor wie de basis heeft afgerond – en uitsluitend voor hen, dus ik heb het vervolg niet gelezen – volgen dan 'Theoria II', 'Practica II' en 'Theurgie'. De 'Appendices' zijn dan weer voor alle lezers.
Je hoeft het niet in alles met Ter Haar eens te zijn. Gelukkig geeft hij dat zelf ook al heel snel aan: je eigen oordeel blijft. "Denk na over de gegeven teksten, mediteer er over en trek eigen conclusies." Zijn adviezen zijn goed en gebaseerd op ervaring en op gezond verstand. Voorbeelden uit de praktijk verduidelijken en versterken het verhaal. Het is duidelijk dat het 'Magisch priesterschap' de weg is van de schrijver zelf en dat zijn hart ligt bij het hoofdstuk over 'Magische theologie'. Maar hij laat iedereen vrij in keuzes op dit gebied. En dit boek biedt een goede ingang voor iedere geïnteresseerde in magie .