All Acts of Love and Pleasure – inclusive wicca
Yvonne Aburrow
Avalonia 
Paperback, 276 p., ISBN 9781905297733
Cover: 'Androgyne' by Paul Rucker) 
See also Yvonne's website 
And more articles, for example this blog post.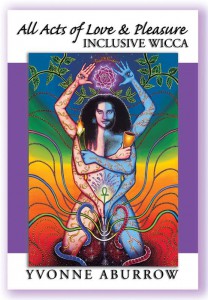 Yvonne Aburrow is British and is not new to Wicca or paganism. She became involved in the 1980's and was initiated into Gardnerian Wicca. She said in a recent interview, "I was initiated into Gardnerian Wicca in 1991. The thing that made me realise that I am a Pagan was reading Puck of Pook's Hill, by Rudyard Kipling. I was lucky enough to find a coven that was also interested in our connection to the land and local deities and spirits. I am also interested in Hinduism, Taoism, and Norse, Anglo-Saxon, Celtic, Sumerian, and Roman Paganism, and my personal or household deities include deities from several different pantheons. I enjoy the earthy and sensual aspects of the Craft, and I believe that Wicca is a partnership with the deities, rather than them serving us, or us serving them."
She is also involved in in LGBT rights and has written several articles in magazines/blogs such as Patheos about gender and sexuality.
Her latest book is in some ways a natural progression after accumulating various articles not to mention her own experiences.
In All Acts of Love and Pleasure Yvonne examines various concepts such as gender and sexuality, eco-spirituality, Wicca and science, the nature of truth, the sacred, secrecy and confidentiality, tradition, and magic.
Her aim with this book is "to act as a guide to existing initiatory covens who want to make their practice more inclusive… Inclusive Wicca is about including all participants regardless of sexual orientation, disability, or other differences, not by erasing or ignoring the distinctions but working with them."
However it is also a useful book to newcomers as Yvonne traces the development of Pagan and Wiccan ideas not only about gender and sexuality but also how Wicca as a spiritual path is evolving.
Many chapters are rounded off with a conclusion and practical exercises and suggestions for follow-up research. As such it is a good manual – although it can be very bitty at times. One gets the feeling that Yvonne sometimes wants to cram in so much to get her point across about the inclusiveness of Wicca that it becomes almost obsessive. If you don't want to get breathless, I would recommend reading it one chapter at a time. Certainly the practical aspects such as group dynamics, how to create a ritual, coven leadership, "the tradition" and so on need to be thought about and reflected upon.
As a practical down-to-earth person Yvonne has much to say about integrating Wicca into one's whole life. This is perhaps the most important aspect in this book. Being inclusive and creating an "Inclusive Wicca" needs a greater awareness than perhaps meets the eye. Today – in the 21st century – in a world which seems to becoming more fundamentalist than ever it is often difficult to keep an open mind. Wicca is a young tradition, compared to the major World (Abrahamic) religions and we do have a chance to evolve organically. Yvonne has given us a wonderful opportunity with this book to help us find not only our spiritual roots but the way forward to a healthier, more holistic, inclusive way of life.
Notes: "A chat with Yvonne Aburrow about diversity" by Sable Aradia.