Ameth – The Life and Times of Doreen Valiente
Jonathan Tapsell
Avalonia Books,126 p. ISBN 978-1-905297-70-2
To order: Avalonia Books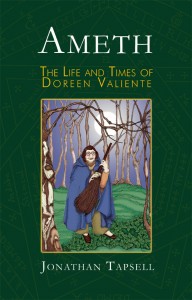 Without sounding too harsh the saying "Don't judge the book by it's' cover" is certainly applicable for this slim volume. The cover is illustrated by Rowan Wulfe who also does the artwork for Greenmantle-magazine. I don't think this was a very good choice judging by her other work.
The book itself is much more promising. I remember meeting Jonathan in Brighton in 2001 when he showed me some of the artefacts rescued from the Crotona Fellowship. The bulk of the 'Doreen collection' was under the management of John Belham of course. Reading this book however reminded me of that visit. As archivist Jonathan had access too to a large number of photographs. He asked me if I recognised some of the people in the largely black and white shots. Yes I did…  🙂
For this book he has been able to include some interesting images, not only of Doreen but also of Gerald Gardner and Monique Wilson. Having access to the Doreen collection in the early years after her death (in 1999), has meant that Jonathan  has been able to build up a sizeable picture of this remarkable lady.
It is also a book reflecting the social climate of England in the 1950's and 60's when Doreen was  first active in Wicca. Her first book didn't appear until 1962 and was entitled Where Witchcraft Lives. The first edition, which I have, is a rather drab edition with a mousy grey cover. Nothing sensationalist. But that was Doreen, writing as an observer referring to "her informant" who was of course herself. Quietly getting on with things.
Jonathan notes that only after 1964 when both Gerald Gardner and her mother died did Doreen become more public. Her mother was a devout Christian and would not have approved of Doreen "dabbling in Witchcraft".
After leaving Gerald's coven in 1957 (she was initiated in 1953) Doreen worked with various people including the somewhat shady character Charles Cardell. She also interacted with "the Coven of Atho, Robert Cochrane and the Clan of Tubal Cain, as well as the Regency coven".
She later helped Janet & Stewart Farrar with their books especially The Witches Way (1984). Jonathan writes: "Her research to find Dorothy Clutterbuck may have saved the credibility of modern Witchcraft, and took her towards what was arguably the height of her achievements, her contribution to the foundations of the rapidly growing religion of Wicca."
Jeffrey Russell, an academic historian, had tried to suggest that Gerald Gardner had invented 'Old Dorothy' in an attempt to hide the fact the he had invented Wicca.
However as Julia Philips has pointed out: "It is a marvellous piece of investigation, but proving that Old Dorothy existed does nothing to support Gardner's claims that she initiated him."
In fact we know now that although Dorothy Clutterbuck did exist Gerald was probably initiated by Dafo/ Edith Woodward Grimes.
Full of interesting details of Doreen's life we also become aware of her wish to see the Craft evolve. This was reflected too in the Fireheart interview by Michael Thorn (1991) and  in one of  her last public talks at the Pagan Federation Conference in 1996.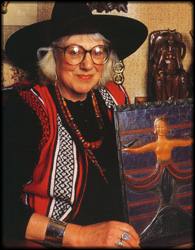 http://www.earthspirit.com/fireheart/fhdv1.html
Jonathan ends his book by recalling the unveiling of the commemoration plaque at the foot of the Tyson Place tower block where Doreen last lived. A fitting tribute to an extraordinary lady.
**
References:
Julia Phillips – History of Wicca (PDF).