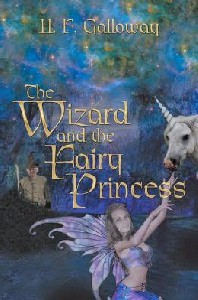 The Wizard and the Fairy Princess
H.F. Galloway
Xlibris. 48 p. ISBN 978-1-4931-7583-3
To order: Bookstore Xlibris
See also: Facebook
On the back cover of this book we read: "A human is accidently transported back to an enchanted world where fairies live, and he begins to acquire magical powers, eventually becoming a wizard. At the same time, a fairy egg is hatched using a special technique by unicorns. They take the newborn with them, raising her to be a humble lady and a fierce warrior. The Lady of the Lake brings them together to challenge the evil witch queen and her minions."
And indeed it is a classic battle we read of in fairy-tales with the 'evil witch queen'. There is nothing wrong in using classical themes. However I think it could have been more interesting.
I also missed illustrations. The cover is lovely so even more the pity that there are no illustrations. The name of the illustrator is not mentioned.
Despite this it is a nice book for young teenagers (12-15) or for parents to read to younger children (10+).