The Charge of the Goddess. The poetry of Doreen Valiente. Expanded edition.
Doreen Valiente
The Doreen Valiente Foundation, 2014. 140 p. ISBN 978-0-9928430-0-7. € 12,-  £9.99 
www.doreenvaliente.org  www.centre-for-pagan-studies.com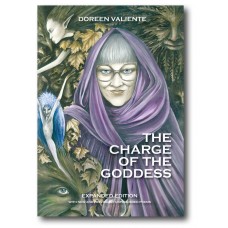 In 2000 'Charge of the Goddess' was released, with poems of 'the Mother of Modern Witchcraft' in facsimile, and with photographs of her ritual gear. It was well worth the ƒ 63,50 (NLG) it cost for the beautiful poetry of Doreen Valiente (1922-1999), the pictures and the elucidation on her live. (Morgana reviewed the original booklet, now sold out, in Wiccan Rede, Winter 2000). This book however, was not a complete picture of her work. Many more poems were found in Doreen's collection of manuscripts and documents. The question was how to structure the book to best present the poems and stories. Editors Ashley Mortimer and Caz Galloway explain in a preface the choice for the seasons as structure. "Each season has universal themes. … In Spring we found the poetry that dwells on youth, growth, innocence and, perhaps, naivety. The Summer poems evoked a sense of misschief, adventure, sexuality and the beginnings of responsibility while Autumn showed the juxtaposition of Doreen's deep maturity and wry humour before, finally, Winter combined themes of death, parting and stillness with the hope for new life and new beginnings in the deep mysteries of rebirth and reincarnation."
So this is not a straightforward re-print of the previous edition with a few extra poems, but rather an anthology of Wiccan and Pagan poetry by the true 'Poet of Modern Witchcraft'. Without photographs but with 80 poems, this is in essence a new book. So even if you were lucky enough to obtain a copy of the first edition, do order this one!