Review: Riven – Full Moon, Dark Moon – Jyoti Verhoeff & Maya Fridman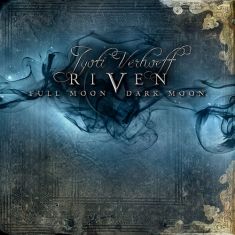 See: http://www.jyotiverhoeff.nl/  to purchase and http://www.jyotiverhoeff.nl/music/ which includes several excerpts from this double CD.
Jyoti Verhoeff piano and vocals; Maya Fridman cello and vocals; Henosis Choir and diverse musicians. Recorded in 2014 at the Wisseloord Studio's in Hilversum, the Netherlands.
All music and lyrics written by Jyoti Verhoeff.
Sound engineer, mixing, editing and graphic design: Fieke van den Hurk
See also the video clip Crack like lovers from Frits de Beer.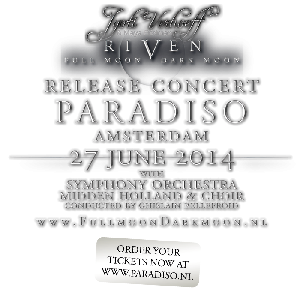 This was the flyer announcing the launch of Jyoti & Maya's new CD Riven – Full Moon Dark moon at Paradiso,  Amsterdam. And what a concert! Having seen Jyoti & Maya on numerous occasions over the last couple of years this was still something quite different. The evening opened with the sonorous sound of huge Gongs, played by Joy Catsburg and Wendy Neuzerling. Jyoti and Maya came on to the stage and were accompanied by Fieke van den Hurk, Joris Van de Kerkhof, and Majsa Koperberg (Harp in "9 circles").
After the break they were joined by the "Classic Frog Choir" and the  "Symphony Orchestra  Midden Nederland" conducted by Ghislain Bellefroid.
Despite technical difficulties at the beginning of the set Jyoti managed to keep calm. Once the sound technicians had sorted out the problem the hall filled with the warm symphonic sounds backing these two very talented musicians. This was indeed a magical evening.
See Jyoti's Facebook page for many photos of the evening and a short excerpt on YouTube.
Riven  is the second album that Jyoti & Maya have released. Phoenix the first EP was reviewed in WROnline (Jan. 2013).  Many months of recording, mixing and promotion have gone into realising this double album. But what a result!
"Full Moon" opens with 'Heroes of Bones" followed by "The Ghost"…  with haunting bell-like sounds. One of my favourite number is "Talking with the Devil"  with a very interesting use of cello from Maya. "He falls down, down, down… Running, running around… Thinking he has found his freedom…" I think even the devil would be tempted by these two sirens 🙂
When the moon is full we think of those lunatic moments when madness overwhelms us. Whether it is sadness or joy we cannot escape the pull of the moon. 'Silently he took her in his arms… She didn't notice…' In "Broken mirror" we can feel the frenetic chase but it is an illusion… a dream.
And the journey ends in the "Labyrinth" as the even the Lion  searches for his hidden heart. Is this too an illusion?
The perfect partnership of piano and cello plus Jyoti's strong but vulnerable  voice  keeps us wondering…
Whereas "Full Moon" is dreamy and a fairy-like "Dark Moon" is much darker and mysterious. A true dark night of the soul where the dawn is far away. Opening with the enigmatic "Crack Like Lovers" the soul fragments. Frits de Beer has produced a video clip using this track.
"Binah" (Understanding) is more or less an instrumental and has also been used for a short video clip. This time for the Dutch nature film De nieuwe wildernis.
In true gothic style the third track is called "If Roses were the Blood" followed by "Real Science comes after Life" where we are in deep space… or deep sleep?
"Nude" was the opening song with the Symphony Orchestra at Paradiso. As the first rays appear the dawn is finally breaking … or is it the first sliver of a new moon after the dark moon?
Part I Evenfall and Part II Dyad are instrumentals and are as panoramic  backdrops to the final – part III – "Royal Sweet". "We are all and nothing here…"
I know that I am biased having watched Jyoti and Maya grow into a formidable duo over the past couple of years, but do go and listen to their music on You tube if you don't know them already.
And of course try and catch them live 🙂
The double CD at EUR 18 is incredible value. Well done everyone who helped to make this all possible!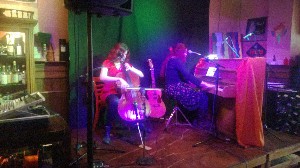 A more informal setting… Jyoti & Maya, Alkmaar February 2014 – (Morgana).