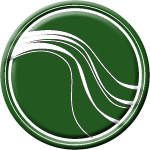 Last time we spoke about the Cailleach and her transformation (shape shifting) into the young goddess Bride at Imbolc, February 1st. What do we know about this form of the Morrigan? At first it is not so obvious that Bride is a shape of this mysterious Goddess. And there was my struggle, how could I connect Bride with the Morrigan? I started to research and meditate and I knew that there must be a connection. At that time I could not find it. I needed a completely different approach!
Imbolc is the festival related to Bride. This is the time of year that we, as human beings, can feel the change in the air and we know, although not really visible yet, that life itself is renewing, just like the Cailleach is transforming herself into Bride. At this time of year it can still be frosty and even snow is possible, as if the Cailleach hesitates to transform. Just as we human beings delay when we face an important decision, we hesitate often whether we are willing to change or not. Afraid, with big decisions, to start all over again, not knowing what lies ahead of us. Only the bold and courageous people are not afraid to take such a step. And there it was, this is another aspect of the Morrigan, she is bold and certainly not afraid to do what must be done, whether it is nice or not. This aspect in Bride is 'available' but not yet cultivated.
And then I found another link to the Morrigan, apparently Bride is a daughter of Nemain[1], also an aspect of the Morrigan. Nemain means (according to different articles) frenzy, terror (shrieks)  poisonous and this last one is, I think, which is connected with healing. What is poison for one is healing to someone else. I will talk about Nemain in another paper, but for now this connection is enough.
If we can connect Bride to the Morrigan, with all her talents, it is a very young Morrigan that has to learn and remember and we all know that children have a great skill to learn various things. Bride is, I feel, connected with (on a human level) the age of 0 till 7, a child with all the promises for the future… if they are bold enough.
On a spiritual level she tells me every time:
"You have to make an important  decision and if you are willing to take the leap, unknown but latent talents will unfold, will develop, will come to the surface and will give great fulfillment. But you have to stick your head above the ground! And you have to be Brave!"
Bride is also connected with the art of poetry, healing and blacksmithing. All of these talents have to do with creativity which , in itself, can give great fulfillment and joy. Obviously Bride is a girl and within her she has the talent of bringing forth life. For me that is the connection with midwifery and the connection with the article mentioned. As a midwife you have to have 'healing' hands, use poetry to sooth and to 'foresee' the future of the child to be born. And when she reaches the age to become pregnant herself, she is literally the 'blacksmith of men'.
REFERENCES;
The Guises of the Morrigan, The Irish Goddess of Sex and Battle Her Myths, Powers and Mysteries…  by David Rankine and Sorita d'Este ( Avalonia Books, ISBN 9781905297009)
Celtic Lore & Spellcraft of the Dark Goddess: Invoking the Morrigan  by Stephanie Woodfield (Llewellyn Publications, 2011, ISBN 0738727679)
http://www.thaliatook.com/AMGG/bride.php
http://www.druidry.org/library/gods-goddesses/brigit: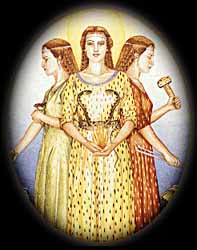 (llustration by Miranda Gray, from Celtic Gods and Celtic Goddesses  by R.J. Stewart: 
http://www.technoharp.com/Brighidsplace/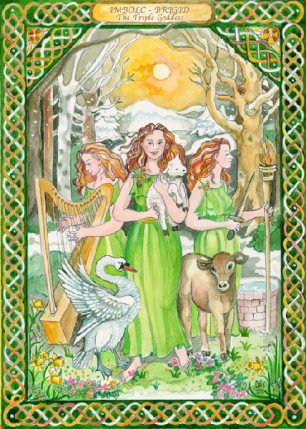 (Imbolc and Brigid the Triple Goddess:  http://journeyingtothegoddess.wordpress.com/2012/02/01/goddess-brigit/)
[1]http://www.patheos.com/blogs/agora/2013/11/loop-of-brighid-bride-the-cailleach-and-nicnevin/
Note from the author: My papers about the Morrigan are not in sync with the release dates. I tried to make a bridge but it is too much to do it next to all the other things in real life.
So, although we almost reached May 1st, Beltane, this article is related to Imbolc. 🙂
Nemain, April 2014.