The Breath of Isis
Naomi Ozaniec
See for ordering as an e-book: http://theaquarianqabalah.com/ebooks/the-breath-of-isis/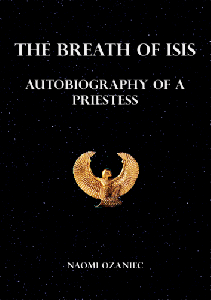 Contents
1. Awakening
2 The Call of Isis
3. The Mantle of Isis
4. The Rites of Isis
5. The Garments of Isis
6. The Breath of Isis
7. The Light of Isis
8. The Mysteries of Isis
9. The Sorrows of Isis
Introduction to the Archive
The Ascension of Osiris
11 The Adoration of Sekhmet
111 The Blessings of Hathor
IV The Roses of Isis
V The Mysteries of Isis and Osiris
Biography
"Naomi Ozaniec has been involved in the Western Mystery tradition since 1975. She was the Oracular Voice of Isis at the World Parliament of Religions in Chicago. Although her main interest is in the spirituality of ancient Egypt, Naomi is an inspirational and original writer; she has written on many aspects of the Western tradition including meditation, Tarot as an in initiatory symbol system, Qabalah and the historical role of the priestess. As part of her commitment to the empowerment of women, Naomi is passionate about the re-emergence of the Divine Feminine as a vitalising presence in the creation of a new global vision. Naomi is the founder of The House of Life – An Aquarian Mystery School founded on the mysticism of Ancient Egypt."
From: http://www.sophos.uk.com/naomiozaniec.htm
I have known of Naomi for many years and it was in fact her first book "Meditation the Inner Way" (The Aquarian Press, 1987) which helped me to understand the difference between Eastern & Western methodology. We have since met in person and I have always enjoyed her writings and insights.
This new book is wonderful to read since it not only tells her life story and how she has developed various techniques but she also describes the "dynamic of being a priestess".
She describes her meetings and working with many people who are also accomplished writers and practitioners. Many names are familiar … Marian Green, Lady Olivia Robertson, Dolores Ashcroft-Nowicki, Gareth Knight to mention but a few.
Naomi also attended the World Parliament of Religions both in Chicago (1993) and in Melbourne (2009). Both parliaments made a huge impact on here but it was in 2009 that she met her 'soul-sister' Naza Cogo.
She writes: "When she (Naza) met me at the airport, I knew at once that we were soul-sisters in Isis. When I left her almost three weeks later, I cried tears behind my big sunglasses. During our time together, it was as if Isis herself had joined us, she has most certainly brought us together. It is impossible to convey the intensity of the exchanges between Naza and myself, nor is this the place to do so. Naza will have her own story to tell but I will say that in Naza I recognized the breath of Isis in the first instant of our meeting. This extraordinary, beautiful and wonderful heart connection of course continues and it was during this time that Isis took up Her place in the Mystery School which She had knitted together with such patience over so many years. I suddenly knew that She had never been absent but only silent watching me stumble and fall so many times. How She must have wept at my stupidity and folly, my blindness to goodness and my deafness to counsel. What an arduous homecoming I have made of it." (p.101)
In the section 'Introduction to the Archive' Naomi describes how she actually works and the creative process involved. 'The House of Life' is where she has created a platform for rituals. She prepares us for practical work and gives us The Ascension of Osiris – A Mystery Drama based on The Pyramid Texts.
Her second offering is The Adoration of Sekhmet. Naomi: "The Litany of Sekhmet is the script used for the weekend The Adoration of Sekhmet. It is indebted to the inspiration provided by Robert Masters** and quite unlike any other ritual script I have used before or since. I hope it is not seen as a plagiarism but as a sincere attempt to place his words in a ceremonial context. Despite its brevity and apparent simplicity, the Litany is deceptively powerful as the entire rite is a lengthy extended invocation." (**Robert Masters, Goddess Sekhmet:Psycho-Spiritual Exercises of the Fifth Way) (p. 120)
The third offering is: The Blessings of Hathor. Naomi: "It has always been my belief that the priestesses of Hathor danced to extend, enliven and exalt through a sacred understanding of movement as the conductor of sublime and ecstatic energies."
 The Roses of Isis is a meditation which Naomi gave at the Melbourne Parliament. Its theme is that of transformation.
And finally Gathering the Fragments of Being – The Re-Membering of Osiris and the The Mysteries of Isis and Osiris. 
Naomi: "I see now that I have been inspired by Isis all my life and especially since 1977. But my story is no more than template for the unfolding of your own story. The re-telling of my story shows me the many ways in which Her inspiration has come to me." (p. 60)
Indeed this book reads as a journey of transformation and of inspiration. Even if you can't actually perform the rituals with a number of people, using them as a guided visualisation is also a possibility.
Highly recommended (as are most of Naomi's books)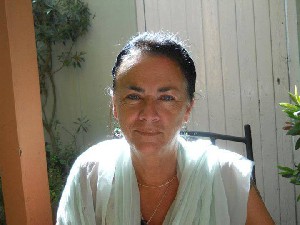 Contact details:
– e-mail
– Books by Naomi Ozaniec on Amazon
– Facebook.