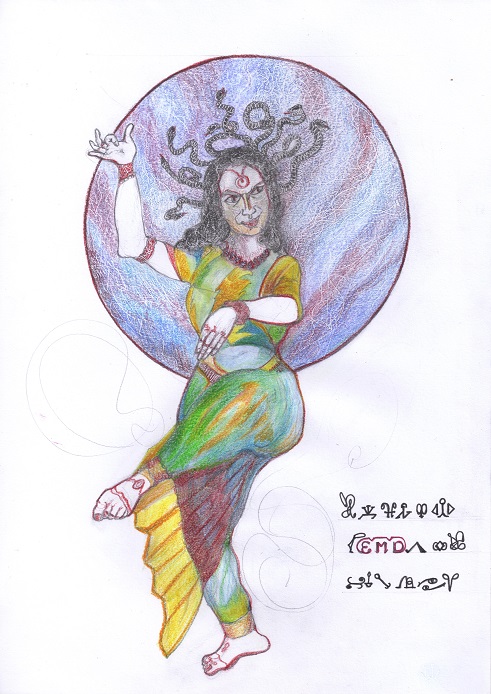 Some Reflections on Kenneth Grant
With the death of British author and occultist Kenneth Grant in January 2011, we lost a figure who was both unique in his own right and also a link to some of the key figures of the modern Magical Revival in the mid-20th Century. He was roundly considered the last living link to Aleister Crowley, Gerald Gardner, and Austin Osman Spare; had also been at least a partial witness to the contact between Crowley and Dion Fortune, and had been on familiar terms with the Occult Surrealist painter Ithell Colquhoun, and involved with the enigmatic Alchemist and Tantricist David Curwen.
Kenneth Grant had written and published steadily over five decades, leaving behind a substantial body of books and articles, including both fiction and non-fiction work, that have been a major contribution to modern occult literature. Grant and his work have been admired and attacked in equal measure, and it has been said that his work can infuriate as readily as inspire or illuminate, but as his former protégé, priestess of Maat Magick, Nema, has written: "These aren't just books about Magick; they're books that are Magick."
In his important study, The History of British Magick after Aleister Crowley, the late Dr. Dave Evans argues that Grant was "certainly unique" in the history of British esotericism because of his "close dealings" with Crowley, Spare, and Gardner, who he considers the "three most influential Western occultists of the 20th century" – even though at the same time he describes Grant as having "an often confusing, oblique, and sanity-challenging writing style." Similarly, in an oft-quoted review of Grant's novel Against the Light, despite at one point characterising him as "a schoolboy gone berserk on brimstone aftershave", prominent graphic novelist and self-professed magician Alan Moore declares it is "hard to name" any other living individual who "has done more to shape contemporary western thinking with regard to Magic" than Grant.
Outside the U.K., assessment has been more cautious when it has appeared at all: at just shy of 500 pages, the monumental Lords of the Left-Hand Path by Rune Master and former High Priest of the Temple of Set, Stephen E. Flowers, PhD, barely mentions Grant at all – and then only really in passing, acknowledging his contribution as Austin Osman Spare's literary executor. His fellow Setian and likewise former ToS High Priest, Don Webb, wrote an appreciation of Grant after his death, at one point calling him a "guilty pleasure" for Setians – and then making some interesting if somewhat surprising comparisons with the American writer, William S. Burroughs (himself no stranger to altered states and irregular sexual practices, and with a lifelong obsession with the occult.) By contrast, associate professor at Gothenberg University, Henrik Bogdan – author of Kenneth Grant: A Bibliography from 1948 – has written that Grant was "perhaps (the) most original and prolific English author of the post-modern occultist genre."
It is to be hoped that a fuller assessment of Kenneth Grant's life and work will be made in due course. So far, the definitive statement has to be the essay Scintillations in Mauve, by his friend and colleague Michael Staley, which can be found online at:
http://www.starfirepublishing.co.uk/Downloads/Scintillations_in_Mauve.pdf
Emma Doeve and I have also made some small contribution with a series of articles that we have begun work on about Kenneth Grant, also his association with the likes of Austin Osman Spare and David Curwen, the first of which appear in the new occult journal from Aeon Sophia Press, The Thirteenth Path.
In the meantime, we would like to share some 'highlights' from a piece that I wrote shortly after his death in 2011, Remembering Frater Aossic, the late Kenneth Grant:
He liked Count Basie, and was convinced that his 'jump' rhythms held sonic keys to tangential tantras on the reverse side of the Tree-of-Life. On the other hand, like so many of his generation he was all-too dismissive of most popular music, and had a pretty dim view of what passed for 'popular culture' from the 1960s onwards – and despite his involvement with the band Chakra's single Scarlet Woman! [In 1976, a loose assortment of musicians and members of the Typhonian Order who had met in the Grant's local, had released a 7" single, with cover art by Steffi Grant, featuring the wax-cylinder recordings of Aleister Crowley reciting La Gitana and The Pentagram on one side, and on the other a catchy ditty Scarlet Woman, which included Grant and a couple of his associates chanting in the background.]
Despite his lifelong dedication to the life & works of Aleister Crowley, promulgation of the Law of Thelema, claiming Outer Headship of his Own True Order, etc., he confided that really his 'first love', spiritually speaking, was Advaita Vedanta: this lead to him writing a number of articles for Indian journals, and for a while becoming a follower of the Sage of Arunachala. [All of this was later collected and commented upon in the Starfire volume At the Feet of the Guru.]
He really believed that H. P. Lovecraft was "onto something" – the Necronomicon in fact existed on the astral, as it were, and that HPL had apprehended this through his dreams, or suchlike, but was unable to accept the 'truth' of what he had discerned – that he was in effect an unconscious magician. [An interesting – if perhaps controversial – examination of this very topic was published recently as The Dark Lord: H. P. Lovecraft, Kenneth Grant, and the Typhonian Tradition in Magic, by former "Simon Necronomicon" author Peter Levenda.]
He had received his first intimations of 'an Occult Transmission' at 15, when he had received a Transmission from the entity S'lba – also the same age at which he came across Crowley's Magick In Theory & Practice in a Charing Cross Road bookshop, which lead him eventually to write to AC c/o the publisher (he was hoping that AC would be able to teach him yoga!) [I made my initial contact with Mr. Grant – likewise by way of writing c/o the publisher – when I was 15 myself, at a time of certain 'occult awakenings' of my own, so I was convinced that these things went in cycles…]
Of profound interest was Grant's revision of the XI° O.T.O., to bring it more in line with authentic Vama Marga Tantra… [This subject forms part of the particular focus of my article, At The Feet of The Goddess: Some thoughts on Kenneth Grant & David Curwen, which can be found in the first issue of the new Occult Journal from Aeon Sophia Press, The Thirteenth Path.]
And lastly, on a more personal note, with regard to my age he encouraged me to make the best of my education (he seemed particularly pleased that my schooling included Latin, Religious Studies, and a generous round of the Sciences – in short, a classic English grammar school education – as he felt this would provide just the sort of grounding a serious student of magick needed), and when he understood that my interest in the Occult was leading to a certain amount of social ostracism, even problems with bullying at school, he recommended to me the Fourth Power of The Sphinx: that as well as To Know, Will, & Dare, one should also remember when to Keep Silent…
Finally, in closing, I know that a picture of Grant is often painted as autocratic, 'old school' authoritarian, which may well have been so – several people have lead me to believe that he was actually easier to get on with if you weren't a member of his Typhonian Order! – but the thing that impressed me about him was his obvious dedication to the daemonic feminine. His championing of the work of Dion Fortune, and of Marjorie Cameron (at a time when most people, if they were aware of her at all, just thought of her as "Jack Parsons' widow"), and his active encouragement of successive generations of strong women occultists such as Margaret Ingalls ('Nema'), Janice Ayers & Jan Bailey, Mishlen Linden, Linda Falorio, and Mary Hedger – as well as his life-long devotion to his wife, the artist Steffi Grant, attest to this. [As Caroline Wise of the Fellowship of Isis has remarked recently: "KG was totally for the Goddess!"]
His legacy is yet to be fully assessed and we shall not see his like again.
In Memoriam Kenneth Grant, 1924 – 2011, gone to his Greater Feast.
Matthew Levi Stevens
Accompanying illustration: 'Kaula Dancer', by Emma Doeve.
Biographies:
Emma Doeve is a changeling child from the Lost World of what were formerly the Dutch East Indies, twice removed: once when she was taken on a big ship to Holland, where she grew up and went to school; the second time after Leiden University, when she left the Netherlands to find the birthplace of English Romanticism and re-connect with Nature.
She has lived in rural Scotland, Oxford, and Hay-on-Wye. She is first and foremost a Fine Artist, but also a Writer & Researcher, with an interest in the Occult and Esoteric, who has made use of Design, Graphics, Performance, Photography & Video in her work. She currently resides deep in the Heart of Darkest Surrey, with her partner Matthew Levi Stevens. They deal in rare books, and have collaborated on a number of projects together.
Matthew Levi Stevens was born shortly before Midnight on the 31st of October 1966. He is a writer, researcher, rare book dealer, and occasional poet, speaker and story-teller, with a background in music and performance art.
An early awareness of the Occult and a range of 'chance encounters' with artist-practitioners while still only a schoolboy of 15 determined his path at a young age. He has been exploring the Magical Universe and matters sacred and profane for the past three decades. He is currently expanding and revising his essay The Magical Universe of William S. Burroughs for book-length publication, and with his partner Emma Doeve working on a Grimoire inspired by the Graeco-Egyptian Magical Papyri.
See also:  http://whollybooks.wordpress.com/the-oracles-of-matthew-levi-stevens/