Philip Heselton
Witchfather: A Life of Gerald Gardner
Volume 1. Into the Witch Cult. 330 p. ISBN 978-1870450-805. £16.99
Volume 2. From Witch Cult to Wicca, 426 p. ISBN 978-1870450-799. £18.99.
Published by Thoth Publications of Loughborough, Leicestershire and available via their website www.thoth.co.uk  It is also available from Amazon.co.uk and from the usual bookshops and bookstores. PDF versions of both volumes are also available from Thoth at £6.99 per volume. They are also available for Amazon Kindle for £7.20 per volume.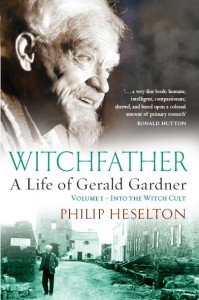 Although this is not the first biography of Gerald Gardner it is definitely the most complete. ('Gerald Gardner: Witch' by Jack L. Bracelin first published in 1960). This is also not the first book Philip has written about Gerald Gardner either. Wiccan Roots (2000) and Gerald Gardner and the Cauldron of Inspiration (2003) were earlier works.  Philip felt that "It seemed the logical next step was to write a full-length biography of Gardner." And this is the result, a two-volume book.
In the foreword he writes that he has made extensive use of both Bracelin's and his own books. In volume 1 of course we read of Gardner's early life including his genealogy and the origin of the name Gardner. Unfortunately Philip has not found out why Gerald had the name Brosseau. It sounds French of course but there seems little evidence of a French connection in the family.
We read of Gerald's life abroad under the wings of his governess Georgiana Mc Combie, affectionately known as 'Com'.  These first chapters also describe colonial life in Ceylon, now Sri Lanka. It was in Ceylon that Gerald was on his own as a young 20-year old. He became involved on a tea plantation and much of his social life was connected to his work there. He was involved if not a member of the Ceylon Planters Rifle Corps in the early 1900's. He returned to England in 1907 having been in Ceylon for six years.  Philip describes the next period in Gerald's life as the 'Edwardian Interlude'.  It was also the meeting with the Sergenesons, a family living in Formby, near to his birthplace of Blundellsands … a meeting Philip describes as important to Gerald as meeting with the naturists in 1936 and the witches in 1939.
Gerald continued his adventures visiting Singapore and later Borneo. There he would learn about the Dyaks. He would write about his experiences in his book The Meaning of Witchcraft (1959) and he would also describe the Kris, or sacred dagger, in his book Keris and other Malay weapons (1939). Philip dedicates a chapter to the Keris in The Mystical Weapon (chapter 10) and how Gerald would learn more about the secret rituals.
In the chapter The Arrival of a Goddess Heselton describes in detail the effect Cyprus had on Gerald and the subsequent novel he wrote called A Goddess Arrives , probably about 1939. I have a copy published by Godolphin House in 1997. Was this novel a recollection of a former life? It was after this novel that Gerald really became involved with Witchcraft, or the Wica as the people called themselves.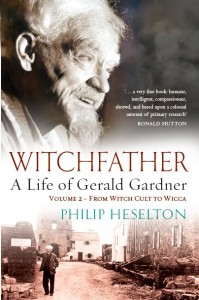 In Volume 2 we read of Gerald's journey from "the Witch Cult to Wicca" as Philip describes it.
From his encounters in the New Forest to his "Resting place in Carthage" Philip writes in detail of the meetings with the people from the Crotona Fellowship and of course Dorothy Clutterbuck, Cecil Williamson, Doreen Valiente. Fred Lamond and Patricia Crowther have  provided Philip with accounts from their own books or personal conversations.
Philip has included a number of (as far as I can tell) previously unpublished photographs.
All in all an extraordinary biography which will interest anyone who is keen to understand the social and magical background of the luminary, the "Witchfather" of Wicca, Gerald Gardner.