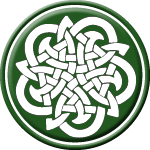 Wiccan Rede is a Dutch/English quarterly magazine on Wicca and Witchcraft. Wiccan Rede Online is the successor of the paper magazine Wiccan Rede that appeared from Spring 1980 until and including Lammas 2010.
Wiccan Rede has its roots in Gardnerian Wicca, but has always presented views from other traditions within and without Wicca. To understand the terminology used, we indicate the background of the magazine.
Wicca, or modern Witchcraft, is an initiatory path, open to those who want to become a priestess or priest and to follow the path of initiation and training within a regular coven. G.B. Gardner was the first to document this tradition, and the word wicca.
Wicca is on one hand a nature religion, revering a Goddess and a God, celebrating eight seasonal festivals and thirteen full moons, and working magic. Many people nowadays use the word Wicca to describe solely the religion. The words Witchcraft and solitary Witchcraft are used as well by the ones that want to connect individually with the Goddess and the God, without following the initiatory path.
Previous issues and articles
Previous issues of the magazine, from the period 2003-2010, can be ordered from http://www.silvercircle.org/wiccanrede.htm.
Some older articles can be found here: http://www.archive.silvercircle.org/.
Donations
Wiccan Rede Online is available for free, but costs are made for it. We do appreciate your donation!
Within the Netherlands you can transfer your donation to bank account ABN/AMRO 45.64.08.401 of Silver Circle, Zeist. Mention 'donation'.
From other countries please use the PayPal-button 'Doneren'.
Disclaimer
The opinions expressed in the articles in Wiccan Rede Online are those of the authors, and not necessarily those of Silver Circle. Mentioning of a course, workshop, pubmoot, organization, group etc. in the Agenda section or address list does not mean that Silver Circle recommends this course, group, etc.
Copyright
The copyright of the individual articles and illustrations remains with the authors. The copyright of Wiccan Rede Online is held by Silver Circle. We ask our authors – when they use illustrations by other people – to use copyright free illustrations or to obtain the right to use the illustrations.