The Green Witch – your complete guide to the natural magic of herbs, flowers, essential oils, and more
Arin Murphy-Hiscock
Adams Media, 2017. 256 p. ISBN 978-1-5072-0471-9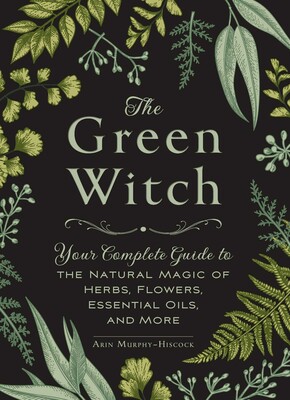 Witchcraft is not the same as Wicca. In this book, 'witchcraft' refers to the practice of working with natural energies to attain goals, without a specific religious context. So a green witch is someone who lives the green path and is aware of how the energy of nature flows through her life and environment. And that can be other than the traditional garden or forest. It is an individual path, an individual solo practice. Key are the concepts of healing, harmony and balance. The focus is on three levels: 1. the earth; 2. humanity (in general as well as each person's local community and circle of friends); 3. yourself. The green witch chooses to harmonize her life with the energy of nature. And she is so in tune with her surroundings that there's no need for a formal set of ethical rules. "Working with the earth means that to act against it would be counterproductive, and that includes acting against a member of the earth's extended energy, such as other people, animals, plants, and so forth. It is difficult to act unethically when you understand how everyone and everything is affected by the negativity of such an action."
The chapter 'What is Green Witchcraft' also includes how to learn to identify with the Earth and how it celebrates life, and how magic must be understood. The chapter 'Embrace your own powers' deals with the basics: seven basic areas of energy (such as harmony and health); 'tools' including one's own hands but also cups, a knife or scissors, a staff and 'power bags'; purification; the elements; making an outdoor sacred space. Chapter 3 deals with attuning yourself to nature; grounding and working with the elements and the senses; followed by a chapter on the seasons.
Part 2 is dedicated to 'Walking the green path', starting with living closely with the earth (sun, moon, stars; trees; etc.). After chapters on keeping a witch garden; creating and crafting green magic and becoming a natural healer; kitchen recipes are given. Here you find the basics of preparing herbs and working with herbs to produce for instance incense and balms. 'Becoming a natural healer' in this book does (of course) not mean the reader becomes a medical professional, but the knowledge is shared that used to be folk knowledge in the past.
This edition is from 2017 (and builds forth on an earlier version dated 2006) but somehow I had missed it. It's still available, and I like how it combines working with energy – magic – and working with natural remedies.