Pagans. The visual culture of Pagan myths, legends + rituals
Ethan Doyle White
Thames & Hudson, 2023. 256 p. ISBN 978-0-500-02574-1. £ 25.00; € 34,95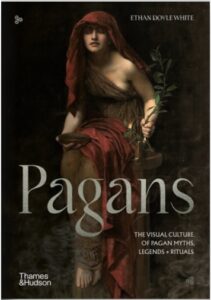 This hardcover edition certainly adds to your book collection. For starters: 900 grams. And the word 'visual' in the title comes up to expectations: the book evolves around the many pictures.
The word 'Pagan' includes – not only in this book – pre-Christian traditions of old, of 'far away' societies, and the neo-Pagan groups in the modern world. "Historically, the term 'paganism' did not designate a particular religion." So do not expect a plain division between those very different categories.
Non-Abrahamic worldviews typically populate the cosmos with a plethora of different entities, each with their own powers, temperaments and experiences. Often these 'other-than-human persons' are thought to reside in separate worlds parallel to that of humanity, creating a complex multilayered universe. Many societies have thought it possible to travel between these different realms, although the manner in which these journeys take place varies. …
That is the start of the last chapter, 'Journeying', which mentions the 'nine worlds' of Old Norse cosmology, and those in the traditional beliefs of the Chukchi of Northeast Asia, and the 'three-tiered cosmos' of the Mapuche of Chile and Argentina. And that on one page. I would not call the book 'superficial' though – 'compact' is a better word to describe this volume. The interested reader can find lots of titles on the 'Further reading' pages. The book touches on a wide range of subjects, as the Index can verify. Amulets, dance, divination, orishas, possession, ritual specialists, shrines, spirits, votives; all included.
The book is divided into three categories, of each three chapters:
Ancient ways
1. Goddesses + Gods
2. Myths + Legends
3. Numinous Nature
Ritual
1. Sacred Sites
2. Witchcraft
3. Oracles + Divination
Community
1. Festivals
2. Embodied Faith
3. Journeying
This frame offers a place to many paintings from 1870 to 1910 (by John William Waterhouse and his contemporaries), older paintings, and modern photographs, and to pictures of ceremonial objects from all over the world, and from ancient societies up to recent and still existing tribes. Every 'visual' is interpreted and explained in text, but when you cannot read English, this still is a very interesting book. An audio version of the book would also be of interest, but it would lose in attraction.
Anyway: recommended for a broad audience of people: for those new to the subject of Paganism, and for those who know much about a specific type of Paganism, but would like to know more about other types and the resemblances between them.