Queens of the Wild – Pagan Goddesses in Christian Europe: An Investigation
Ronald Hutton
Yale University Press, 31 May 2022. 256 Pages, 6.12 x 9.25 in, 24 Colour illus.
Hardcover: ISBN: 978-0-300-26101-1, $25.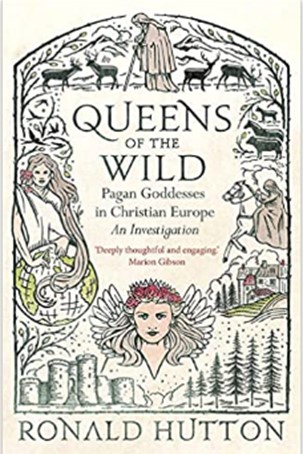 Prof. Ronald Hutton is a well-known author to many of our readers. Recently he has been giving numerous online lectures, especially during the pandemic. In the case of this book, it was the launch, at the bookshop Treadwells, I heard. It is always a pleasure listening to him and his introduction to 'Queens of the Wild' was no exception.
He looks closely at four main figures—Mother Earth, the Fairy Queen, the Mistress of the Night, and the Old Woman of Gaelic tradition and he "challenges decades of debate around the female figures who have long been thought versions of pre-Christian goddesses. He makes the compelling case that these goddess figures found in the European imagination did not descend from the pre-Christian ancient world yet have nothing Christian about them."
In the first chapter 'What is a pagan survival?' he describes the ongoing debate…"The present book is intended as a contribution to the resulting debate, with the intention not of directly refuting any of the voices in it but of recasting the basic terms of the discussion. It is designed to look at a set of figures in the medieval and early modern European imagination which do not seem to fit very well into the categories of Pagan or Christian. One of them was found in learned and elite culture, and three in popular culture. Between them, they may be suggested to challenge the religious polarities and dualities around which discussion has been centred, perhaps, for too long."
Complete with some wonderful, coloured illustrations, extensive notes and index, this is a must for anyone interested in the discussion concerning Pagan Survival.
I would also like to congratulate Yale University Press for producing a hardback book with coloured illustrations for under EUR 24! Brilliant!
Here is a great interview with Ronald on his then 'forthcoming book' Prof. Ronald Hutton – Christian Goddesses?
Religion off the Beaten Track
Prof. Ronald Hutton is one of the world's leading historians of religion. In this episode, he talks about the theory that elements of ancient paganism survived into the Christian centuries; and he gives a preview of the contents of his forthcoming book on supernatural female figures in Christian cultures, "Queens of the Wild".
Prof. Ronald Hutton: "A leading authority on the history of the British Isles in the sixteenth and seventeenth centuries, on ancient and medieval paganism and magic, and on the global context of witchcraft beliefs. Also the leading historian of the ritual year in Britain and of modern paganism. He is a member of the 'Medieval and Early Modern Cluster' at Bristol."
https://research-information.bris.ac.uk/en/persons/ronald-e-hutton