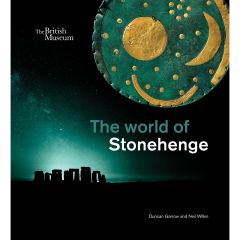 Duncan Garrow and Neil Wilkin
The British Museum, 2022, 271 p. ISBN 978-0-7141-2348-6
In London is the exhibition 'The World of Stonehenge', from 17 February to 17 July 2022. Accompanying the exhibition is this book, 25 x 28 centimeters, and full of beautiful and clarifying illustrations. Not only Stonehenge itself is focus of the exhibition, but its era, its builders and their connections with equally powerful societies across Europe. The British Museum explores the history of Stonehenge and the creative achievements of the people who built and used it, discovered by archeology and increasingly well understood through science.
Stonehenge, the monument with the sarsen stones, was completed 4,500 years ago but the book covers a much longer time, from around 12,000 to 3,000 years ago. That is about 100 generations. No written sources are available from that period. The objects, monuments and archeology are the sources of evidence. It is not a true 'henge' according to the definition of Thomas Kendrick who coined the term in the 1930s.
Around 4,500 years ago immigrants from the continent brought metalworking know-how. Three connections were important in the world of Stonehenge, concerning the natural world, people's relationship with the heavens and people's relationships with each other.
'Working with nature' is the first chapter. It looks into changing temperatures at the end of the most recent Ice Age and the land bridge between Britain and Ireland and the continent, Doggerland. Woodwork, stone axes, the arrival of farming. Newgrange, West Kennet long barrow, the first stages of what later became Stonehenge.
The second chapter is 'Sermons in stone', and compares Stonehenge to many other stone circles and seahenges, it describes passage tombs, the Orkney settlements and the use of pigments, burial findings (necklace, pin) and styles of decoration.
Chapter 3, 'Under one sky' digs into the alignment of Stonehenge to the sun and Midwinter, and into sun-discs, collars and chariots. Among those the Nebra Sky disc and the 'golden hats'.
In chapter 4, 'New horizons', we see the Beaker people arrive and in this chapter the authors mention connections with continental Europe, as DNA evidence indicates. Grave goods, amongst which exotic and precious materials such as gold, amber, bronze, faience and glass, and well preserved baskets and woven material. A dense concentration of burial mounds shows that Stonehenge was still at the centre of religious and cultural life.
In chapter 5, 'To the sea', Stonehenge was no longer developed, around 3,500 years ago. But there is enough evidence of trade overseas. Ceremonial dirks, bronze and gold ornaments, shield and helmets as artefacts of warfare, the Flag Fen site.
The many beautiful illustrations most definitely add to the value of this very interesting book.