Lights, Camera, Witchcraft: A Critical History of Witches in American Film and Television
Heather Greene
Llewellyn, October 2021. ISBN 9780738768533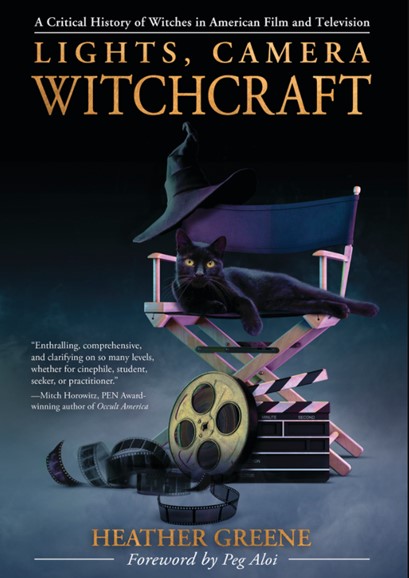 "There's a little witch in all of us." – This line from Practical Magic (1998, based on the 1995 novel of the same name) resonated with the 8-year-old me. My mother introduced me to this movie; It was her favourite, and it soon became mine as well. I cannot count the number of times we watched it together.
The '90s saw a revival of 'witchy' movies (and TV shows) and if you grew up with them as I did, you know how much of an influence they had. There was a shift in the portrayal of witches – from the 'evil hags' and 'wicked witches' that we were told about in Fairytales, to strong, empowered, beautiful women. That was truly an era of 'kick-ass' feminism. From the workplace to the music scene, TV shows and movies – women were at the forefront. It is no wonder then that this continued to this day. People are still very much drawn to Witchcraft. Whether it is something that makes them feel powerful, in control or simply gives them a sense of connectedness and unity; Witchcraft is currently increasing in popularity in the social media sphere.
The portrayal of Witches in the media has always been a subject close to my heart. I had studied the way women were portrayed in works of art, this included their portrayal in Fairytales and how that changed over time. I then wanted to focus my attention to present-day (social) media. As I furthered my research, I was recommended Lights, Camera, Witchcraft: A Critical History of Witches in American Film and Television by Heather Greene.
Heather Greene is a freelance writer, journalist and scholar. As I began reading about her work and ideas, it intrigued me to find that we have almost the exact same interests. Questions such as "In how far the Zeitgeist of each era has affected the portrayal of Witches in the media and vice versa. Has the portrayal of Witches in different media affected how people (mostly women) act in society?"
Lights, Camera, Witchcraft explores the history of Witches in television and media throughout the decades. This book is far from being a simple timeline of what happened when or simply a critical analysis of the witch. Greene explores each era in detail, making connections between the entertainment industry and gender studies, feminism, spirituality etc. It also uses critical theory to explore and critique different elements of the entertainment industry. In how far does the representation of Witches come from society itself on one hand, and in how far does that representation challenge the power structures of the time?
For example, let us look at the 90s. I do not know of a single young woman (in my circle), that grew up in that time that did not get influenced by how these witches were portrayed. They have all grown up with a rebellious streak – challenging the societal structures that are present today.
What sets Greene's book apart is whereas a lot of different books out there on this topic will focus on the narrative of the witch or how "the witch" is characterized in for example comedies or horror movies, her work studies and focuses solely on "the Witch" as a character. A question she answers is "How did her appearance change depending on the decades and the socio-cultural and political climate?" Another interesting point is that she does not simply jump from decade to decade, but rather looks at the major changes that happened for example in the film industry. What were the big turning points and how did that affect "the Witch"?
Lights, Camera, Witchcraft is definitely destined to become a 'cult classic' – one of your go-to books if you are interested in any form of history of witches in American Culture. The book is around five hundred – 500! -pages long, which may seem like a lot but trust me you will binge each chapter just as you would your favourite Netflix show.
Ellfreya, January 2022
Further references:
Heather Greene is a freelance writer, journalist, and editor. She received a B.A. in film at Wesleyan University and an M.A. in film studies from Emory University. She also studied film and theatre at Cornell University and the University of Paris. She has written for Religion News Service, Turner Classic Movies, The Wild Hunt, Circle Magazine, Patheos.com, and other outlets. She is a member of Circle Sanctuary, Covenant of the Goddess, and the Religion Newswriters Association.
Heather Greene on her new book Lights, Camera, Witchcraft
9 Nov 2021 – John Morehead: