A practical guide to Pagan priesthood. Community leadership and vocation.
Rev. Lora O'Brien
Llewellyn, 2019. 122 p. ISBN 9780738759661. € 22,95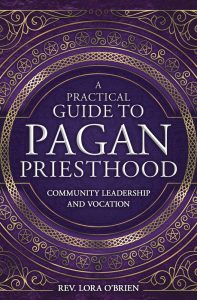 There's always been discussion about priesthood in Paganism. In Wicca everyone is priest/priestess. There are no lay persons. Wiccans are not the priests of Pagans in general, but work in covens, as couples or solo. Whether the role of a priest(ess) in Wicca can be compared to the function of clergy in other religions depends on your point of view. For starters: do you view Wicca as a religion, or as a brotherhood, as a magical / esoteric / gnostic practice? Do you view a priest(ess) as someone who predominantly has a connection with one or more Gods of Goddesses, or foremost as someone who is an intermediary between people and divinity? Is the function of a Wiccan priest(ess) comparable to the role of priests in classical antiquity – in ancient Egypt, Greece or Rome – or does he or she have a pastoral function (too)?
I suppose different views will stay around, and everyone who wants to stay under the radar, can quietly go on, having rituals, organizing in covens and groves, or being a priest to a deity, in private. But the circumstances are different now then when Wicca surfaced, some decades ago. From being 'a fast growing religion' (but very small and unknown to the general public), Wicca now has a place in the census. Even when the total of covens of initiated Witches still count only hundreds of people in a country, there may be thousands of people in the same nation considering themselves to be Wiccans or Witches or Pagans without a specific denomination.
Once a Wiccan (high) priestess was the 'primus inter pares', the first among equals. The one who had started the coven, and was often the most experienced Witch, the one with the responsibility for the rites and for the coven as a group and maybe to a certain degree for the well-being of its members. Not necessary someone with specific skills for leading a group, for teaching, for pastoral care, et cetera. Not a professional, unless the day job of the coven leader was by chance being a psychologist or teacher. There was no need for professional ministers, since every coven is small and autonomous. And like most parents learn to be a parent by watching ones own parents and having children, most coven leaders learnt to lead a coven by watching how their HPs and HP led a coven, by training in the mother coven, and by having their own coven. No one is hold accountable by anyone other than maybe a coven member, and some coven leaders have more skills than others. There were already some books on leading covens and group dynamics, and some on leading rituals for a larger audience, including non-initiated people. But mostly starting from the coven as the standard unit in which Witches/Wiccans operate.
Nowadays the scene is different. Many solo practitioners exist without ties to a coven. Self-declared Wiccans, eclectic Witches, Pagans in general. And Wiccans who were not content with their coven leaders, and quit the coven they were part of. Plus the many people just interested in Wicca, Paganism, Druidism, Asatru et cetera. The readers of magazines and books on the subject, who may have followed some courses, but never committed to membership of a specific group. Together that is a large group of people. A community, even if they do not realize it.
In several countries (in the Anglosphere) 'Wiccan churches' exist. It may be the only way to have a legal wedding with a religious ceremony, or to own a building for performing rituals, or a piece of land for that purpose. In these and other countries there are rules for clergy in hospitals, prisons and the army. To be recognized as clergy, one might need to have had a formal education, at a certain level, to be able to assist everyone in need of guidance, whether of not these people are likeminded.
And here comes the need for educated ministry. Pagan ministers, for pastoral care for Pagan people in need: i.e. pastoral workers; or for leading a ceremony such as weddings and funerals: i.e. celebrants. And the need for the education of non-Pagan ministers on Pagan views on life and beyond, on the relation between Pagans and Nature, and on the way Pagans celebrate. And since the community is growing broader and more diverse than it used to be, for better educated leaders and teachers in the community.
Knowing each other personally is no longer possible, so another way of pointing out suitable coven leaders and teachers is welcome. Not to mention fulfilling the need to educate oneself (in a refresher course) on the subject, being a (coven) leader or teacher within a Pagan group.
So here is this book – yeah, I was coming to that subject – to provide a baseline or common standard, practical advice for building community leadership skills, and information on how to be a priest within the world of modern Paganism.
What is a priest in the context of Paganism? "A person who honors a deity or deities; performs religious ceremonies, rites, and duties; and administers sacraments – that is: anything of sacred significance. The priest may or may not be ordained or initiated within a particular tradition, and they may or may not hold the relevant legal status in their home country or state."
Who is the book for? For those considering taking the step to priesthood and taking it seriously; and for those who consider themselves – or are considered by their community – to be priests. "The aim is to help you figure out what it really means to be a Pagan priest and to provide you with practical support, guidance, and resources to build your skill set, leadership qualities, awareness, and commitment to getting this right."
Why did Lora O'Brien write it? Among other things: "This is a book that I hope will open doors and provide a cross-tradition foundation for what Pagan priesthood can be."
Chapters are on:
The duties of a priest (Pastoral duties; Sacerdotal duties = ritual technique and such; Modern Paganism; Self-assessment)
Pastoral skills and development (Group leadership; Community leadership; Learning and teaching; Crisis care)
Sacerdotal skills and development (Communicating with deity; Devotion to deity; Magic, skills and ethics; Life rites and community celebration)
Priesthood in modern Pagan traditions.
So for everyone who is already involved in a Pagan practice and wants to lead a group, to teach, or to perform (public) rites or give pastoral care, this is a valuable source of knowledge. I would add the people studying to become pastors in hospital or prison or the army, who are involved or interested in Pagan traditions, and any pastor (to be) who might come across Pagans in his or her practice. I do hope that vocation to be a Pagan priest follows from being part of a Pagan tradition, and not the other way around, but reading this book is recommended to all clergy.