CD: White Swan Dreaming
By Alanna Moore & friends
AUD 30.00/ EUR 20
Order here: https://www.geomantica.com/product/white-swan-dreaming-cd/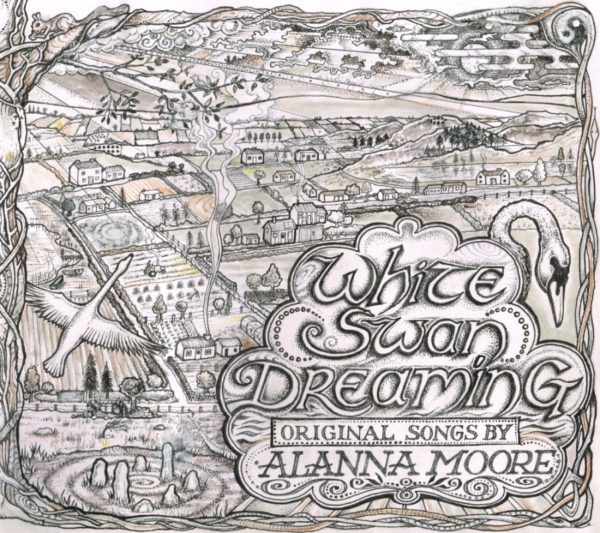 I first met Alanna when she came to the Netherlands and gave a workshop about Dowsing in 2003. (Yes, 2003!) At that time she was living in Australia. Later she moved to Ireland but her connection with Australia is still very evident.
From her website 'GEOMANTIC' – we can read more about her background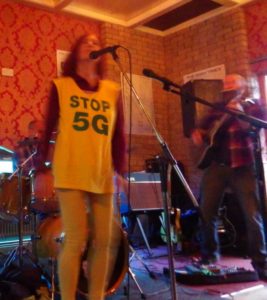 (This photo shows Alanna launching the album in Leitrim, Ireland on June 23, 2019. Alanna dedicated the song 'Endless Green' to the anti-5G movement and gave out leaflets about this hazard after her – rare! – performance.)
"Alanna Moore was a musical child, studying music theory and piano, and playing at eisteddfods in Sydney (Australia), her hometown. She also loved to follow her father around and join in as he sang old Australian folk songs, that had been collected by his friend John Meredith, a pioneer in the folk music field. These were mostly derivative from traditional Irish, English and Scottish tunes. She also wrote little books and poetry from an early age.
After a lifetime career of dowsing, geomancy, teaching and writing, and having moved to live in Ireland, Alanna has collected together the songs she has written about Ireland over the last decade, commissioned local musicians to create musical accompaniments and has sung and recorded them onto CD. This album, her second, was in the pipeline for 18 months and has the theme of homecoming, discovering Irish 'Dreamtime' and geo-mythos. It's unique themes of the pagan past derive from Ireland's traditional folk music heritage, but these modern folk songs also have occasional jazz and country rhythms in there as well.
Being electro-sensitive, Alanna cannot be a regular performer. The only place you can hear them currently is by buying a CD either from this website or at Alanna's workshops."
When she asked if I would like to hear her new CD of course I said 'yes'.
The Album
"Alanna's songs pay homage to Irish myths and paradigms that held sway long before the current era. For this Australian songwriter of Irish descent, also a professional geomancer, the parallel indigenous perspectives of both sides of the world still hold currency today. 
Like a migrating swan returning home, she traverses geo-mythic landscapes and dives deep into the Irish Dreamtime, soul-full realm of the Other. Bypassing the spin on St Patrick, she pays homage to the energies and spirits of place. Seeking the serpents of Earth wisdom, their forces still pulsing under the surface, she celebrates the joyful pagan heart of Irish society. Embracing Ireland's gods and goddesses, she connects into their life-promoting powers, through dream images and inspiration from actual encounters. The result is a feast of diverse dishes that explores Ireland's indigenous cultural wealth and the beauty, heritage and sanctity of its fertile landscapes. 
From the Iron Age to the Celtic Tiger boomtime, Alanna's songs reflect the changing ethos of modern times also. New myths arise as the Irish countryside is plastered with bland monuments-to-greed  – empty 'ghost estates' that are a "concrete hell, stained red with fungus". But the album is predominantly joyful. And in visions seeped in hope, Alanna's songs gently point us towards a more sensitive and positive world."
Reflecting on her journey as 'a child of the diaspora', White Swan Dreaming – the title track – is a haunting song of returning to homeland that brings her a deep sense of belonging. When she sings of the Endless Green, we are reminded of the Emerald Isle and the abundance of rain.     
Other tracks are about Alanna's connection with the Celtic Gods – in particular Brigit and the seasonal festivals such as Lammas Fair. "Lammas is the beginning of harvest festival also known as Lughnasa, but originally the day of Crom Dubh and Aine, chief deities of the harvest. Once the most popular festival on the Irish calendar, but sadly now – virtually forgotten!" (From Alanna Moore's 2011 musical 'Lammas Fair', performed at the Castlemaine Fringe Festival in Australia.)
Other songs describe her link with Sacred Trees, the Land and her commitment to farming and gardening (permaculture) Her style of music is a mix of pagan folk and jazzy acoustic and a welcome alternative to the electronic hip hop we often hear at festivals now; although the guitar work on track 5, Lord and Lady of the Corn is pretty neat. 😊
By buying this album you will be contributing to her work. Check out the website for newsletter and events: https://www.geomantica.com