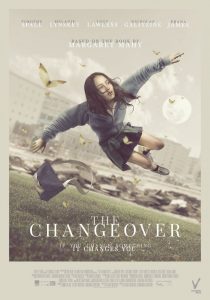 Regie: Miranda Harcourt, Stuart McKenzie
Lengte: 95 min
Met o.a. Timothy Spall, Erana James, Melanie Lynskey, Lucy Lawless
In het kader van het 'Imagine' filmfestival in het Amsterdamse EYE, werd de 'Kick-AssWomen' thema-avond Heksen! geprogrammeerd. De speelfilms 'The Changeover' en 'Hagazussa – A Heathens Curse' werden vertoond. Het geheel werd omlijst met uitleg over hekserij, verzorgd door Morgana van Silver Circle.
The Changeover is een paranormaal coming of age verhaal, gebaseerd op het boek 'De Inwijding' van Margaret Mahy. Het geheel speelt zich af in het huidige, door een aardbeving geteisterde, Christchurch in Nieuw-Zeeland. Dit zorgt voor een aangename 'otherness' van alles wat je ziet binnen de film. Het landschap en de personages en de taal zijn net niet te plaatsen in een Europese of Amerikaanse context. Iets waar we zo aan gewend zijn geraakt bij films.
Het klassieke plot volgt de paranormaal gevoelige tiener Laura Chant die de strijd aan moet gaan met een demonische kracht, in de vorm van de levenskracht-stelende figuur Carmody Braque (een lekker enge rol van Timothy Spall). De onwillige heldin wordt hierbij op een missie gestuurd die 'against-all-odds' tot het einde volbracht dient te worden. 'The Changeover' duidt in deze context op de inwijding tot heks die Laura moet ondergaan, om de strijd aan te kunnen gaan. Het plot is daarmee wel wat voorspelbaar en ik was zeker niet onder de indruk van het slappe einde van de film.
Het interessante van deze film ligt dan ook vooral in de vormgeving van het paranormale aspect van het verhaal. Waar we bij de doorsnee Hollywoodfilm eraan gewend zijn geraakt dat paranormale verschijnselen met spectaculaire special effects worden vertoond, is dit bij The Changeover heel anders aangepakt. Het is in de subtiele veranderingen in het cinematografische gebruik van licht, kleur, en geluid dat het paranormale verbeeld of getoond wordt. Ik vond het een veel realistischere benadering van hoe het in het echt werkt.
Daarnaast hebben de regisseurs hun research goed gedaan want constant zie je in deze film verwijzingen naar de theorieën van Jung, het gebruik van de vier elementen en de opbouw van geleide meditaties en rituelen. Ik meende zelfs wat kabbalistische referenties in de vormgeving terug te zien.
De manier waarop hekserij is verbeeld in deze film, blijft heel omfloerst non-descript en verborgen. Niet meer dan een tarotlegging en een smudging zijn er in beeld te zien, waardoor de film zich niet verliest in de focus op uiterlijkheden. De feitelijke inwijding schakelt heel snel door naar de innerlijke reis die Laura onderneemt en wordt daarmee vanuit een heel magisch-persoonlijk perspectief verteld.
Al met al vond ik 'The Changeover' een heel aardige paranormale tienerfilm met prima acteurs en een prachtige score. Als je dit niet met volwassen pretenties gaat bekijken, is het geen verloren tijd. Alleen dat einde dus…
Helaas kon ik de film Hagazussa niet kijken vanwege de late programmering, maar de hallucinante trailer daarvan is wel heel veelbelovend.
NB zie ook het interview with Morgana "Witches! Our guest: Morgana, at the Imagine Film Festival, Amsterdam"