The Witch Ball – and other short stories – by Doreen Valiente. Introduction by Melissa Harrington. Published by the Doreen Valiente Foundation in association with The Centre for Pagan Studies. ISBN 978-0992843090. Illustrations by Debbi Lee.
To order direct: www.doreenvaliente.org/shop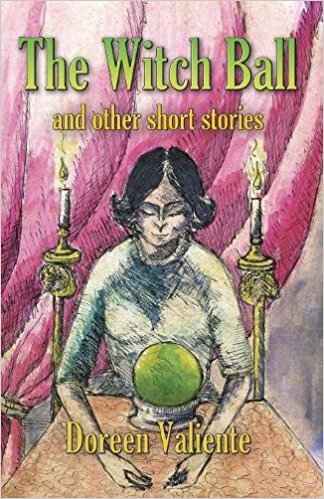 (Cover art-work by Doreen Valiente)
The story-teller is Ashton Clark, an older man well versed in folklore and magic. His listener is his friend Jeremy Blake. The stories featured, eleven in total, are from the Brighton area where Doreen lived and loved.
Melissa writes in the introduction:
"A posthumously published exciting addition to the literature of Doreen Valiente. This book represents a lost work by one of contemporary Paganism's most loved authors. This collection of short stories is not only of significance to fans of Doreen Valiente, but of import within the wider genre of gothic fiction and folk horror. Featuring as the main protagonist Charles Ashton, who is wise, kind and learned, with a deep knowledge of folklore and magic, quietly tutoring his younger friend Jeremy Blake, these enjoyable tales weave and layer magic and folklore into a notable contribution to the interesting genre of magical tales written by magical practitioners."
Here are some short extracts:
The Corn Dolly read by Richard Levy: https://www.facebook.com/DoreenValienteFoundation/videos/1526311270793995/
The Black Dog read by Peter Cadman:
http://www.doreenvaliente.com/Doreen-Valiente-Blog-17.php