Getting Higher – The Manual of Psychedelic Ceremony
Julian Vayne. Foreword by Dr David Luke. Illustrations by Pete Loveday   
Psychedelic Press.
ISBN: 9780992808877. £10.99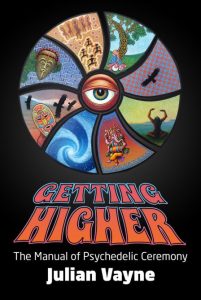 In the video trailer Julian describes Getting Higher as "a manual for exploring the use of psychedelic substances in the contexts of spirituality, self-transformation and magic. This is the psychonaut's essential guide. The techniques presented here work whether you're a scientist or a shaman; there's no requirement to believe in anything other than the wonder of your own neurochemistry and the value of the psychedelic experience".
And indeed, although it is a slim volume, it is a veritable fountain of information. The first part is preparatory work with detailed information about "the psychedelic experience".  In the section "Core Techniques" Julian describes how one can navigate a psychedelic experience. Using Breath techniques for example. Or Ritual Singing practices including dancing and movement. Internal journeys or what we sometimes call pathworkings can also enhance the experience. Weaving magic in an 'altered state of consciousness' is perhaps the real guide Julian is presenting in this book.
As I was going through the book I also realised that much of what Julian is describing is what we often call trance-work.
For initiated witches, this book is basically a manual for the "8-fold path – the way to the centre". Not all the paths incorporate the use of drugs, of course, but the thing that they have in common is that they enhance our ritual practice. As we work with Pan and Dionysus a knowledge of their intoxicating and ecstatic ways must be most advantageous! In this book, Julian gives us ways – with or without drugs – to achieve those states of consciousness, or as he calls the Altered State and Magic
Highly recommended!
Author bio: Julian Vayne is an occultist and the author of numerous books, essays, journals and articles in both the academic and esoteric press. While his name is closely associated with chaos magic Julian is also an initiated Wiccan, member of the Kaula Nath lineage and Master Mason. Over the past 30 plus years, he has participated in a group ceremony with a variety of druids, shamans, and others as well as sharing his own practice through public workshops, retreats and networks of practitioners including The Illuminates of Thanateros. He is a leading contributor to theblogofbaphomet.com and co-director of The Psychedelic Museum psychedelicmuseum.net
Illustrator bio: Pete Loveday is a British artist and cartoonist. His seminal underground comics charting the adventures of hippie character Russell include Big Bang Comics, Big Trip Travel Agency and Plain Rapper Comixlater reprinted as Russell: The Saga of a Peaceful Man and Russell's Big Strip Stupormarket. For many years Pete was a regular stall holder at Glastonbury Festival, the Secret Garden Party and Beautiful Days. His work has appeared in publications ranging from Encyclopaedia Psychedelica through Soft Secrets to The Idler, has graced albums from Dream Matrix Telemetry by Zuvuya and Terence McKenna to Ouch! by P.A.I.N, and has even been used for bizarre advertising campaigns for Nike and HP Sauce. Loveday attributes his black sense of humour to having spent the first Summer of Love disemboweling chickens in a poultry processing factory, a traumatic experience which left him with a morbid fear of death. Some of his work may be found at www.russellsaga.com
The video trailer: https://vimeo.com/210684370
Written by Julian Vayne, Foreword by David Luke, illustrations by Pete Loveday. Published 1st May 2017 by Psychedelic Press UK. With thanks to G&F, Nikki Wyrd and the spirits of Devon & Cornwall. Thanks to Amodali Zain and Mother Destruction for permission to use their music. With gratitude to the Medicine Community and star-spangled dreamers the world over. Ahoy!
Weekend workshop – in the Netherlands – with Julian Vayne & Nikki Wyrd, February 9-11, 2018, FFI: https://www.facebook/.com/events/276874339460984