In de jaren '70 begon Judy Chigaco aan een project dat uiteindelijk uitgroeide tot het installatiekunstwerk 'The Dinner Party'. Daarin komen verschillende technieken samen, met name kunstvormen die als vrouwelijk worden bestempeld. Het kunstwerk als geheel is een ode aan vrouwen, aan het vrouwelijke, aan vrouwelijke rolmodellen en de rol van vrouwen in geschiedenis en maatschappij. Het is een tegenhanger van het iconische beeld van het laatste avondmaal, waar dertien mannen aanwezig waren. Naast Judy Chicago werkten er (na de eerste drie jaar) meer kunstenaars aan mee, en ook veel vrijwilligers. Het duurde evengoed zes jaar voor het klaar was, in 1979.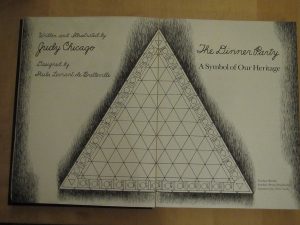 The Dinner Party is een set van drie tafels, voor drie maal dertien vrouwen, in een driehoekvorm opgesteld. De vrouwen die een plek aan tafel hebben, zijn beroemde vrouwen uit de geschiedenis en de mythologie, van over de hele wereld. Op de tegelvloer in het midden van de driehoek zijn nog eens 999 namen geplaatst van vrouwen. Nu zouden er wellicht andere keuzes gemaakt worden die nog meer recht doen aan de verscheidenheid aan culturen, maar er is destijds heel wat research gedaan om vrouwelijke helden van overal en uit alle tijden te vinden.
Voor iedere vrouw aan tafel ontwierp en maakte Judy Chicago een apart bord, bijna allemaal in vulva-motief. Dat is niet bij ieder individueel bord direct duidelijk, maar wel als je ze allemaal naast elkaar ziet. Andere kunstenaressen maakten voor onder ieder bord een loper van textiel, met daarop geborduurd de naam van de betreffende vrouw, en versieringen die passen bij de vrouw, haar tijd en cultuur. Dat geldt ook voor de technieken waarmee het textiel is bewerkt. Voor de allereerste vrouw, de Oergodin, is de loper een dierenvel, met daaraan vastgemaakt een aantal schelpen. Zij is van voordat het handwerken is uitgevonden. De loper voor de Vruchtbaarheidsgodin is gemaakt van handgesponnen en -geweven wol. Voor de loper van Eleanore van Acquitaine is gebruik gemaakt van tapisserie (haar bord ziet er tevens uit als een lelie) en Anna van Schurmann wordt geëerd met kruissteekjes in een patroon dat is gebaseerd op een merklap. Ook hier is heel veel onderzoek aan vooraf gegaan, en net als met de borden is er veel geëxperimenteerd met de textiele werkvormen.
De eerste tafel is voor vrouwen (en godinnen) uit de prehistorie tot de Romeinse tijd; de tweede vleugel is voor vrouwen uit het begin van het christendom tot aan de Reformatie, en de derde kant is voor vrouwen vanaf de Amerikaanse revolutie tot aan de vrouwenrevolutie. De 999 op de tegels genoemde vrouwen staan met die 39 in verband.
Het kunstwerk is op tournee geweest, en is in de jaren '80 geëxposeerd in Londen en in Frankfurt. Daar heb ik het bezocht. Het heeft lange tijd opgeslagen gestaan, maar is nu permanent tentoongesteld in het Elizabeth A. Sackler Center for Feminist Art in het Brooklyn Museum New York. Heb je de kans, ga dit monumentale werk dan vooral bezichtigen!
Bronnen: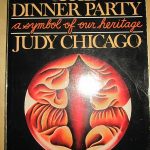 Judy Chicago: The Dinner Party. A symbol of our heritage. Anchor Books, 1979
(hierin zijn vooral de borden afgebeeld)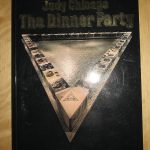 Judy Chicago: The Dinner Party. Schirn Kunsthalle Frankfurt, Ausstellung vom 1. Mai – 28. Juni 1987. Athenäum Verlag, 1987
(hierin mooie afbeeldingen van de textielkunst, zowel de gehele lopers als details).
Beide boeken, zowel het Engelse als het Duitse, gaan ook uitgebreid in op de 39 en 999 vrouwen en op het project als geheel.
Zie ook:
https://www.brooklynmuseum.org/eascfa/dinner_party/index
https://en.wikipedia.org/wiki/The_Dinner_Party
https://www.throughtheflower.org/
https://www.throughtheflower.org/projects/the_dinner_party