Chaos Craft
Julian Vayne & Steve Dee
Published by The Blog of Baphomet; deliberately NO ISBN – see below for purchasing details. 257 pages with 69 black & white pictures.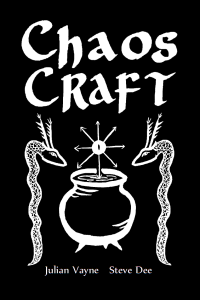 Julian writes: published by the blog, we chose to make it exclusively available from us and selected small bookshops. You will not find this book on Amazon. Price £12, plus p&p. (Total cost £15 within the UK, approx. £19 to Europe, and £23 to US/rest of world). Due to the cottage industry nature of our business, please allow up to one full lunar cycle (28 days) for delivery.
Packaged wrapped in museum grade acid-free tissue paper, and a sturdy cardboard box, to ensure safe delivery whilst minimising impact on the environment.
Published on 10 December 2014
"Available now, collected together within a physical volume, we present fifty-six posts from The Blog of Baphomet's two-year project Chaos Craft. Combining the chaos magick 8 colour system, with the 8 festivals of the witchcraft wheel of the year, the authors recorded their own musings, the rituals created by their group, and some of the theoretical underpinnings of the group's workings".
I have been an admirer of Julian's work for a number of years now. We first met in 2008 at the 'Colours of Chaos' conference in London. I subsequently saw him give presentations at the PF Devon & Cornwall conference in Bude, UK. Always fascinated by his subject matter and the way he talks – which is often hilarious – I had wondered if he would like to speak at one of our conferences. Finally, this year I was able to entice him to the Nether Lands to give a couple of talks at the PFI Netherlands conference on April 16, 2016.
During his talk on Chaos magic & witchcraft he talked about many of the subjects dealt with in the book Chaos Craft. (His second talk was entitled The Medicine Path, psychedelics and spirituality).
Written in collaboration with Steve Dee the main thread of 'Chaos Craft' is taking the Wiccan 'Wheel of the Year' and combining it with the 'Eight Colours of Magic' – a system derived from the works of Peter J. Carroll.
I was immediately struck by the way in which the book has been structured. Although it is described as a "Book of shadows" I think it is more like a "Magical Diary", which I personally think makes for a much more intimate interaction. I can certainly hear Julian telling his story and can imagine Steve sharing his insights over his favourite beverage, tea.
I have had the book for a few days and only read it partially and cannot do it justice, so I have agreed with Julian to do an interview and a fuller review later.
However, I wanted to share the product information for those of you who missed Julian at the conference. I should add that, all of the copies of 'Chaos Craft' and other of his books all sold out.  🙂
In any event, check out his blog 'The blog of Baphomet' – for many more interesting articles. https://theblogofbaphomet.com/
A little bit about Steve Dee; he is a chaos magician, AMOOKOS initiate and gnostic explorer who lives in Devon. He likes cats, drums, body surfing and very loud music.  NB AMOOKOS Arcane Magick Order of the Knights of Shambhala.
(Julian during one of his talks at the PFI NL conference April 16, 2016)