Doreen Valiente Witch
The new official biography by Philip Heselton
Published by the Centre for Pagan Studies in cooperation with the Doreen Valiente Foundation.
ISBN 978-0992843076 
Order via: http://www.shop.doreenvaliente.org/books/biography in various editions.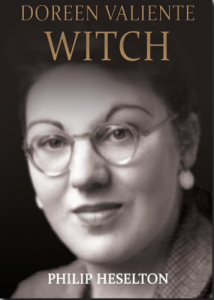 As Gerald Gardner's biographer and researcher on the history of the modern witchcraft revival Philip Heselton is perhaps the most qualified person to write the biography of Doreen Valiente.
Of Doreen Prof. Ronald Hutton writes, ".. (she is) the greatest single female figure in the modern British history of witchcraft".
Although quite a lot is already known about Doreen's life, Philip presents us in his inimitable style an in-depth account. Here we see her not only as a witch but as patriot and freedom fighter. Never choosing a simple path even as a schoolgirl Doreen was difficult to handle.
Interviews with people who knew Doreen – such a Patricia Crowther, Dayonis, Janet Farrar and others – plus sifting through countless public records make us see a woman of many talents emerging.
Her political leanings may surprise you but then her interest in many things comes as a surprise. Ultimately one sees a young lady with a thirst for things unknown. And yet Doreen is also pragmatic. This aspect of her struck me when I read:
"She did not object to racial mixing, however, which she called "revitalizing", provided it did not result "in a dull, materialistic sameness in which the traditions of both races are blurred and lost [which] is not good for either race".
She refers to what is called "The theory of Positive Racialism", which postulates that "every race has something to contribute to the good of humanity as a whole, some purpose to fulfill".
She writes:
This may be what the Old Religion has needed, namely, to tell people that they are not only orphaned of the Great Mother", earth or nature, but also cut off from the group soul of their race; and that they need the community of blood and soil in order to find again their health of body and soul. (from DV notebook no. 59. 25 January 1973.)
Today we would perhaps consider this an extreme right wing view – ideas of blood & heritage – and yet as Rudolf Steiner's ideas on race have also been interpreted as being racist one has to consider the social climate of the era. Doreen's words above are quite similar to Steiner's and I have no doubt that Doreen would have known his work.
Time and again we see how Doreen was at home working with the Spirits of the Land. Working usually outside where she and other people would frequently work in the dark.  .. save the light of the moon when it bright enough… they would often ad-lib the rituals. Her emphasis on natural magic which gave rise to a book she wrote of the same name underlines her belief that "The real magic is in the human mind". Despite the many grimoires written Doreen was adamant that it was the power of thought which was the true magic.
She was definitely well-read and well-versed in Classical paganism as well as the works of folklorists such as Charles Godfrey Leland. Certainly her love for folklore lead to her writing "Where Witchcraft Lives" (1962). Writing not as an insider but inquirer she writes of 'who witches were…' careful not to mention her own experiences. (She was initiated in 1953). And of course, it was Leland's "Gospel of Aradia" which was cited later in "The Charge of the Goddess", a work which has become synonymous with Doreen Valiente.
There are many areas in Doreen's life which are still a mystery although Philip has uncovered a number of gems. To find out what they are you will, of course, have to buy the book 🙂
Suffice it to say Philips description of her workings with Gerald Gardner (and Ned Grove after the split in 1957), Charles Cardell and later Robert Cochrane/Roy Bowers, provides valuable insights for anyone who wants to understand the roots of Wicca in Europe.
Although I only met Doreen twice, on both occasions at the Pagan Federation conferences (1996 and 97), I will always remember her "cheeky smile". I know she thought some people took the Craft too seriously and were trying to make it into something it isn't. And that is what I have come to appreciate about Doreen – her down-to-earth attitude and unpretentiousness. I hope everyone reading this book will remember that.
Philip has done her justice and this book will – like his books about Gerald Gardner – become classic reference books.
Also included are five appendices, one from John Belham-Payne – Personal Reflections. He also wrote the Introduction. Another one is from Ashley Mortimer – The legacy of Doreen Valiente and a chronology of Doreen's life, plus two bibliographies.
My only criticism of the book is the size and lay-out of the illustrations/ photos. I would have liked to have seen them bigger. They are small and in some cases unclear. Even a couple of glossy ones would have been nice.
But all-in-all HIGHLY recommended. 🙂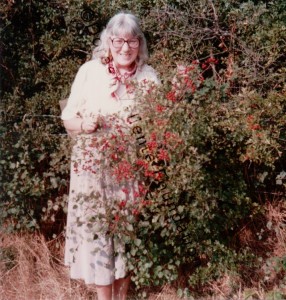 (Photo by courtesy of the DV Foundation – by Ron Cooke)
NB  The book "Doreen Valiente Witch" will also be available at the PFI Netherlands conference on April 16, 2016
See the PFI Forum Calendar for more details,
and the PFI NL website.
Another review by Link.