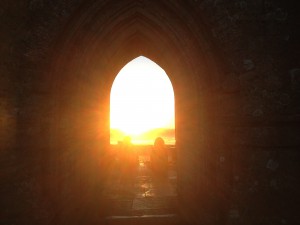 Spirit of the cloven hoof is running wild on the land,
Horned God of this land I call to you, I call to you,
Pan, Herne, Cernunnos
We naderen Samhain. De zomer is nu echt voorbij en de herfst is volop aanwezig. Een spektakel van storm en regen, dwarrelende bladeren, maar ook van zonlicht en een kleurenpracht met rood, oranje en gouden schakeringen. En geuren koel en kruidig. Bomen verliezen hun blad en de kale takken worden weer zichtbaar. Net als de zwarte aarde, nu de gewassen weer zijn binnengehaald.
De afbrekende kracht van het waterelement is overal voelbaar. Verrotting. Ontbinding. Transformatie. En de mensen keren zich weer naar binnen. Naar de behagelijke huiskamers. Naar de open haarden. Naar de behagelijke wereld van schemerlicht, Netflix en gordijnen.
Een cyclus komt ten einde.
En in mijn gedachten ga ik nog eens terug naar die fantastische zomer, naar onze rondreis door het mooie heuvelachtige landschap van Engeland. Zonovergoten. Het graan was rijp en vormde uitgestrekte gouden vlakken, zover het oog reikte. De bezoeken aan de majestueuze stenen van Stonehenge en Avebury. Oergrond. Verstilling. Oude wijze stenen die de millennia onverstoorbaar aan zich voorbij hebben zien gaan.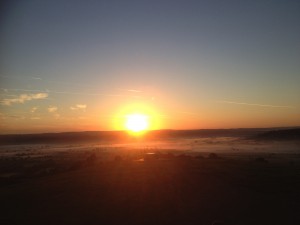 En het prachtige en mysterieuze Glastonbury. Mooie mensen. Zwervers. Hippies. Arbeiders. Priesteressen. Mafkezen. Winkels vol met allerhande exotisch uitziende voorwerpen, heksenattributen, kruiden, opgezette dieren. Hele etalages gewijd aan de Godin of de God. Winkels vol gewaden en wierook.
Op zekere ochtend voor dag en dauw opgestaan en door het dromende stadje gewandeld naar de Tor. De stilte werd alleen doorbroken door het geluid van uilen. De weides waren nog vochtig en nevelig. Het maan-verlichte pad. Langs de boomgaardzijde naar de top geklommen. Mist, flarden mist. Dat prachtige, maar korte magische moment van die eerste zonnestralen door de mist. Getuigen. De geboorte van de wereld. De gewaarwording op een eiland te staan in de mist. Avalon. Kraaien.
En in gedachten sta ik weer bij de Chalice Well. Lieve heilige bron, met zacht strelend water. Helend water. De koude, een ware beproeving maar verkwikkend op mijn naakte lichaam, genezend en louterend van binnen. En een stuk taxushout, een geschenk.
Verborgen White Spring Well, verscholen bron in de voet van de Tor. Sacred. Het door kaarsen verlichte bassin. Duisternis. Gezangen, wierook, offers. Het altaar van de Godin. De moederschoot. Maar ook het stoere altaar van de gehoornde God en de knetterende energie van de Jager. Wederom een beproeving, en herboren na een koud en verkwikkend bad. Heilig water.
Het graf van King Arthur en zijn Guinevere in de Glastonbury Abbey. De ruïnes en de prachtige oude bomen en wederom een gift van de taxus. En op de terugreis de Whitecliffs van Dover beklommen, Nehalenia begroet daar in de verre diepte en de appels van Avalon werden door Haar in ontvangst genomen.
En een zomer is voorbij gevlogen..
En dit jaar vieren we drie keer Samhain. Niet dat we er een gewoonte van maken om elk jaarfeest drie keer te vieren, maar het kwam nu eenmaal zo uit. En eigenlijk is het ook wel prettig om meerdere keren stil te staan bij Samhain. Er is immers sprake van een langere periode waarin de sluiers tussen de werelden dunner zijn en ons huis is ook al enige tijd versierd met pompoenen, heksen en andere Halloween-attributen.
Maar goed, een viering samen met de coven, een viering hier thuis en ook nog een viering en een fijn weekend bij onze Alexandrian vrienden met wie we zo nu en dan een jaarfeest vieren en waarbij we steeds weer concluderen dat de energie en sfeer van de rituelen gelijk is en er meer overeenkomsten bestaan tussen onze tradities dan verschillen.
Een Samhain waarbij we onze voorouders zullen uitnodigen om met ons feest te vieren, we pompoensoep eten en een goed glas wijn drinken. Vuren zullen ontsteken en de runen zullen werpen, gemaakt van het hout van een taxus.
Blessed be.
Serge van Heel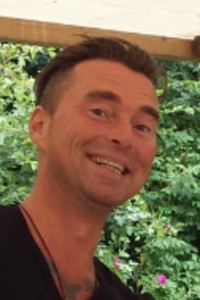 Serge van Heel (1972): Ik ben opgeleid en ingewijd in de Gardneriaanse traditie. Ik heb een praktijk voor psychotherapie aan huis en ben geïnteresseerd in de werken van Carl G. Jung en in symbolen, archetypen, rituelen en het individuatieproces in de moderne hekserij.