Dichtbij ver van hier
Tonke Dragt
Leopold, Amsterdam 2009. 40 p. (25,5 x 30 cm). ISBN 978090-258-5499-7. € 18,95 of als e-book € 11,99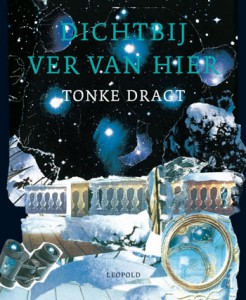 Ogenschijnlijk een prentenboek met collages, om uit voor te lezen voor het slapen-gaan. Maar is het dat inderdaad? Is het echt een kinderboek? Er wordt geen leeftijdsindicatie gegeven. Het is ongetwijfeld een prachtig boek voor kinderen (ik weet zeker dat ik het op laat ik zeggen mijn elfde fantastisch zou hebben gevonden) maar voor volwassenen is het minstens zo boeiend. Albert Einstein komt er in voor, en Schrödingers kat, en Isaac Newton en zijn twee katten… maar ook de robot Xantippe, het rebelse Galgekind, de Martiaanse motorrijder Marsjan met zijn blauwe mantel, de verteller en de lezer zelf, die wordt meegenomen op een reis door en voorbij tijd en ruimte.
"Er zijn meer werelden dan deze en veel ervan zijn heel dichtbij al zijn ze ver van hier," verkondigt de tekst achterop het boek. Een van die werelden, of in een van die werelden, of misschien wel tussen de werelden, is de Januaraanse Ambassade, gevestigd in een "huis dat is gegroeid en niet gebouwd", waar iedereen welkom is – al lijken er bij voorkeur maatschappelijke buitenstaanders en buitenbeentjes te verblijven: "Er is plaats voor elke zwerver, doler & verdwaalde dan ook, plek voor elke vreemdeling, vluchteling, anderling, alien, allochtoon, asielzoeker, wegloper, wandelaar, aanloopkat of… zomaar voor jou & mij." Of zouden deze poezen en personen er gemakkelijk terecht- maar moeilijk weer wegkomen? Je kunt onverwacht in de Januaraanse Ambassade belanden door een deur door te gaan en die achter je te sluiten. Terug ga je op dezelfde manier: door een deur, die je achter je sluit. Het hoeft niet dezelfde deur te zijn. Andere toegangen zijn er ook, via dwaalwegen, spiegels of kattenluikjes, of door zo'n bol met figuurtjes te schudden en het erin te laten sneeuwen. Om veilig terug te kunnen keren is het van belang dat je onthoudt wie je bent, hoe je heet en waar je thuishoort.
"Zolang men niet weet wie de Ambassadeur is, kan die een vrouw zijn, of een man, of allebei of geen van beide." Mogelijk kwam het doordat ik dit las op een middag nadat ik 's morgens in een boek over soefisme had gelezen over de zoektocht van dertig vogels naar de Simorgh (die zij uiteindelijk zelf blijken te zijn: si morgh = dertig vogels), maar veel in Dichtbij ver van hier herinnerde me aan verslagen van mystieke, astrale, sjamanistische, trance- en dergelijke reizen. Beschrijvingen van 'plaatsen' waar men kan komen en wezens die men daar kan ontmoeten, doorspekt met aanwijzingen, herkenningstekens en waarschuwingen. En aan Elfenland, waar net als in de Januaraanse Ambassade de tijd anders verloopt dan hier. Volgens de tekst achterop brengen de collages en teksten in dit boek je naar "de wereld van Tonke Dragt, die heel veel lezers al een beetje denken te kennen door haar boeken, maar die altijd weer nieuwe en verrassende aspecten biedt." Maar volgens mij valt er meer te verkennen dan alleen háár wereld. Het boek eindigt immers in de Ruimte voor Reizigers, met de woorden "Slaap dadelijk lekker en droom mooi."