"And with the above sentences we can clearly see that Rhiannon (on a human level) is the young Goddess, in her puberty, fighting her good fight, struggling with her transformed attributes but still going on strong, moving towards new possibilities that all need to be 'remembered', to make this her own and during this transformation she is becoming the beautiful princess and a promising queen to be. " (The Morrigan Papers – part four**)
Sometimes you just need to write, and think, rewrite and think again. Or the other way around. Why was I struggling with my feelings about my last  writings? Why couldn't I relate to it. What was the Morrigan, in the form of Rhiannon, trying to make clear to me? It was like I was punching a wall, with no success. And then life developed, and so many things happened since I wrote my former piece. And I struggled again, arghhhhh.
And then it became clear, "take another look" at the story, legend of Rhiannon. "did you not hear the birds sing"? Did you not find feathers all over the place when you were "thinking"? didn't you see crows all the time? OPEN YOUR SOUL'S EYES!
And I did, and that was a very emotional (and still is) phase of my life. So which parts of Rhiannon's story did resemble to my own life? In short the story of Rhiannon is as follows:
Living in the underworld (fairy mound)
Married a human prince who she chooses above one of her own kind
After two years she was not pregnant yet (not fit to be queen)
Blaming her for this and of the fact that she was an outsider
Then, in the third year, she became pregnant and delivered a child
All the midwives fell asleep and the child was taken away
The midwives killed a puppy, smeared it on the mouth and hands of Rhiannon and accused her to have eaten her own child
She was not put to death but severely punished for her "crime"
She took her punishment with dignity and grace
After seven years her child came to the gate with his foster parents as the fourth of the company.
She was restored to her place at her husband's side as a Queen
For her full story see the links below, but the above was as a "translation" to my own life and how the Morrigan "taught me".
For me it was the integration of the hurt and emotions of my own past as a child and young girl. I have been accused, abused and neglected. And I thought that that was the natural order of things. In my later years since I was a youngster I just coped with it in a very rational way: Oh, that is something that happened in the past, has nothing to do with today, just forget it, get over it and go on! And I neglected my inner child, my emotions. But it seemed a very wise thing to do. Up until the beginning of 2013. And from that time upon till now, and with the help of a lot of "singing" birds, I have finally found the courage to face what I have been through, and see myself as the beautiful human being I am today. Rhiannon, as a form of the Morrigan, showed me that courage is needed to face the hurt inner child, to transform it into beauty, to recognise that I am a weaver of my own faith, that, in the end, the truth of my story is revealed by a third party and therefore confirmed to all those that have spoken ill of me, and more. I am not afraid to be me anymore! I am not afraid to take back my own sovereignty, my own domain as the great Queen and Rhiannon becomes Rigantona. Now I not only "know" the time of Ostara, I can connect it to an emotion. And that is truly a beautiful miracle to me. I can finally move on!
Moved by Rhiannon (by Nemain Cwmbran)
I can show you, she said,
But I was too afraid to see
I can sing for you, she said,
But I was too afraid to listen
I can touch you, she said,
But I was too afraid to feel
I can teach you, she said
But I was too afraid to learn
Until now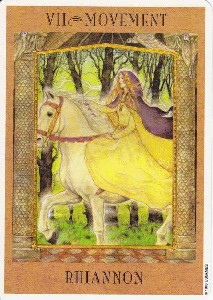 Notes and references:
Maboginion, translated by Lady Charlotte Guest
** Morrigan Papers – part four WROnline Lammas 2014
http://www.rhiannon.ie/saga.htm
http://www.orderwhitemoon.org/goddess/rhiannon-queen/Rhiannon.html
http://landofgoddesses.wordpress.com/2013/08/06/rhiannon/