Flexibel geloven. Zingeving voorbij de grenzen van religies
Manuela Kalsky en Frieda Pruim
Skandalon, 2014. 205 p. ISBN 978-94-90708-86-3. € 17,95
Met verklarende woordenlijst.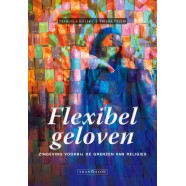 "Steeds meer mensen halen religieuze inspiratie uit verschillende levensbeschouwelijke stromingen. Dit boek beschrijft de veelkleurigheid van dit verschijnsel aan de hand van elf boeiende portretten." Nederland is pluriform geworden, constateren de samenstellers van deze bundel interviews. Maar niet alleen gaan mensen vaker over tot een andere religie dan ze van huis uit meekregen; sommigen laten de oude religie niet los, maar combineren de oude en de nieuwe religie. Omdat ze in beide antwoorden vinden op de vragen die ze hebben, maar niet in een van beide religies antwoord op al hun vragen. Omdat ze in beide religies dezelfde kern vinden. Omdat ze zich niet willen binden aan één religie of omdat ze zich verbonden voelen met beide religies.
"Hier wordt niet gekozen voor het een of het ander, hier wordt bij elkaar opgeteld", staat in de slotbeschouwing. Die wordt opgehangen aan de roman 'Het leven van Pi'. Die slaagt er namelijk in om drie religies in zich te verenigen. De meeste gelovigen hadden daar geen moeite mee, maar de geestelijk leiders wel. Nadat de geestelijken probeerden te bewijzen dat de eigen godsdienst toch uiteindelijk de enige ware was, keek iedereen naar Pi. Die alleen maar kon stamelen: "Bapu Gandhi. Alle religies zijn waar. Ik wil gewoon God liefhebben." Dat verhaal zette Manuela Kalsky op het spoor van multireligieuzen in Nederland. Het Dominicaans Studiecentrum voor Theologie en Samenleving doet onderzoek naar 'multiple religious belonging'.
De meeste geïnterviewden kozen zelf voor hun nieuwe religie; één werd bi-religieus opgevoed. Zes van hen zijn 'flexibele gelovigen' die elementen uit verschillende levensbeschouwelijke tradities met elkaar combineren. Diana is voorganger in een christelijke gemeenschap en boeddhist. Kaouthar combineert soefisme met elementen uit het christendom, jodendom en boeddhisme. Timo werd agnostisch opgevoed, en is nu Taizé-ganger en druïde. Daniël laat zich inspireren door de mystieke kern die hij als verbindend element in alle religies heeft ontdekt. Rohan is al van jongs af christen én hindoe. Nilgün werd vrijzinnig-islamitisch opgevoed en noemt zich nu multireligieus.
Vijf zijn 'bekeerlingen' die in de loop van hun leven wisselden van geloof of levensbeschouwing: van christendom naar hindoeïsme, boeddhisme, jodendom en islam en van atheïsme naar christendom.
"Allemaal vertellen ze openhartig over het verloop van hun religieuze zoektocht en hun oude en nieuwe levensovertuigingen. Ze leggen uit wat ze in religieus opzicht gaandeweg op het spoor kwamen, wat ze achter zich lieten en hoe ze hun nieuwe manier van geloven in hun dagelijks leven vormgeven."
Frieda Pruim hield de interviews die ieder voor zich zeer lezenswaard zijn. In de eerste zinnen van het eerste interview staat de kern van meerdere verhalen eigenlijk al opgesomd. "Ik ben moslim, ik ben jood, ik ben christen, ik ben hindoe, ik ben boeddhist. … De kern van al die geloven is liefde, dus waarom zou ik moeten kiezen?"
Warm aanbevolen voor iedereen die interesse heeft in religie, of die interesse heeft in de medemens.