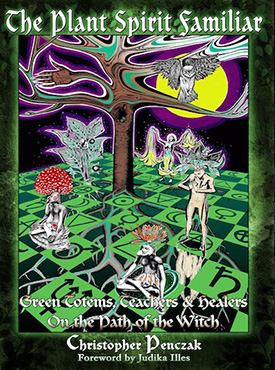 The Plant Spirit Familiar – Green Totems, Teacher & Healers on the Path of the Witch
Christopher Penczak
Copper Cauldron Publishing. ISBN 978-0-9827743-1-1
See http://coppercauldronpublishing.com/
It has been a long time since I saw Christopher but there we were suddenly saying a cheery hello at PantheaCon 2014, San Jose, USA. We talked about how we were, the things that we have been doing recently etc. Still an avid author and teacher he has developed, in recent years, the Temple of Witchcraft into a fully-fledged organisation. See http://templeofwitchcraft.org/ for more information.
However in this book we see Christopher as the healing practitioner, the herbalist. First he describes the different traditions… the "leaves of the tradition" as he calls it. From medieval European familiars to modern methodology such as the work done at Findhorn in Scotland.
He then goes on to describe how you can develop a relationship with plants in a similar way that you can with animals… he talks of Green Totems… and totemism. He describes "the three types of plant allies, the healing plants known as balms, the power plants known as banes and the spirit teachers found in the wise old trees".
In part two we enter the garden. Here he describes how to deepen the contact with the spirit world of plants. Using meditation and inner shamanic journeys one creates allies. He later discusses "Balms, Banes & Tree Teachers" in greater depth. With exercises and recipes for ointments and essences he helps us to become more proficient with Green or Natural magic. Like the root worker in Hoodoo he warns of the dangers of poisons and entheogens.
Complete with advice for rituals Christopher provides a good start for anyone who wishes to pursue the path of Nature-based spirituality. He has also included an extensive bibliography and advice for those who want to find out more about entheogens.
Written in a friendly, encouraging style Christopher helps us to build up a greater connection to our Green allies.
See also his personal website: http://christopherpenczak.com/
And his personal FB page
And Facebook: Temple of Witchcraft.