Deep Magic Begins Here: Tales and techniques of practical occultism
Julian Vayne
Mandrake of Oxford. ISBN 978-1-906958-52-7
See also: http://mandrake.uk.net/deep-magick/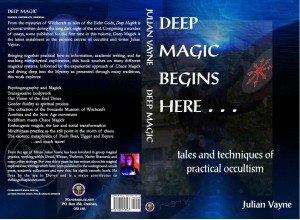 In his typical style Julian has produced another book of magical practice and theory spiced with his own experiences.
In this collection of tales concerning practical occultism he covers not only background information from practitioners of witchcraft but also the following subjects:
Psycho-geography and Magick
Transgressive bodywork
Our Vision of the End Times
Gender fluidity as spiritual process
The Boscastle Museum of Witchcraft
Zombies and the New Age movement
Buddhism meets Chaos Magick
Entheogenic magick, the law and social transformation
Mindfulness practice as the still point in the storm of chaos
The esoteric metaphysics of Pooh Bear, Tigger and Eeyore.
These may seem like rather daunting and flaunting subjects but Julian's typical dry British humour make it seem more like a personal diary rather than a handbook. Full of anecdotal twists he describes the alchemical process one could describe as his 'darkest night'. Not a book for the squeamish or the beginner Julian gives us a peek into the world of the Chaos Magician.
On 22 March 2014 Julian will be talking at the Occult Conference in Glastonbury. And no doubt he will be playing a leading role in the Jupiterian Ball. I have always enjoyed his talks and he is well worth seeing live.
For more information see: http://www.occultconference2014.com
Biography
Julian Vayne is an occultist and the author of a number of books, essays and articles in both the academic and esoteric press – notably with Nikki Wyrd and for Mandrake of Oxford. He works in a museum and lives in Devon. His name is most closely associated with chaos magick and he is also an initiated Wiccan and member of the Kaula Nath lineage.