Part II (have you read Part I?)
Raphael and Giovanni da Udine depicted many grotesques that can still be seen in the Vatican Museums. As early as 1490 Pinturicchio adorned the ceiling of the library in the Santa Maria del Popolo in Rome with grotesques. In 1503 cardinal Francesco Piccolomini, soon to be pope Pius III, commissioned Pinturicchio to paint scenes from his life and that of his predecessor, Pope Pius II, on the walls of the library of the Cathedral of Siena. The contract, which still exists, explicitly demanded grotesques to be displayed. And Pinturicchio complied with this. Bordering the great frescoes glorifying popes, cardinals, saints and emperors, he painted candelabra with grotesques like the ones he had seen in the Domus Aurea.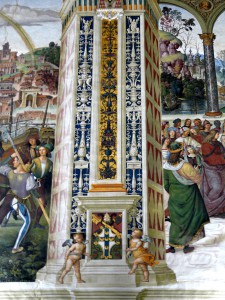 14 Grotesques Siena Piccolomini Library.
The grotesques are men and women emerging from vegetation. Some of them are winged; some are foliate heads, worshipped by animals with leafy tails. One of the candelabra displays a winged and horned Green Woman.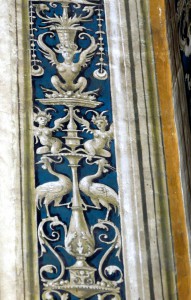 15 Green Woman Siena Piccolomini Library
Her feet and hairs end in vegetation. From the basket on her head two Green Animals emerge. The woman is squatting, spreading her legs, giving birth to apples and others fruits. Underneath her two other winged Green Women are kneeling. Instead of hairs there are leaves on their heads. They seem to worship the woman in labour above their heads.
On the ceiling of the Piccolomini Library many other scenes are depicted, unfolding the realm between the worlds of God and men, home of the Green Man and the Green Woman.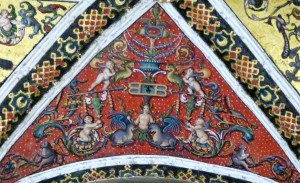 16 Green Man Siena Piccolomini Library
The lower part of his body consists of acanthus leaves. Instead of hairs there are fruits and leaves on his head. Two winged creatures, resembling horses, worship him. From their tails acanthus leaves protrude, ending in Green Dolphins and buds, out of which winged cupids emerge. From the Green Man's head a candelabrum starts. The cupids hold up small winged Green Men, who form candelabra, connected with the central candelabrum on the Green Men's head. The whole scene is teeming with life, emanating from the Green Man, acknowledging his dominion.
The ceiling of the library is entirely covered with scenes like this, delineating the other world from different angles. Sometimes the Green Man is supreme ruler; sometimes the Green Woman is prevalent. They are not monsters, surrounded by demons. They are never aggressive, not luring victims into damnation. They baffle us and block our intellect, opening up a new world, in which we may face the divine.
Scenes like the ones in the Piccolomini Library can still be seen in churches and palaces all over Europe. In a way they return to the Romanesque wilderness, but executed with the supreme talents and techniques of Renaissance artists. The character and life style of most Renaissance popes may not have been flawless, to put it mildly, but they did bridge the gap between paganism and Christianity, reaching the realm beyond creed, in which the divine may manifest itself directly, without an intermediary.
The Baroque Green Man and Green Woman
The Renaissance gave the Green Man and Green Woman pride of place, based on their Roman predecessors. Around 1600 the Baroque order ousted Renaissance architecture. Exuberant frills and myriad details were in vogue. The Green Man, the Green Woman and other Green Beings are often depicted in Baroque churches and on secular buildings. In the Cathedral of Barcelona a chapel was dedicated to Saint Anthony the Abbot in 1712 in Baroque style.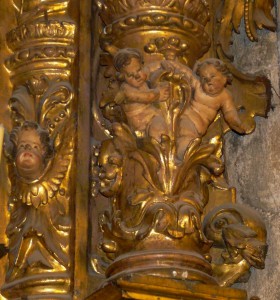 17 Barcelona Green Cupids
On a pillar two Green Cupids emerge from the acanthus leaves. On the left another Green Cupid is depicted, a collar of leaves around his neck, his body made up of acanthus leaves. Higher up on the pillar, cupids float along the vines that circle around the pillar. In another chapel in the same church other cupids whirl around vine-covered pillars. The upward movement is typical of Baroque ornaments, in which cupids, also known as putti, are frequently depicted.
Baroque Green Men usually are foliate heads, while the type with a body consisting of leaves, frequently displayed in the Renaissance, is all but absent. One of the Green Men sculpted by Balthasar Permoser in the Zwinger in Dresden in 1717 may serve as an example.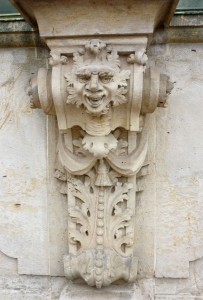 18 Zwinger Green Man.
The Green Woman with a body of vegetation is also absent from Baroque ornaments. Usually she is just a head surrounded by vegetation. This makes it harder to recognize her, but she is certainly there. In the Zwinger Permoser depicted her several times.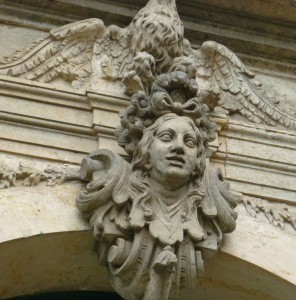 19 Zwinger Green Woman
Baroque ornaments are not always a whirling movement. In the Cathedral of Cordoba, Spain, choir stalls were made between 1748 and 1757 by Duque Cornejo. The stalls are crammed with images, many of them representing a Green Man.
Every armrest between the chairs is a Green Man, his body consisting of a volute, ending in vegetation. At the back of each chair a Green Man is depicted. One image shows a Green Man with leaves growing on his head.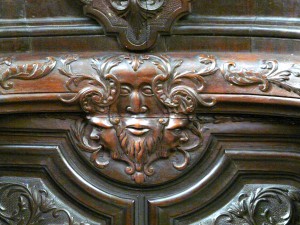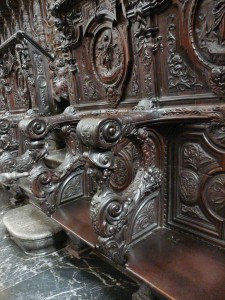 20 Cordoba choir stalls and with Green Man
On both sides there is the head of a smaller Green Man, stems and leaves protruding from his mouth. Every Green Man in the choir stalls seems unconnected to the other ones. They do not interact and are not part of an intricate scene, like Renaissance Green Men often are. The images are stills, not storied, crowded, but frozen in time.
Baroque Green Men may be encountered on many fountains, spouting water from their mouths. For some reason this is never a woman. In the fountain on the Piazza Trente e Triste in Tarquinia, erected in 1724, no less than 14 Green Men may be seen at work.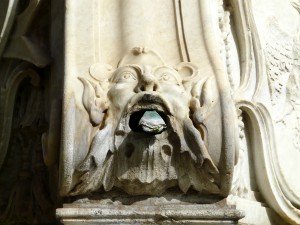 21 Tarquinia Fountain Piazza Trente e Triste.
Green Men and Green Women adorn the façades of many Baroque houses. A wooden relief, made in 1649, featuring two Green Men, adorns a house in Uilenburg, Den Bosch, Netherlands.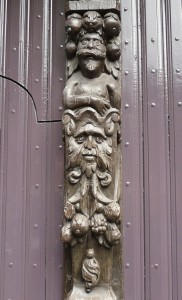 22 Green Man in Uilenburg, den Bosch
Two Green Women, made in 1736, serve as corbels for a house on Herengracht 475 in Amsterdam. One of them is depicted in our book. This is the other one.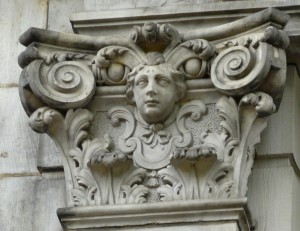 23 Green Woman Herengracht 475
Neo-Gothic Green Men and Green Women
Towards the middle of the 19th century Gothic architecture was revalued, after centuries of contempt for this architectural style. Gothic buildings were refurbished and many new churches were designed in this style, dubbed neo-Gothic by later, skeptical art critics. In Paris Viollet-le-Duc all but rebuilt the Notre Dame, changing whatever he thought was appropriate. He did not neglect the Green Man and even designed a stained-glass window for the Chapelle Madeleine, featuring 17 brand-new Gothic Green Men, one of whom is shown here.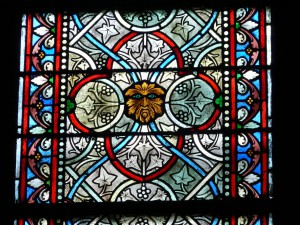 24 Notre Dame Green Man Chapelle Madeleine
In the Netherlands Pierre Cuypers restored many Gothic churches, sometimes inserting Green Men and Green Women that had not been there before. He did so in the Walburgiskerk in Zutphen, depicting many Green Men and Green Women, much to the abhorrence of the protestant church council, who said this was a popish aberration. One of the Green Men and his female counterpart is shown here.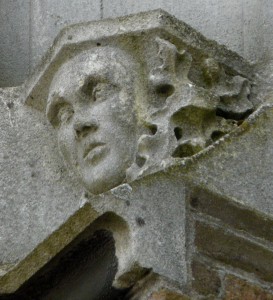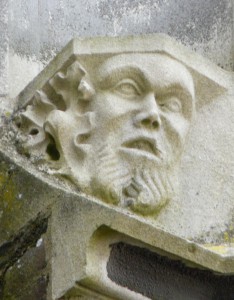 25 Zutphen Walburgiskerk Green Man
26 Zutphen Walburgiskerk Green Woman
Neo-Renaissance Green Men and Green Women
In the second half of the 19th century many artists were inspired by the Renaissance to create new frescoes, reliefs and sculptures. In 1884 the Hungarian architect Miklós Ybl, aided by a team of Hungarian painters and sculptors, finished the Opera House of Budapest. The foyer is decorated with candelabra and grotesque figures, many of them arising from vegetation or producing stems and foliage. The bottom of one of the candelabra is formed by who foliate heads, with acanthus leaves coming from their mouths, joining the candelabrum in the middle.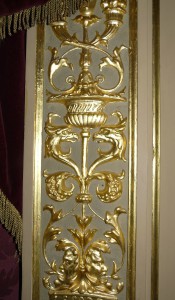 27 and 28 Green Men Opera Boedapest.
From the candelabrum the heads of two birds appear, leaves growing on their crowns and the back of their necks. Elsewhere Green Dolphins are tied to the stem that forms a candelabrum, their heads covered with leaves, their bodies ending in flowers. Higher on the candelabrum a majestic Green Man is depicted as a foliate head resting on a tray. Magnificent flowers emanate from the top of his head. In other scenes the Green Woman is given pride of place. One of the candelabra starts from a tray with fruits and the head of Medusa in a circular ornament. On top of this a winged Green Woman emerges from acanthus leaves. She has no arms, just volutes and her body is no more than a stem beneath her breasts. Between the breasts an acanthus leaf hangs. From the top of her head the candelabrum continues.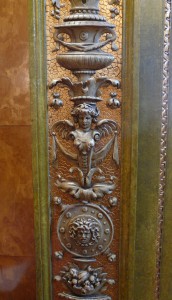 29 Green Woman Opera Boedapest
Another scene displays a beautiful Green Woman. Leaves surround her head and cover her forehead. To her left and right Green Dolphins produce stems that are linked to candelabra.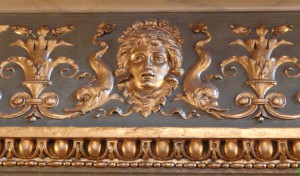 30 Green Woman Opera Boedapest
Scenes like this can be seen in other neo-Renaissance opera houses, for instance in Dresden, and in many other neo-Renaissance buildings all over Europe. One example will do: Herengracht 380-382, a combination of two mansions in Amsterdam, built between 1888 and 1890, decorated and built by A. Salm. The wooden front door of 380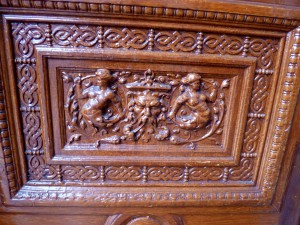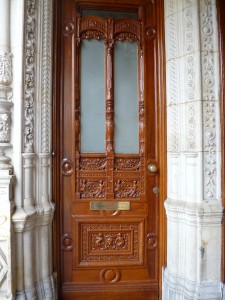 31 Herengracht 380 front door.
32 Herengracht 380 front door detail.
is interesting enough to look at some details. The decoration at the bottom of the door shows a Green Man with two stems emerging from his mouth. The stems form leaves and end in the body of a Green Woman, human down to the waist, vegetable underneath. The front door of the other house, 382, had another fascinating scene.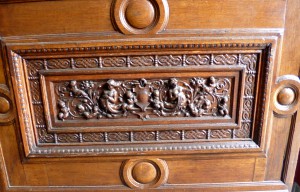 33 Herengracht 382 front door detail
Two Green Women lift their skirt and bring forth lavish vegetation from which babies are dangling. Apparently they are Green Babies, emanating from the vegetation, produced by the Green Women.
This is not all. The façade of the building is packed with sculpted Green Men and Green Women.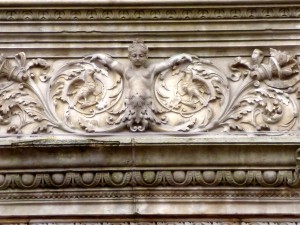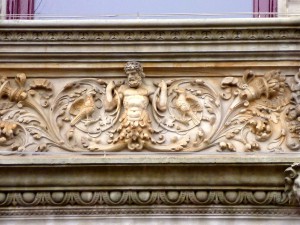 35 Herengracht 380-382 Green Man
36 Herengracht 380-382 Green Woman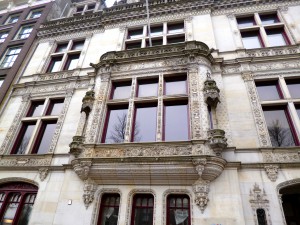 34 Herengracht 380-382 facade
Here are just a few details:
Underneath the balcony of the two houses a Green Man is shown. From the waist down his body consists of acanthus, ending in birds and fruits. There is another Green Man like this. Between the two a Green Woman is depicted like her male counterparts. At the same height, but at the sides of the houses, Two Green Women hold up plates, showing the numbers 380 and 382. The acanthus, formed by their lower bodies, ends in a flower and a Green Dolphin.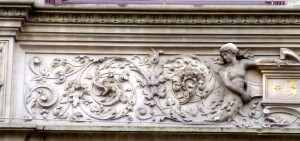 37 Herengracht 380 Green Woman
It is frequently said neo-Renaissance art is but a shallow imitation of the real thing. Often this is true, but not always. To the fascinating pictures I presented here many others may be added from buildings all over Europe.
The Green Man and the Green Woman in Art Nouveau
Towards the end of the 19th century a new style emerged, called Jugendstil in Germany and Austria, Art Nouveau in France and other countries, and Modernista in Spain. It is the last time the Green Man and the Green Woman are represented in contemporary art. An example is the so-called blue Jugendstil house in Hamlyn, Germany, built in 1905.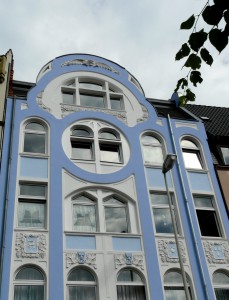 38 Hamlyn Blue Jugendstil house.
Two stern looking blue Green Men are depicted, white acanthus leaves issuing from their moustaches. At the top of the building a white bat has wings ending in leaves. So it's a white Green Bat. On the so-called pink Jugendstil house in Hamlyn, built at the same time, three Green Men look down from the façade (only one visible in the photograph), their moustaches and beards producing leaves, while five Green Women are depicted on the semicircular extension.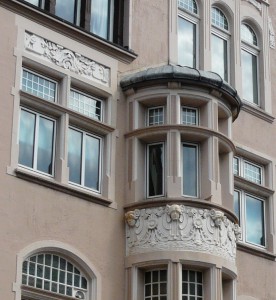 39 Hamlyn Pink Jugendstil house.
The heads of the women are adorned with big flowers that are also depicted between them. They might be ordinary women, but the presence of the Green Man reveals their identity as Green Women. This is typical of Art Nouveau Green Women. They do not emerge from the vegetation, nor are their bodies made up of stems and leaves. You have to be an attentive onlooker to recognize them.
Two examples from a row of Modernista buildings at the Gran Via de les Corts Catalanes in Barcelona may illustrate the overt and more concealed way Green Women are depicted. In one case the head of the woman is embedded in vegetation.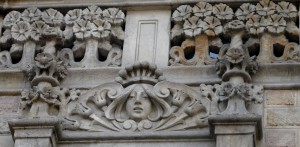 40 Barcelona Green Woman on Gran Via de les Corts Catalanes
Stem and flowers emerge from underneath her head. The pistils above her head form a crown, designating the woman as a sovereign Green Woman. Elsewhere on this façade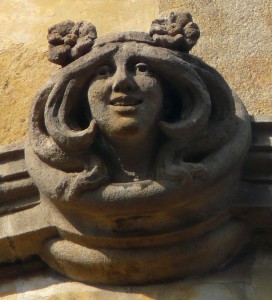 41 Barcelona Green Woman Gran Via de les Corts Catalanes
a woman's head pops up from a circular opening. There are several of these women depicted. The only indication that they are Green Women is the headdress adorned with two flowers. Another clue that reveals their identity is the presence of several Green Women and Green Men on these buildings. And right underneath the women's heads strange Green Animals, reminiscent of Romanesque beasts, can be seen, two by two. One such couple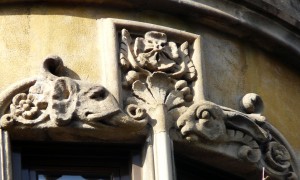 42 Barcelona Green Woman Gran Via de les Corts Catalanes
is a Green Hare and a Green Elephant. They are no more than a head and a body that consists of vegetation.
Modernista Green Men often have leaves and flowers on their heads, but sometimes stems are coming out of their mouths. Between the balconies of a house on La Ramblas 129, the main street of Barcelona, the heads of four Green Men are portrayed, with pointed ears, stems emerging from their mouths.
43 Barcelona Green Man on La Ramblas 129
The future of the Green Man and the Green Woman
Modern architecture is often abstract, providing no space for a Green Man or a Green Woman. Figurative modern art is not interested in them. So they seem to have lost their raison d'etre in art. Still the Green Man is more popular than ever.
Many garden centres and New Age boutiques sell modern foliate heads.
Some are pretty, but they are considered kitsch, not art. The Green Woman has been all but forgotten. With our book and this article we hope to show the countless manifestations of the Green Man throughout the centuries and we hope to return the Green Woman to the status and the authority that is rightfully hers.
De Groene Man en de Groene Vrouw
A3 Boeken, 2011. 240 p. ISBN 978 90 7740886 5
More about this book and many other Green Men and Green Women on our site: www.circewicca.nl
Ko & Joke Lankester