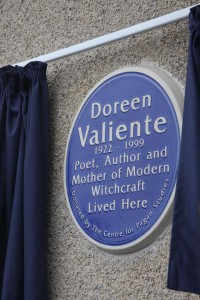 This year's Summer Solstice was a momentous day in the history of Wicca. On Friday 21 June, 2013, a Blue Plaque was unveiled to commemorate Doreen Valiente – the Mother of Modern Witchcraft.
Doreen Valiente is famous for being the High Priestess of Gerald Gardner, who is known as the Father of Wicca. She was also the author of many influential books on witchcraft, including Natural Magic, Witchcraft for Tomorrow and An ABC of Witchcraft Past and Present, and was a superb poet. The Charge of the Goddess – the best known set of lines from the Wiccan Book of Shadows – was her creation. Doreen was much loved by everyone who knew her.
Her influence – through her books and wide circle of contacts as well as her kind and gentle advice to her friends – cannot be overestimated. Many of the most celebrated figures in paganism in the UK today had at one time been guests at her modest flat in Brighton, England. It was therefore fitting that both Doreen's life and the place she lived be remembered and honoured on the 60th anniversary of her initiation into Wicca.
Blue Plaques are permanent signs on buildings in the UK to commemorate a famous person who lived there or was associated with the place. The scheme started in London in London in 1866, and this is the first Blue Plaque for a modern pagan. The £1,200 that was needed for the plaque to be installed was raised by John and Julie Belham-Payne of the Centre for Pagan Studies and the Doreen Valiente Foundation via donations.
An afternoon of events was planned alongside the unveiling. Ralph Harvey of the Order of Artemis held a midday Summer Solstice open ritual at Old Steine Gardens, a public park in Brighton. This was followed by a procession to Doreen's last home, a block of flats in Tyson Place, where drumming and Morris dancing entertained the many pagans who gathered to watch the historic occasion. The unveiling itself was carried out by the Mayor of Brighton, Councillor Denise Cobb, who gave a speech praising the seaside town's former resident.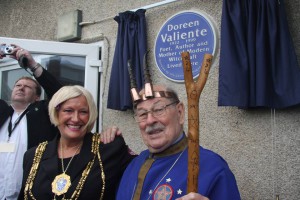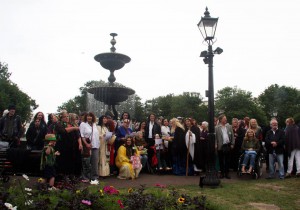 The Doreen Valiente Foundation hopes to raise money for further plaques to commemorate important Wiccan figures and the places they lived.
Lucya Starza