ABC Dragt – de werelden van Tonke Dragt
Joukje Akveld en Annemarie Terhell
Leopold, 2013, 189 p. ISBN 978-90-258-6114-8. € 22,50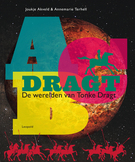 Tonke Dragt, geboren in 1930 in Nederlands-Indië, is de schrijfster van een flink aantal jeugdboeken in het Nederlands. Daarbij 'De brief voor de koning' dat in 2004 werd uitgeroepen tot mooiste boek van de voorafgaande 50 jaar: het kreeg de 'Griffel der Griffels'.
"In haar boeken creëert ze haar eigen werelden, waarin eigenzinnige figuren rondlopen: Jiacomo, Edu, Tiuri, Graaf Grisenstijn… Tonkes werelden strekken zich uit van avontuurlijk sprookje tot sciencefiction, van middeleeuws ridderepos tot eigentijds raadselverhaal." Tot magisch realisme, zou ik willen toevoegen, want De torens van februari doet zich voor als een verhaal dat echt gebeurd is. Wie heeft er niet naar 'het woord' gezocht, na lezing van het boek en de 'knipsels' die daarin als 'bewijs' van authenticiteit waren opgenomen?
De cyclus De robot van de rommelmarkt, Torenhoog en mijlenbreed en Ogen van tijgers is weliswaar sciencefiction, maar een belangrijk thema is telepathie, naast contact met 'anderen' en of je werkelijk bang moet zijn voor de natuur. In De brief voor de koning en het daarop aansluitende Geheimen van het wilde woud komen thema's voor als ridderlijkheid en vriendschap, en personen die je graag zou willen ontmoeten. Wat juist deze boeken extra mooi maakt, zijn de illustraties – silhouetten – van Tonke Dragt zelf. Een ander zal vooral herinneringen hebben aan De Zevensprong, als boek of televisieserie, of uitkijken naar het vervolg van Zeeën van tijd.
Joukje Akveld en Annemarie Terhell zijn duidelijk fans, en weten niet alleen veel over de boeken, maar ook over de schrijfster zelf. Ze hebben een heleboel weetjes over Tonke Dragt en haar werk ondergebracht in een 'ABC' met wel vijftig verhalen, want één alfabet was duidelijk niet voldoende voor zo'n oeuvre en zo'n veelzijdig schrijfster. Je kunt het boek van A naar Z lezen, maar ook kriskras erdoorheen lezen. Van de L van linkshandig naar de X van Xantippe (haar telefoonbeantwoorder) en van de K van katten naar de D van de 'Dwaas van de Boshut'. Fantastisch – en blijkbaar terecht – dat Marius een eigen lemma heeft gekregen! En overal staan illustraties bij: foto's uit het familiealbum, tekeningen van de schrijfster en van illustratoren van haar werk, en nog veel meer.
Als je de boeken van Tonke Dragt al kent, zul je veel herkenning vinden in dit boek. Als je nog nooit wat van haar gelezen hebt, krijg je misschien de smaak te pakken. Er staat nog een boekenplank op je te wachten!