Aardevrouwen spreken
Samentelling en redactie Manon Tromp
Geesteren, A3 boeken, 2012. 139 p. ISBN 9789077408995. € 17,50.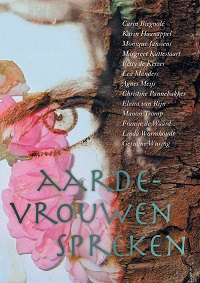 Dertien vrouwen, onder wie Manon Tromp, geven hun visie op deze tijd en de toekomst. Ze zijn actief voor de aarde en de maatschappij, allemaal op hun eigen terrein. Dat varieert van landbouw en ecologie tot kunstgeschiedenis en natuurgeneeskunde; de beroepen van kennismakelaar tot politica en het religieuze scala omvat een natuurmagiër, een sjamaniste en een druïda. Veel van deze vrouwen hebben meerdere opleidingen gevolgd en op meer gebieden gewerkt. Een aantal schreven al een of meer boeken, zoals Karin Haanappel, Linda Wormhoudt en Gerwine Wuring.
Rond de tijd dat dit boek uitkwam, was er op tv de documentaire 'Power to the people' te zien in Tegenlicht, over allerlei kleinschalige initiatieven, met name op het gebied van energievoorziening maar bijvoorbeeld ook dat ZZP'ers onderling zorgen voor een verzekering tegen ziektekosten. Aardevrouwen spreken past helemaal in deze trend dat je je als mens zelf inzet voor een betere wereld, in plaats van te wachten tot een ander dat voor je doet.
Levenspadvindster Elvira van Rijn laat zien hoe je je dromen kunt laten uitkomen, welke stappen je daarvoor moet volgen. Natuurgeneeskundige Margreet Kattestaart geeft aanwijzingen om je gezondheid te verbeteren door alleen goede voeding te nemen, én te genieten. Carin Biegnolé filosofeert over het vrouwelijke, en over de vraag of we in staat zijn om het vrouwelijke meer ruimte te geven en tegelijkertijd de waarde van het mannelijke hoog te houden. "Zijn we in staat om te voorkomen dat de een de ander domineert?" Fransje de Waard heeft het over permacultuur en composteren, en over de nieuwe onderstroom van de stadslandbouw, waarin het draait om verbinding, authenticiteit, waarden, plek en betekenis.
Bij elkaar geven de meer beschouwende en de meer praktische verhalen een mooi overzicht van wat – deze – vrouwen beweegt en hoe dat ze inspireert om iets te doen. Het verhaal van oervrouw Agnes Meijs wil ik graag uitlichten. Zij publiceerde eerder Het oergevoel, over vuur maken, sporen zoeken, sluipen en nog meer. In dat boek richt ze zich op hoe je kinderen kunt stimuleren de natuur in te trekken. Bij kinderen uit het Gooi die drie dagen lang, verspreid over drie weken, in kleine groepjes de natuur in trokken, was duidelijk dat ze een verandering doormaakten van afkeer van natuur naar plezier en vertrouwelijkheid. Ouders en leerkrachten zeiden bijvoorbeeld: "Ineens heeft mijn kind allerlei verhalen die het nooit eerder had" of "We zien ons kind dingen ondernemen die het eerst niet durfde, het lijkt wel een ander kind."
Net als volwassenen hebben kinderen natuur nodig. "We lijken te vergeten dat wij een onderdeel zijn van de natuur en dat we nooit zonder die bron in leven hadden kunnen blijven", zegt Van Rijn. Ze noemt allerlei initiatieven waaraan ze zelf deelnam of die los daarvan ontstaan voor bijvoorbeeld buitenschoolse opvang in de natuur en geeft tips om met (je) kinderen erop uit te trekken. Als eerste: "Herinner je eens wat je zelf leuk vond als kind om in de natuur te doen. Neem dat als start. Je kunt het beste datgene aanzwengelen waarover je zelf enthousiast bent."
En dat is eigenlijk wat er uit het hele boek spreekt: deze dertien vrouwen vertellen over waar ze enthousiast over zijn, en ze doen dat op zo'n manier dat je als lezer geïnspireerd wordt om ook bij te dragen aan een betere wereld.