De Groene Man & de Groene Vrouw – hun symboliek en gedaantes vanaf de steentijd tot nu
Joke & Ko Lankester
A-3 Boeken. ISBN 978-90-77408865
Zie ook: http://www.a3boeken.nl/a3boeken.aspx
Zie ook voor meer informatie: http://www.circewicca.nl/
Het eerste wat er opvalt aan dit boek is de vormgeving! Prachtig!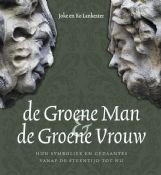 Met veel fotomateriaal – meestal van de hand van Joke – in een groot paperback-formaat is het misschien wel duur maar het resultaat is het ook waard.
"Dit boek is het resultaat van ruim twintig jaar onderzoek naar de Groene Man en de Groene vrouw in literatuur, musea, talloze opgravingen, heiligdommen, kerken en openbare gebouwen in heel Europa en het Nabije Oosten. Joke en Ko Lankester beschrijven hun vele verschijningsvormen vanaf de steentijd tot de 21e eeuw. Ze geven ook een interpretatie van dit verschijnsel, dat door de eeuwen heen door kerkelijke en wereldlijke leiders is getolereerd en zelfs gestimuleerd. Geen ander boek over dit onderwerp geeft een dergelijk breed en gedocumenteerd overzicht."
Inderdaad.. ik heb wel informatie over 'the Green Man' in de Engelse literatuur gelezen maar een dergelijke boek is er volgens mij niet en was er zeker nog niet in het Nederlands! Wel vind ik het opvallend dat Rosslyn Chapel in Schotland niet wordt genoemd maar misschien komt dit omdat Joke & Ko niet daar geweest zijn? Hoe dan ook, met 238 pagina's en honderden afbeeldingen is er zoveel informatie dat dit een zeer klein punt van kritiek is.
Joke & Ko schreven op hun website: "Zo'n 25 jaar geleden begon de Groene Man ons op te vallen. We kwamen hem soms tegen tijdens tripjes en vakanties in binnen- en buitenland. Boeken over dit onderwerp waren niet te vinden en Google moest nog worden geboren. De Groene Man intrigeerde ons en we waren dan ook aangenaam verrast toen William Anderson in 1990 zijn boek Green Man- the Archetype of our oneness with the Earth publiceerde. Hij herleidde de Groene Man tot de Vegetatiegod uit de oudheid en onderbouwde zijn betoog met vele foto's, meestal gemaakt door Clive Hicks.
Het boek van Anderson maakte ons duidelijk dat de Groene Man niet zo uitzonderlijk was als we hadden gedacht. Gedurende tweeduizend jaar was de Groene Man over heel Europa verspreid geen onbekende. Tijdens een vakantie in Engeland in 1991 keken we onze ogen uit naar de Groene Mannen die overal te zien waren.
Wat we ons destijds niet realiseerden, was dat het boek van Anderson zich op een vreemde manier beperkte tot Groene Mannen door de eeuwen heen. Groene Vrouwen werden door Anderson zijdelings genoemd, maar hij besteedde geen aandacht aan ze en nam ze ook niet op het register, dat alleen talloze varianten van Groene Mannen aangeeft. Ook richtte Anderson zich vooral op het hoofd van de Groene Man. Afbeeldingen van de rest van hun lijf werden door hem als uitzonderlijk afgedaan.
De beperking tot het hoofd van de Groene Man vond zijn oorsprong in het artikel The Green Man in church architecture dat Lady Raglan in 1939 publiceerde in het blad Folklore. Latere auteurs, zoals Kathleen Basford in het boek The Green Man (1978), hebben deze gewoonte overgenomen. Ze zochten en vonden de hoofden van Groene Mannen. Ook wij waren geconditioneerd. We hadden het portaal van de Pandhof jaren geleden gefotografeerd en de vier hoofden daarin gezien als Groene Mannen. Pas veel later, toen we het portaal weer bekeken, ontdekten we dat de afbeelding linksonder geen man was, maar een Groene Vrouw.
We gingen erop letten en ontdekten overal Groene Vrouwen die we eerder over het hoofd hadden gezien. Soms hadden we de vrouw als Groene Man bestempeld, maar vaak hadden we haar gewoon over het hoofd gezien omdat we niet waren voorbereid op een ontmoeting met een Groene Vrouw."
Het is inderdaad opvallend dat 'de Groene Vrouw' weinig aandacht heeft gekregen. Als je ziet hoeveel beelden van vrouwen en vegatie Joke & Ko hebben gevonden, is dat opmerkelijk.
In dit boek komen Groene Vrouwen en Mannen helemaal tot hun recht. Ik ga zeker een paar van de genoemde beelden in Nederland (en verder) bekijken. Met de informatie van Joke & Ko erbij (wat een hoeveelheid!) gaat het helemaal weer leven.
Voor iedereen die voorbeelden wil zien van paganistische invloeden in beeld – ook in de kerk –  is dit boek aan te raden!